The Babylon Bee is one of the internet's most popular satire sites and millions of people enjoy reading and sharing their articles. However, CNN doesn't seem too happy that The Babylon Bee's satirical articles often outperform the top stories at old media outlets and now one of their reporters is actually framing these satirical articles as "misinformation."
A few days ago, an article from The Babylon Bee titled Democrats Call For Flags To Be Flown At Half-Mast To Grieve Death Of Soleimani went viral on Facebook and was shared more than 500,000 times. The article was so popular that it outperformed the top posts from CNN and The New York Times.
CNN reporter Donnie O'Sullivan responded to the article's popularity by complaining that The Babylon Bee is using satire to get around Facebook's rules that "reduce the spread of clickbait and misinformation."
O'Sullivan's rationale for his claims is that some people "don't know it's satire" and that The Babylon Bee's notice telling readers that the content is satirical is "buried" somewhere on the site.
Not only is The Babylon Bee one of the most well-known satire sites on the internet but the site's tagline also describes it as: "Your Trusted Source For Christian News Satire."

The Babylon Bee's Twitter bio also makes a clear reference to the satirical nature of the site and describes it as: "Fake news you can trust."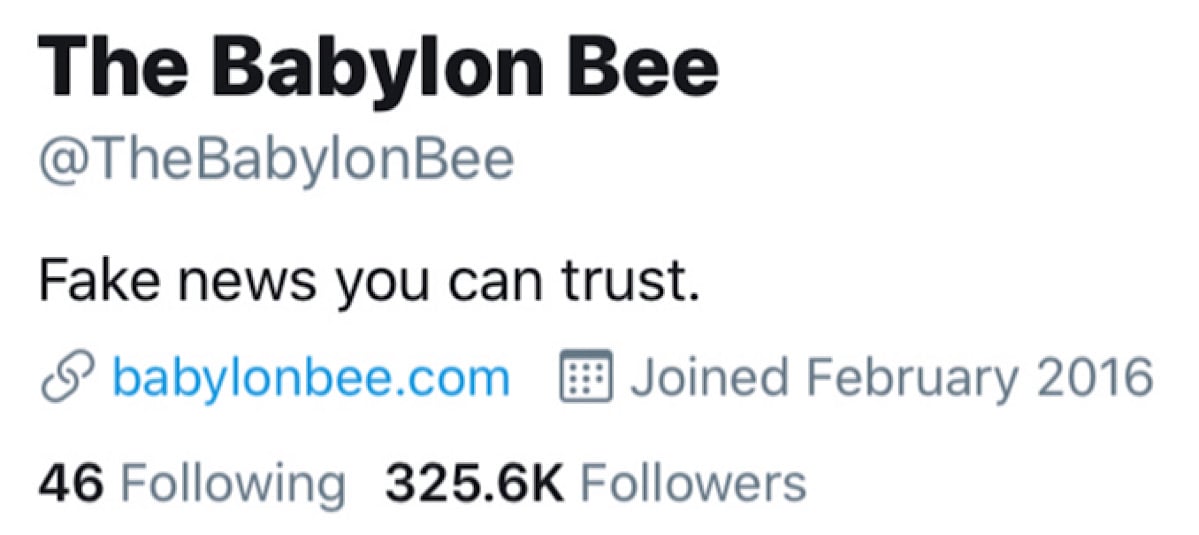 After posting his tweet thread about The Babylon Bee, O'Sullivan was swiftly ratioed.
One person said: "Everyone knows the Babylon Bee is a parody and everyone but CNN and NY Times know that CNN and NY Times are also parody."
Another commented that only "idiots" don't know The Babylon Bee is satirical.
"The problem isn't that people can't recognize satire. It's that the media can't recognize its own blatant bias," said another person. "That's one reason why satire has become so popular."
To bring the point home, one person posted screenshots of some clearly satirical headlines from The Babylon Bee.
The Babylon Bee's founder, CEO, and editor-in-chief also clapped back at the CNN reporter and pointed out his double standards when it comes to reporting on satire.
Founder Adam Ford said that some people thinking satire is real "will always happen with satire" and provided examples of the same reporter sharing and praising articles from satire site The Onion in the past.
CEO Seth Dillon sarcastically responded by saying: "Yeah, that's what's happening here. We aren't actually writing satire or anything. Everyone knows only liberals can do that."
"I truly believe these people just don't understand humor pointed at them and assume it must have some ulterior motive," said editor-in-chief Kyle Mann.
Mann also showcased an old tweet from CNN anchor Brian Stelter which said: "Babylon Bee is a fake news site. They call it "satire.""
O'Sullivan's claim that The Babylon Bee is attempting to get around Facebook's misinformation come after fact-checker Snopes made similar claims last year and suggested that The Babylon Bee attempts to fool its readers with satire. Following this incident, Snopes also introduced a "Labeled Satire" rating which insinuates that certain pieces of satire are not "real satire."
While these claims may seem silly on the surface, they have resulted in more serious consequences for The Babylon Bee with Facebook previously threatening to censor the site after Snopes accused it of spreading "fake news."