Barstool Sports, the popular sports blog that's often known for going against the grain of overreaching political correctness has announced that it's moving to the messaging app Telegram as a way of avoiding censorship from big tech giants and social media platforms.
The company made the announcement, telling supporters about how they are creating a channel on Telegram as a protest of Instagram's new controversial restrictions on content.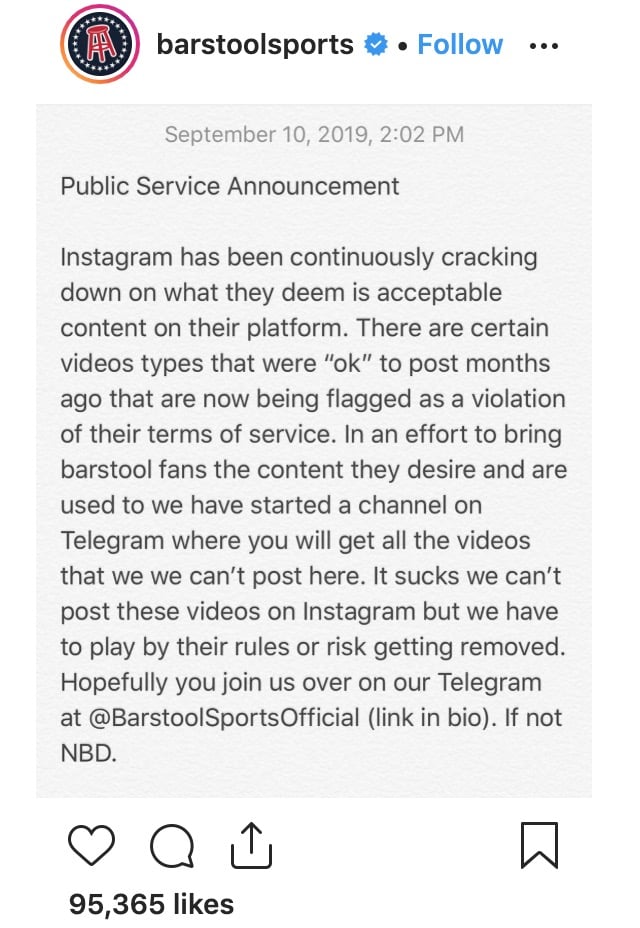 "Instagram has been continuously cracking down on what they deem is acceptable content on their platform," the official Barstool Sports account posted on Instagram today. "There are certain videos types that were 'ok' to post months ago that are now getting flagged as a violation of their terms of service."
"In an effort to bring barstool fans the content they desire and are used to we have started a channel on Telegram where you will get all the videos that we can't post here. It sucks we can't post these videos on Instagram but we have to play by their rules or risk getting removed," they wrote.
Barstool won't be completely leaving behind other social platforms such as Twitter and Instagram but it did want to make clear that users should use their Telegram channel to get the content that big tech giants aren't happy to let you see.
Barstool Sports is often criticized by more left-wing media outlets for its support of free speech and, more recently, due to its founder Dave Portnoy's viral clash with Democrat Alexandria Ocasio Cortez on the topic of unionization.
Barstool isn't the first media organization or personality to start diversifying their content channels. Other well-known figures who have been banned from mainstream platforms for speech that is disapproved of by the tech giants have been journalist and congressional-candidate Laura Loomer and author and comedian Milo Yiannopoulos. These, among others, have used Telegram as a way to reach their fans.
Telegram has been used by the Hong Kong protesters as a way of being able to communicate and express themselves freely as they face the oppressive regime of China. Telegram has proved useful during the Hong Kong protests, not only for its support of free speech but also for helping protesters keep communication channels open when others have been closed or suppressed by China and authorities. Telegram has even made changes to its platform to specifically to help keep the protestors stay anonymous and avoid censorship.
Telegram founder Pavel Durov has outlined plans to create a decentralized version of the internet that can't be censored.
The fact that Telegram stands up for free speech and is critical of censorship in times of oppression by other platforms has caused it to receive some unfavorable attention from certain outlets. Nick Robins-Early of HuffPo has said of Telegram users: "These methods of communication may not offer the same opportunities for fundraising and gaining mainstream influence, but extremists can continue to incite hate among smaller and more radical groups of followers in these spaces that are harder for researchers, journalists and law enforcement to track."