Two US lawmakers, Senator Ben Sasse, and Congressman Mike Gallagher have penned a letter to Twitter CEO Jack Dorsey asking him to ban accounts of officials from China's Communist Party (CCP).
These officials are being accused of spreading coronavirus pandemic-related disinformation on the network.
Another point Sasse and Gallagher make is that Twitter is for some reason giving a platform to officials from a country that has banned Twitter – meaning that ordinary citizens in China are not able to access the site.
The rationale of this decision made by Twitter puzzles the two lawmakers and they are asking for Dorsey's explanation.
The letter, published on Friday, accuses the Chinese authorities of having a history of "rewriting history through state-run media outlets" who have accounts on Twitter, and that currently, as the world is facing the epidemic that is endangering people's health and economies, Beijing is undertaking a campaign to whitewash its approach since the start of the outbreak, using Twitter to do this.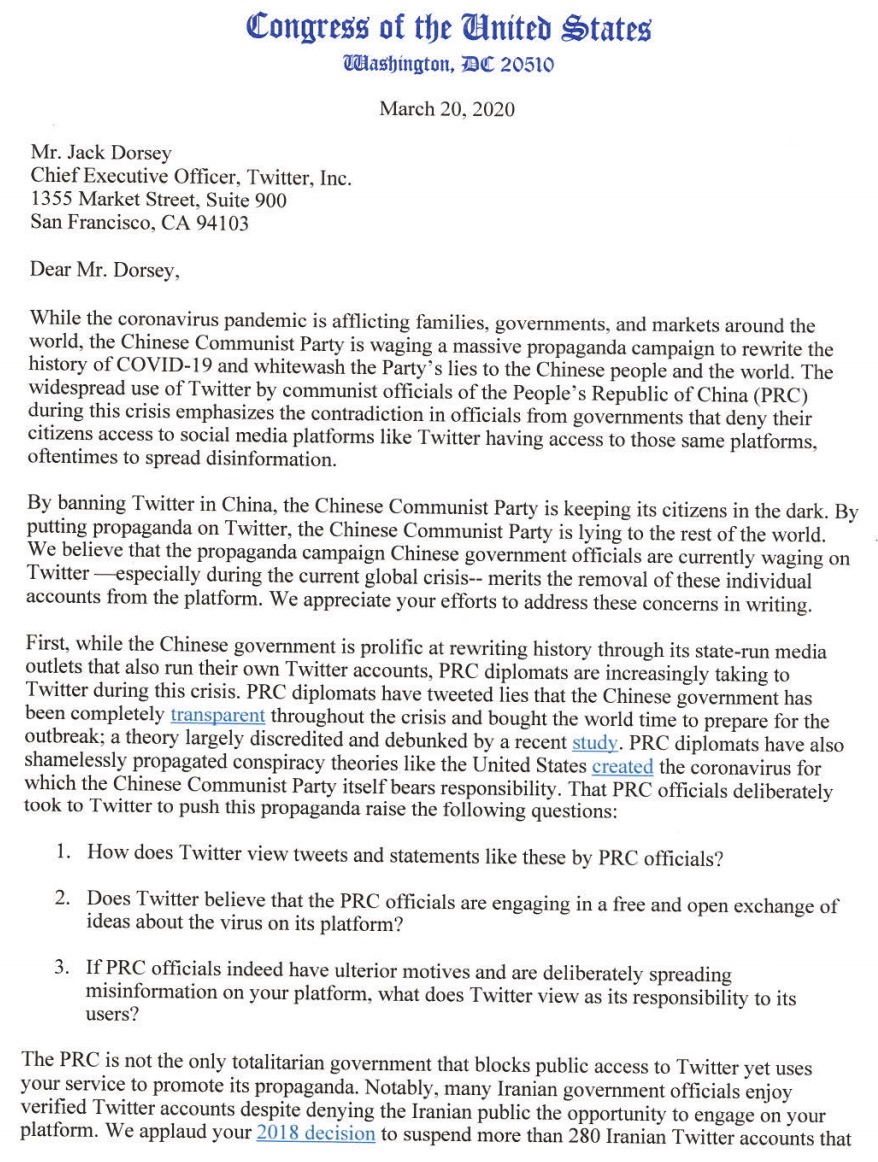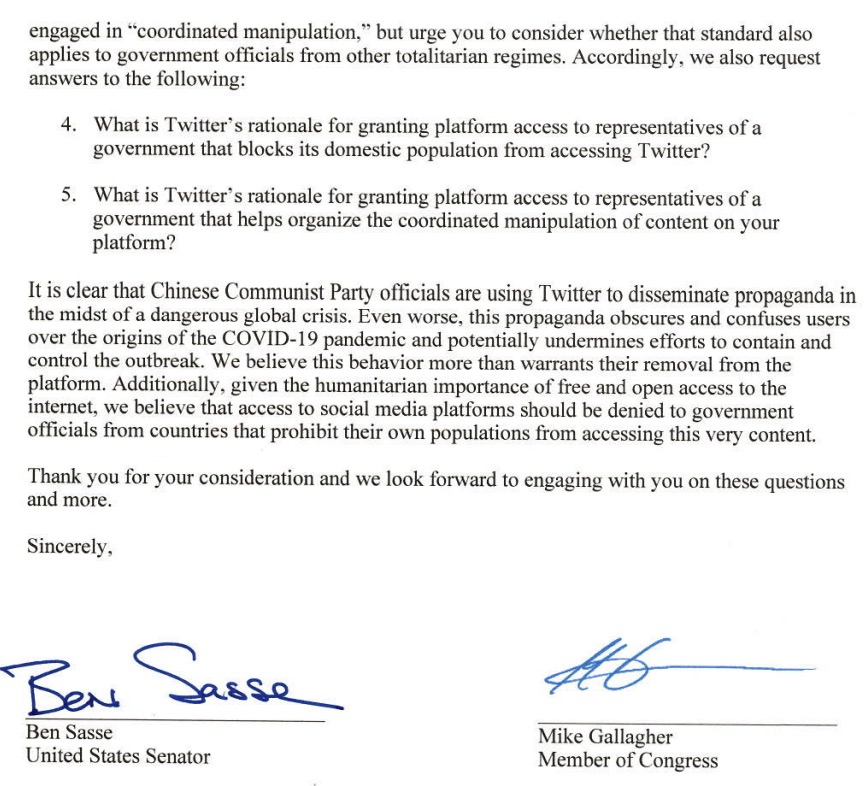 At the same time, China's diplomats are also said to be on the platform to communicate their thoughts on the pandemic that are described as efforts to disseminate lies and propaganda.
The two US lawmakers say these diplomats are lying about their country being transparent throughout the crisis, thus allowing other countries to get ready to combat the virus.
However, the letter links to a study that the authors say debunks that claim.
Next, Chinese diplomats are said to be using Twitter to spread claims that the virus was artificially created by the United States. Sasse and Gallagher, however, say that the Chinese Communist Party is responsible for the virus.
The letter then asks Dorsey how his platform views these statements attributed to China's officials, whether such messages live up to a free and open exchange of ideas regarding the outbreak, and if Dorsey thinks Chinese officials might have ulterior motives.
In that case – "what does Twitter view as its responsibility to its users?" Sasse and Gallagher ask.
The letter mentions that in 2018, Twitter removed accounts of 208 Iranian users for "coordinated manipulation," and wants the same approach implemented towards other totalitarian regimes.
Twitter has recently updated its rules aimed at curbing coronavirus misinformation – but the CCP has not been affected and China-backed Twitter bot accounts are running rampant on the platform.
MORE: State-owned China news outlet ratioed on Twitter after continuously claiming "Chinese virus" is racist