The chief of a Google-funded think tank has resigned after he posted a tweet suggesting he was hoping that President Trump would die.
Berin Szoka, who was the head of TechFreedom, recently tweeted that he would like to see President Trump die from a coronavirus infection. He said that it would be poetic justice.
His tweet says:
"Serious question: could there possibly any greater poetic justice in the universe than for Trump to die of the #CPACvirus."
The comment was made after Trump attended the Conservative Political Action Conference, an event where it was reported that one attendee had tested positive for coronavirus.
His tweet has earned the ire of many and some even posted tweets demanding his resignation.
After several days, Szoka issued an apology and admitted that it was a thoughtless tweet with an inappropriate comment about the President.
"Earlier this week, I sent a thoughtless tweet making an inappropriate comment about the President that I deeply regret," he tweeted Thursday. "I was wrong to tweet it and deleted it. Again, I apologize."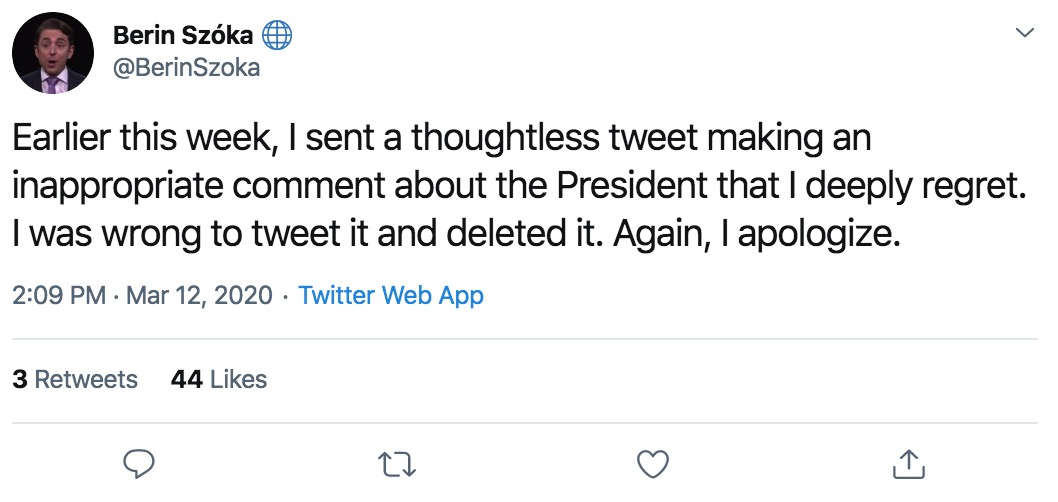 Before this incident, Szoka was known for being a dogged supporter of Silicon Valley.
Ironically, his tweet was posted on the same day that he was named as an expert in Technology 2020 Network by The Washington Post.
Meanwhile, some Republican lawmakers have voluntarily gone into self-quarantine after being potentially exposed to the coronavirus at CPAC. These include Texas Senator Ted Cruz and Florida Representative Matt Gaetz.
Replacing Szoka as chief of TechFreedom will be Shane Tews, a longtime member of the group's board.