Senator and presidential candidate Bernie Sanders has decided to open his DMs on Twitter, meaning that supporters (and critics alike) have now a relatively easy way to get in touch with him.
Of course, users shouldn't expect to get a reply from Bernie Sanders himself, as the senator should be busy running a campaign. The management has been obviously been delegated to community managers, who will be filtering through the thousands of messages that he will be receiving on a daily basis.
Given the form of the announcement, this is undoubtedly the case since the original Tweet was made by a member of Sanders' staff called Daniela Lapidous and not from Sanders' Twitter account.
BIG NEWS. @BernieSanders is now the first top presidential candidate in history to open his DMs directly to the people. If you want to get involved in the campaign, shoot us a message!

So proud to work with the team of dedicated volunteers who make this possible. ? #NotMeUs pic.twitter.com/qsonlAKILy

— Daniela Lapidous (@danielalapidous) December 18, 2019
The post also claims that Bernie Sanders is "the first top presidential candidate in history to open his DMs" – a statement that is not true, as the presidential candidate Andrew Yang has had open DMs for a while now.
@AndrewYang's have always been open – and he replies ? pic.twitter.com/SKXgtWtfes

— Heidi, Veterans For Humanity ??? (@YangVets) December 19, 2019
The announcement has had a mixed reception on Twitter. On one side we have Sander's supporters who of course are celebrating the decision, and on the other, we have his detractors, who claim that sending a DM isn't going to be any different from sending an email to his campaign.
Those who have already messaged the Senator, appear to be met with a cookie-cutter automated message: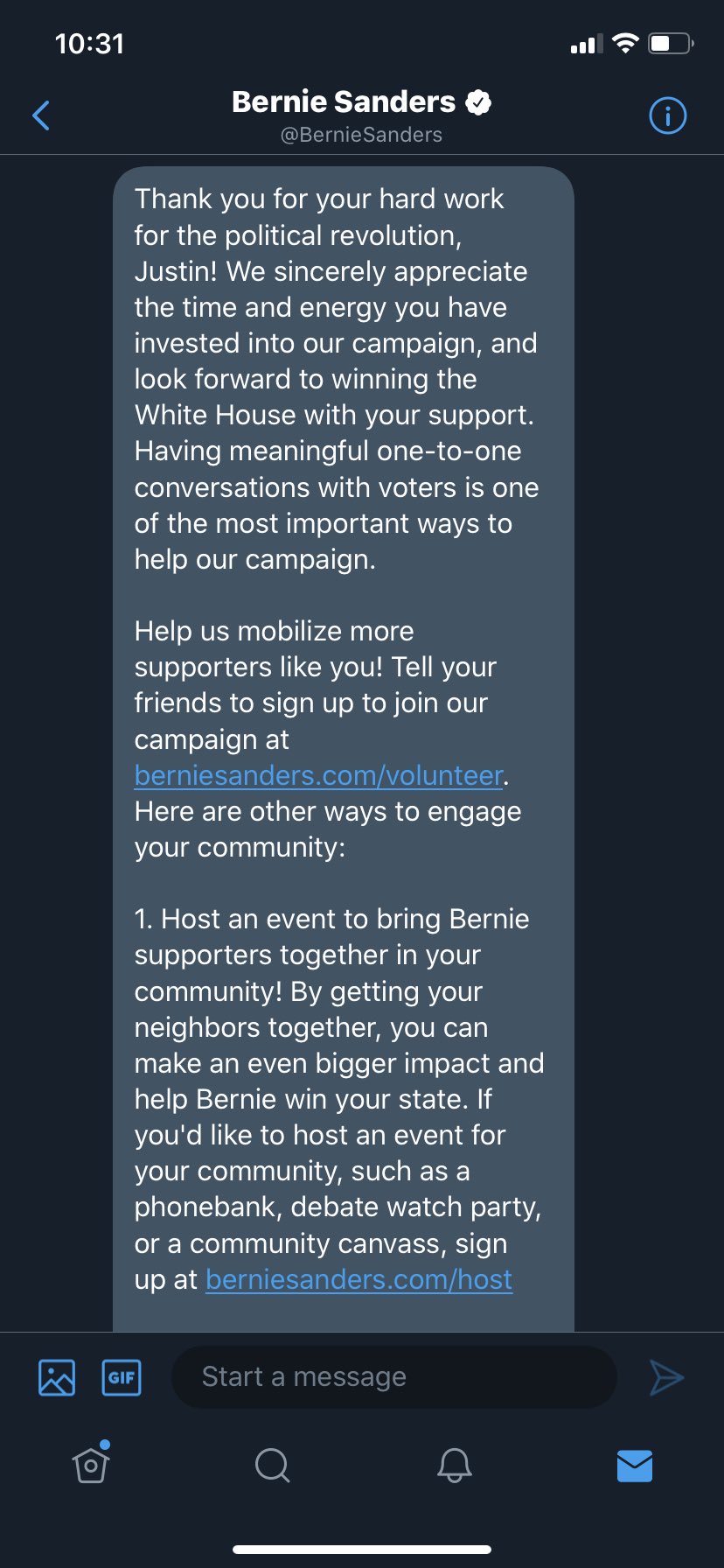 However, that hasn't stopped people from having fun with the open DMs: