A study by The Media Research Center has revealed that Twitter and Facebook have censored Trump 65 times in the period between May 2018 and October 16, 2020. In contrast, the two social media companies have not censored the Democratic Party's presidential candidate Joe Biden even once.
"Big Tech has caused serious damage to President Donald Trump's ability to be heard on social media. Twitter and Facebook have censored the president's social media accounts and the accounts belonging to his re-election campaign at least 65 times. In contrast, the companies have not censored… Joe Biden and his campaign accounts. At all," Media Research Center (MRC) wrote in the study.
The research center combed through Biden's and Trump's personal and campaign accounts from May 2018 to October 16, 2020. They found out that Twitter and Facebook censored the president 65 times while Biden's accounts were untouched.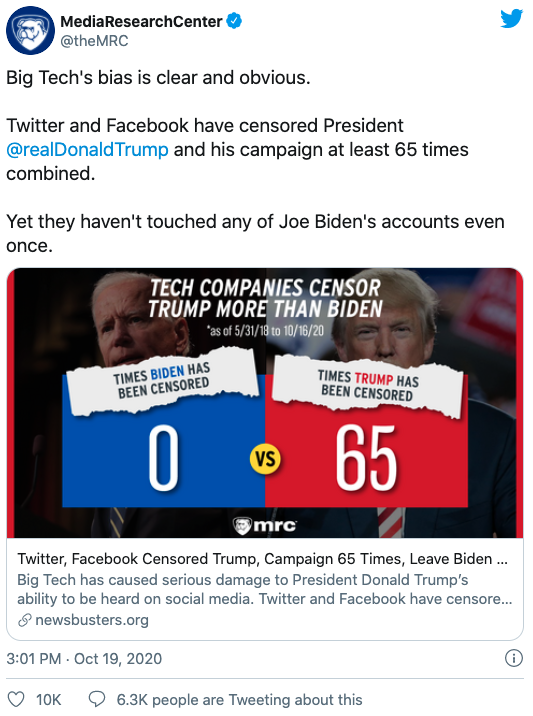 "Big Tech's bias is clear and obvious.
"Twitter and Facebook have censored President @realDonaldTrump and his campaign at least 65 times combined.
"Yet they haven't touched any of Joe Biden's accounts even once," MRC wrote.
Twitter is by far the major culprit having censored the president 64 times. The micro-blogging platform has added fact-check labels to the president's tweets about mail-in voting, BLM protests, and the coronavirus. The platform has even gone as far as removing Trump's tweets about hydroxychloroquine.
"This censorship goes back as far as the beginning of the Trump presidency," MRC added. "The Trump campaign's accounts have also been struck by censorship on Twitter."
On the other hand, Facebook has censored the president five times. The most notable censorship was removing a post by the president containing an anti-Antifa video. Facebook claimed that the post violated it "organized hate policy."
MRC noted the platform's double standards as there are "multiple violent Antifa pages" on the platform.