Twitter users are blasting the platform after it suddenly suspended another popular account – @Breaking911.
The account had over 485,000 followers and was one of the top accounts on the platform for breaking news.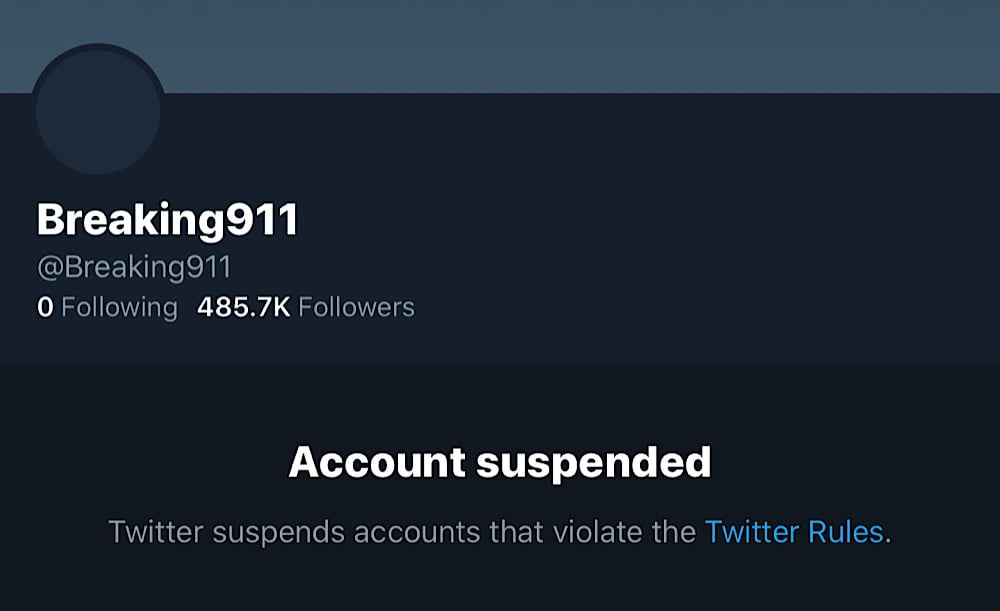 Many Twitter users expressed shock and confusion at the suspension of Breaking911 and don't know why the account was purged.
Breaking911 has been suspended but Chinese government accounts that spread lies about the origins of the coronavirus are perfectly fine on twitter pic.twitter.com/wlLndHCkuU
Anyone know what happened to @Breaking911 account?

Do you know @realDonaldTrump @SenSanders?? pic.twitter.com/Qlnq2lFyVR
Bruh why is @Breaking911 suspended pic.twitter.com/rAUjrpSodZ
According to the co-founder of Breaking911, the account has been suspended for "reasons that are unclear at the moment" and the Breaking911 team is working to get the account restored.
#BREAKING: @Breaking911 (Breaking911, Breaking 911) — has been suspended for reasons that are unclear at the moment. You can follow me for updates. #FreeB911 #B911
#FreeB911#B911#Breaking911@Breaking911 pic.twitter.com/G5GSTKrA4p
The suspension comes as Twitter faces growing scrutiny over its moderation practices on the platform.
Twitter recently confirmed that propaganda from Chinese officials that attempts to blame the US for the coronavirus is permitted on the platform.
Official government accounts engaging in conversation about the origins of the virus and global public conversation about potential emergent treatments will be permitted, unless the content contains clear incitement to take a harmful physical action.
Yet while it takes a hands-off approach to this pro-China propaganda, Twitter has been blocking some links to coronavirus articles and warning users that they may be forced to remove some coronavirus jokes.
Update – March 24, 2019: Breaking911's Twitter account has been restored.