Buzzfeed UK was today issued with an official strike-off notice from the UK Government authority that maintains the registry of companies, putting the media company's UK division at risk.
UK companies must file their accounts with Companies House yearly and failing to do so can result in the company being struck off the register.
Companies House lodged a proposal to strike Buzzfeed from the official register as its 2018 accounts, which were due by September 30 of this year, have still yet to be filed.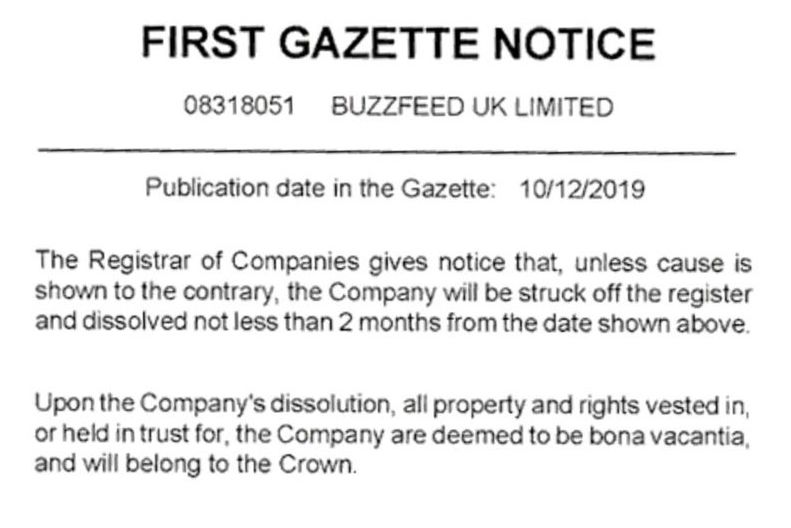 Buzzfeed's failure to file its accounts on time has caused speculation that the company is facing financial difficulties.
An industry source told City AM that Buzzfeed was operating at "an unsustainable rate" – something common for many of today's media companies.
Buzzfeed UK's last filed accounts – back in 2017 – showed a pre-tax loss of around $2.5 million and it was revealed that the company owed around $10.1 million to creditors.
In January of this year, Buzzfeed cut staff at its London newsroom by 15%, as the global Buzzfeed brand was looking to push towards profit.
As 2019 comes to an end, it's been reported that 7,700 people have lost their jobs in media this year as the industry becomes increasingly competitive and trust in media is declining.
Buzzfeed UK was also hit with a lawsuit last month when motivational speaker Tony Robbins filed a defamation suit after Buzzfeed's reporting that Robbins was involved in sexual misconduct.
Robbins said of Buzzfeed, "too many members of today's tabloid and entertainment media ignore traditional journalistic ethics, values and standards."
If Robbins' lawsuit is successful, it would result in further financial hardship for Buzzfeed.
Buzzfeed told CityAM that they should be filing their accounts "soon" but didn't speculate about why they were filing late.