Last week, America First Legal (AFL) filed a class action lawsuit against entities and individuals involved in the Virality Project and Election Integrity Partnership on behalf of The Gateway Pundit founder Jim Hoft and co-director of Health Freedom Louisiana, Jill Hines.
The lawsuit alleged that the defendants worked with the DHS' Cybersecurity and Infrastructure Security Administration (CISA) to influence the 2020 presidential election, censor conservatives' political viewpoints, and violate the First Amendment.
Documents obtained in the lawsuit revealed violations of the federal records act and "pre-bunk" channels to "fact-check" content.
The documents obtained showed that Brian Scully, head of the CISA's Countering Foreign Influence Task Force, and his team communicated with third-parties about government-related work on the secure messaging app Signal, with the self-deleting feature enabled. That means that some of what they communicated could not be obtained.
Using a private messaging app to communicate official business is also a potential violation of the Federal Records Act, AFL speculates.
In one email, Scully wrote: "Apologies for delay getting these [names and phone numbers] to you, but we've been working on some legal and records management issues to get access to signal."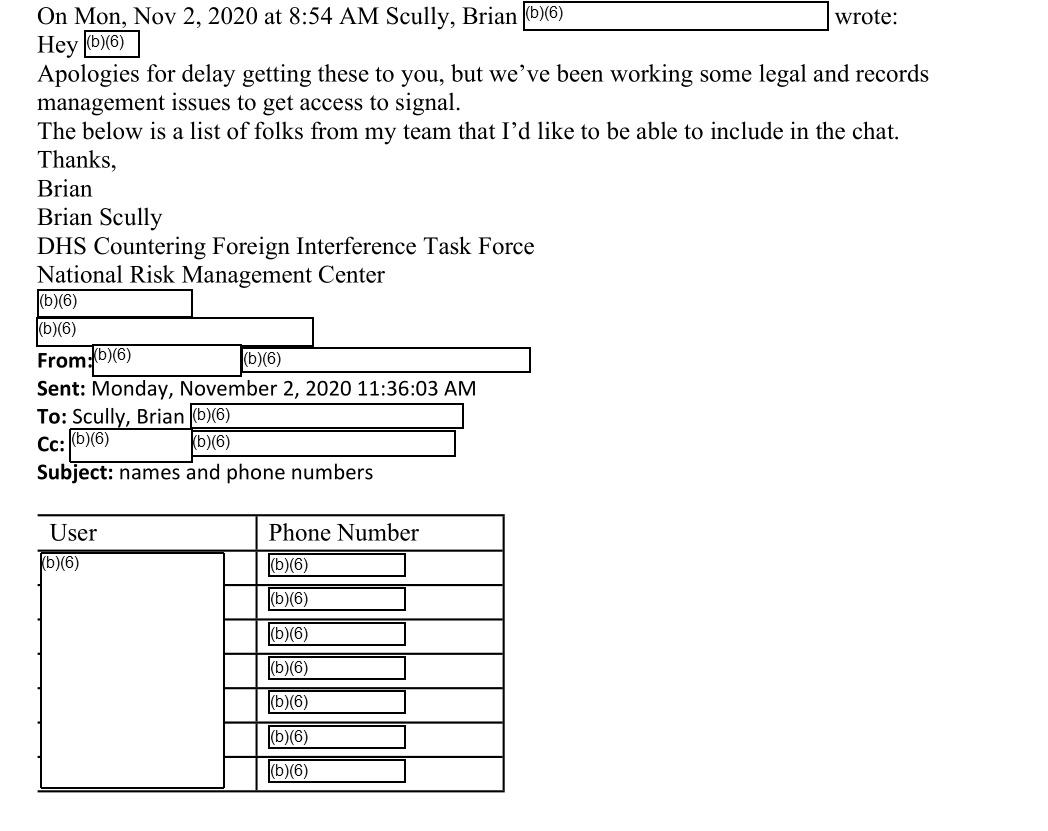 An email from Scully to then Twitter executive Yoel Roth on Nov. 3, 2020, election day, confirmed the communication outside official channels.
Scully wrote: "We're going to email only. We'll only report critical items from outside email chains. We'll continue to monitor the chat though."
The documents also revealed established "pre-bunk" protocols.
On Nov. 5, 2020, two days after the election, someone sent Scully an email to ask if there were any "debunks" of Project Veritas videos. Scully asked what videos the sender, whose name was redacted, was referring to, and they responded, "I just checked with our teams so you don't have to spin your wheels. Doesn't look like a debunk exists yet."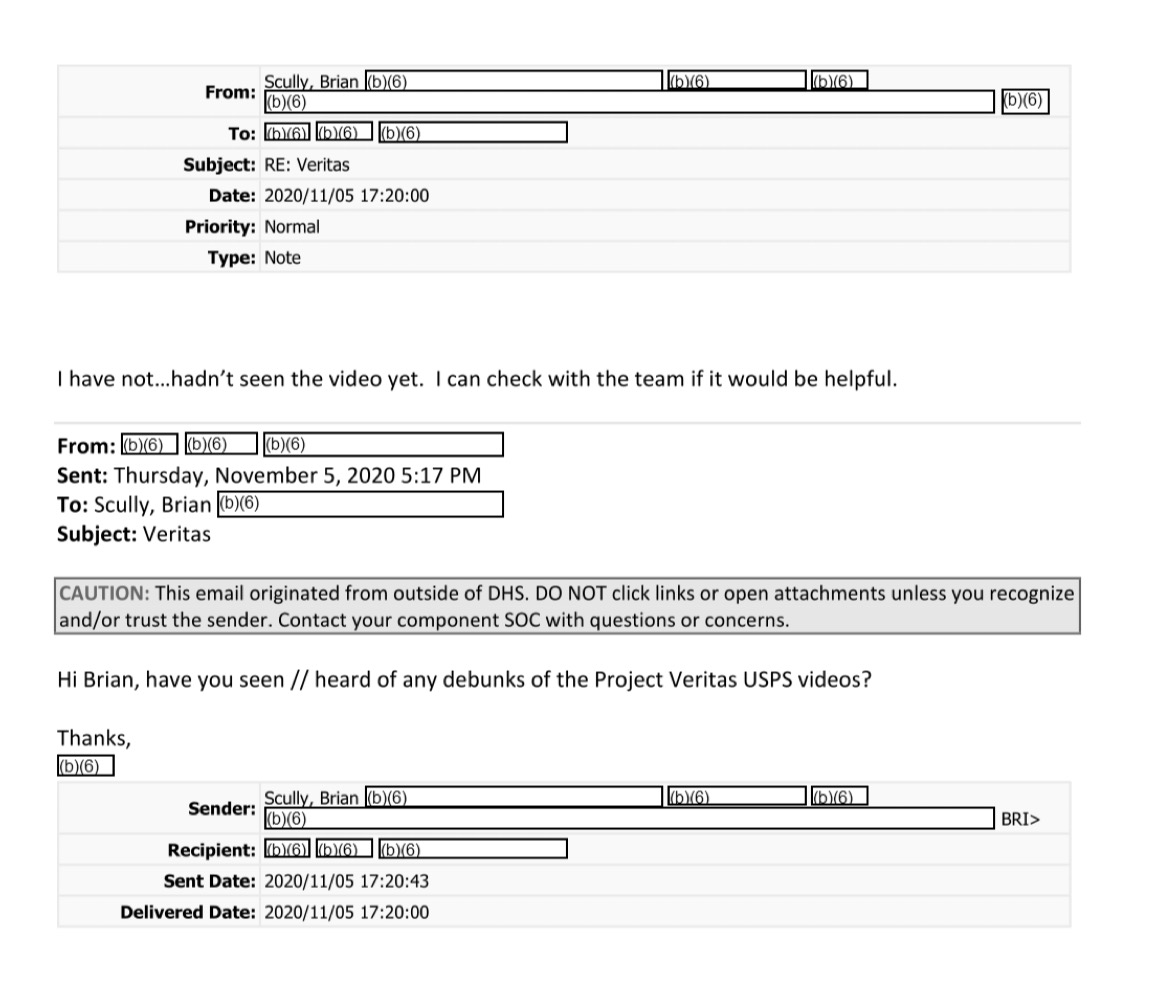 It's unclear where the message came from, but AFL most likely guess is that it was sent by someone from a social media company.
The documents obtained by AFL also revealed that there are familiar and cozy relationships between the government, tech companies, and the private industry.
On Nov. 13, 2020, someone who appears to be representing Dominion Voting Systems reached out to CISA to request for assistance in getting Twitter to censor a "false narrative."
"Can you assist with flagging this election disinformation content?" they wrote in an email with the subject line "Twitter Assistance."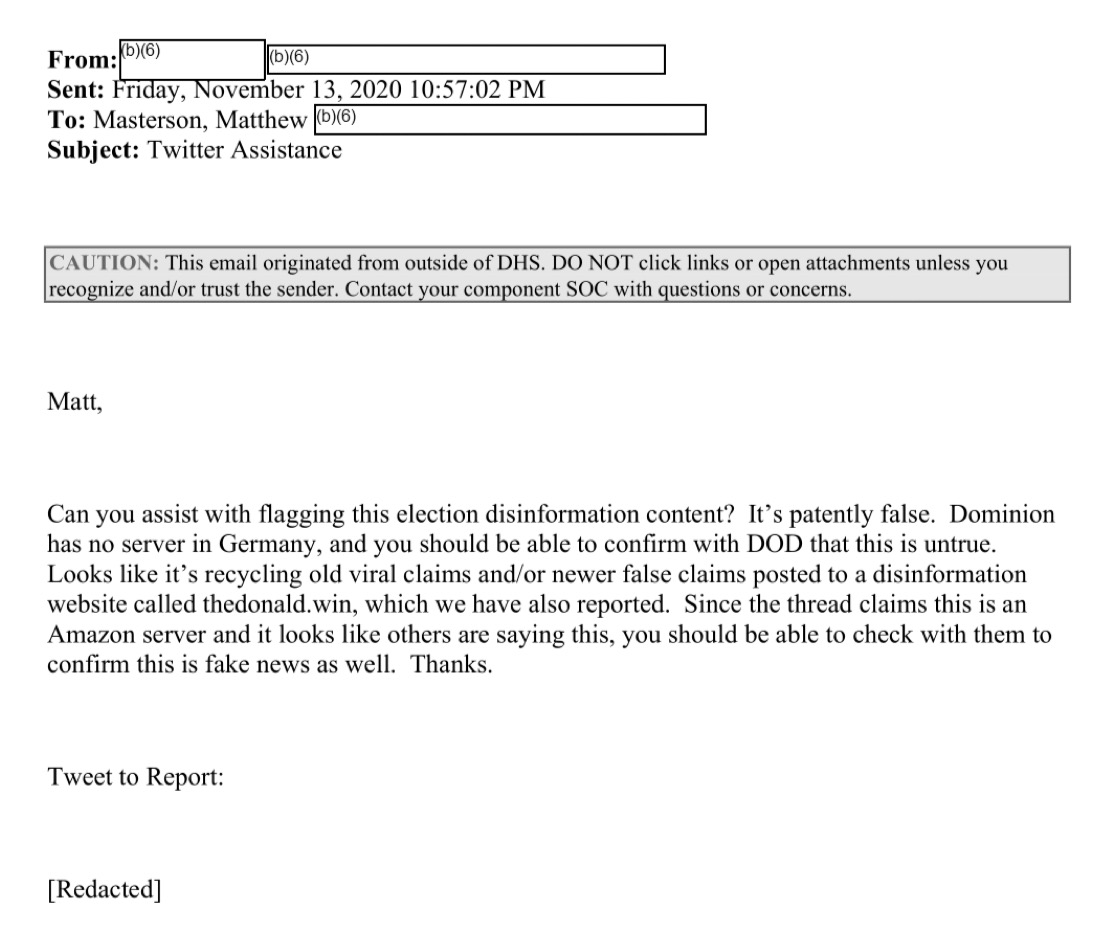 In another email, someone from Twitter sent Scully an email saying: "We have labeled so many Tweets tonight, so I am afraid that for now the answer is that it isn't ending tonight. Talk soon!"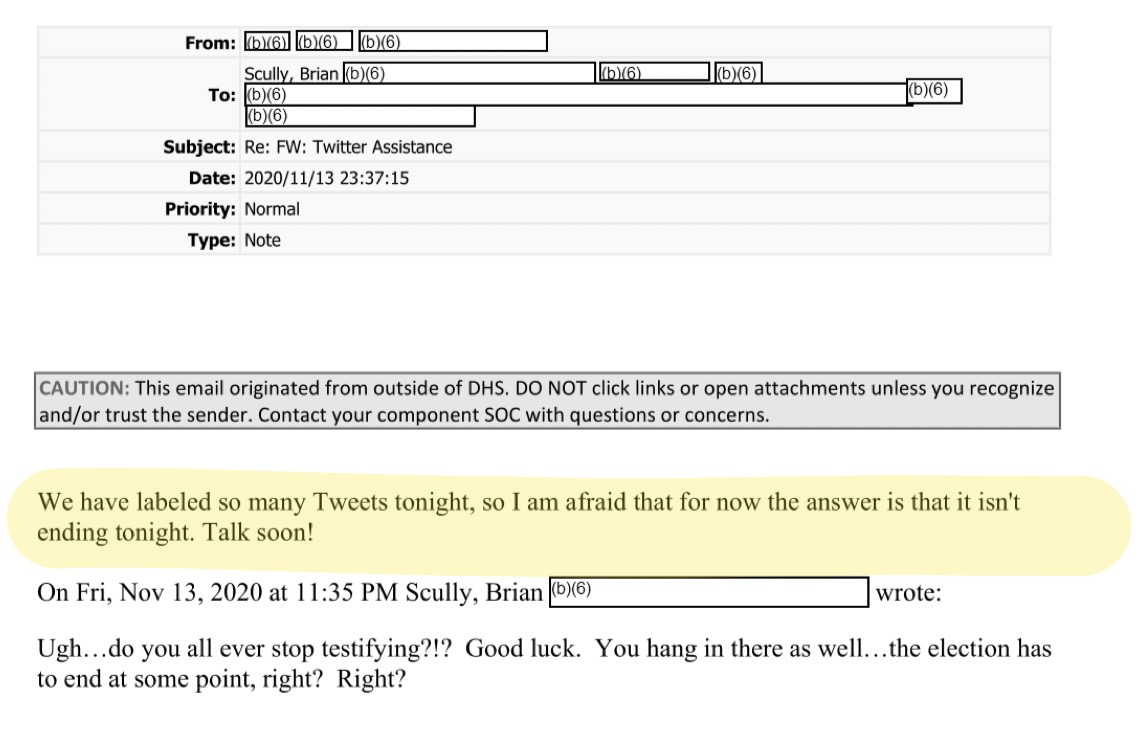 In a statement, AFL's vice president Gene Hamilton said: "These documents reveal an extraordinarily close relationship between the federal government and private entities committed to a censorship campaign. And while these documents should be alarming to all Americans, what's even more so is what isn't in these records. These emails contain direct evidence of an encrypted chat group that included communications about the censorship conspiracy—which apparently were not maintained in compliance with federal records laws—between government actors, big tech platforms, and other private entities. More information, not less, is the key to a truly free and open society."