Political commentator and congressional candidate, Laura Loomer, has been permanently banned by voice chat-only social media app Clubhouse.
Loomer is no stranger to being banned; she has been permanently banned on most mainstream social media platforms, including Twitter and Facebook, and describes herself as "most banned woman in the world."
Loomer's lawsuit against Big Tech was petitioned to the Supreme Court.
Going by her official account on Telegram, Loomer was suspended from Clubhouse only hours after joining.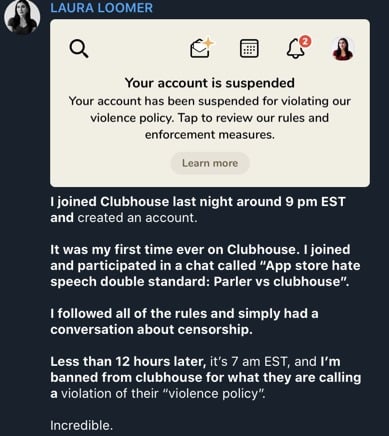 "I followed all the rules and simply had a conversation about censorship. Less than 12 hours later, it's 7am EST, and I am banned from Clubhouse for what they call a violation of their 'violence policy,'" Loomer posted on Telegram.
Loomer joined the platform on Friday to participate in a chat called "App Store Hate Speech Double Standard: Parler Vs. Clubhouse – Republicans & Conservatives."
Loomer was banned soon after.