Yesterday The Daily Beast doxed Shawn Brooks – a Trump supporter who it claimed was behind the viral slowed down Nancy Pelosi video which made her appear drunk. Now Brooks is pushing back. He says that most of the information in The Daily Beast's story about him is false and that he plans to take legal action against everyone associated with its publication.
The writer of The Daily Beast article, Kevin Poulsen, acknowledged that Brooks' had concerns over being publicly linked to the Pelosi video but still posted Brooks' name, age, current occupation, current city of residence, and criminal history in the piece.
In the article, Poulsen claimed that:
Brooks posted the Pelosi video to the Politics WatchDog Facebook page
Brooks admitted that he'd earned almost $1,000 in shared ad revenue from the Pelosi video
Brooks had participated in a 90-minute interview
Brooks said that he "couldn't believe" that President Trump's lawyer Rudy Giuliani was fooled by the video and that it's "kind of bad" that Giuliani believed it and shared it
A Facebook official passed private information about Brooks to The Daily Beast
A Facebook official told The Daily Beast that Brooks had been operating six separate administrator accounts for the Politics WatchDog Facebook page and that these accounts had now been deleted under its real-name policy
In a statement posted to Facebook, Brooks denied Poulsen's allegations that he posted the video to the Politics Watchdog Facebook page and said that some details in the article are inaccurate.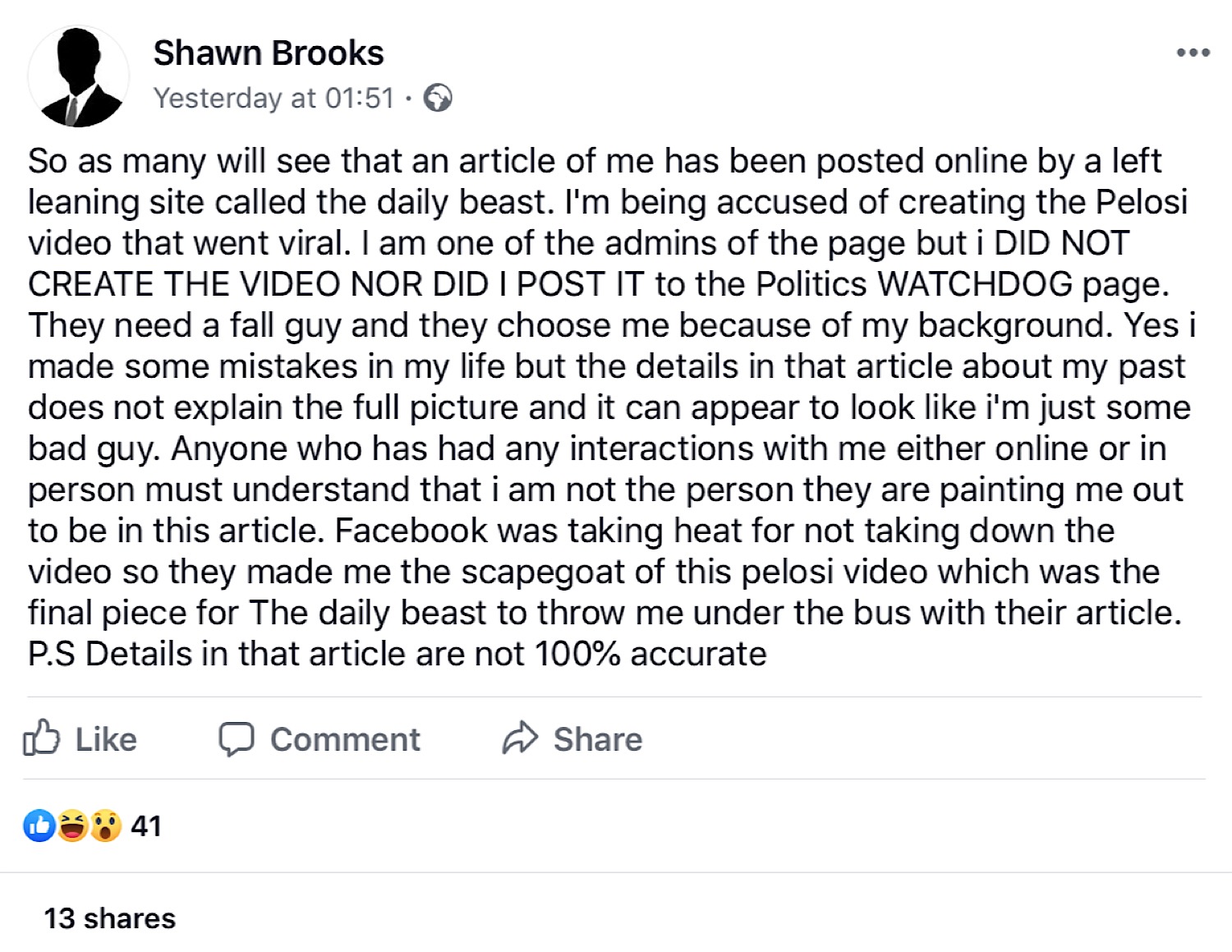 His full statement reads:
"So as many will see that an article of me has been posted online by a left leaning site called the daily beast. I'm being accused of creating the Pelosi video that went viral. I am one of the admins of the page but i DID NOT CREATE THE VIDEO NOR DID I POST IT to the Politics WATCHDOG page. They need a fall guy and they choose me because of my background. Yes i made some mistakes in my life but the details in that article about my past does not explain the full picture and it can appear to look like i'm just some bad guy. Anyone who has had any interactions with me either online or in person must understand that i am not the person they are painting me out to be in this article. Facebook was taking heat for not taking down the video so they made me the scapegoat of this pelosi video which was the final piece for The daily beast to throw me under the bus with their article. P.S Details in that article are not 100% accurate"
In a separate post, Brooks disputed the claims that he was controlling the administrator accounts associated with the Politics WatchDog Facebook page and posted a screenshot suggesting that these admin accounts were still live after The Daily Beast published its article where it claimed the admin accounts had been deleted.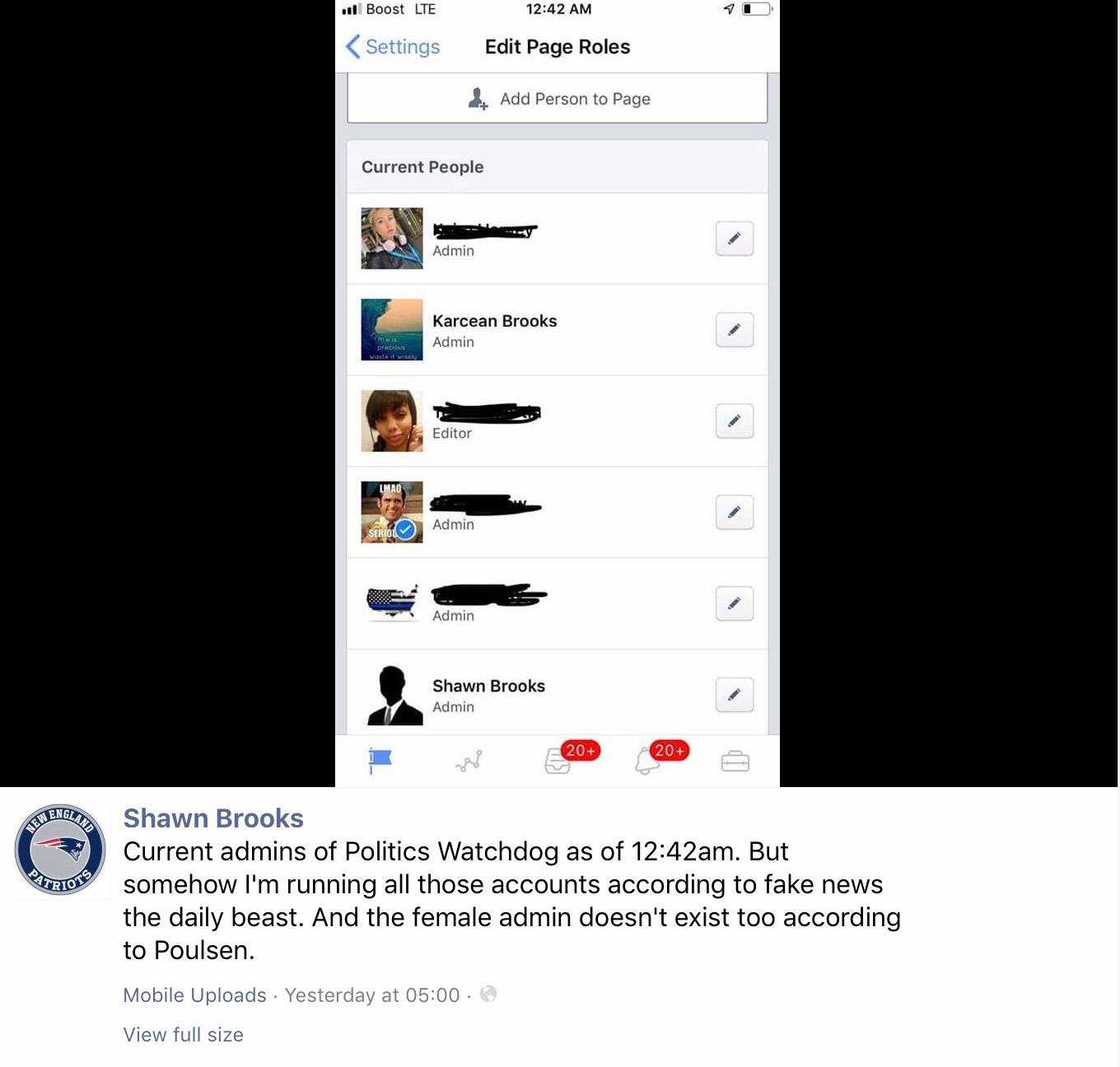 On Twitter, Brooks added that Facebook had provided no evidence of its claims that he was operating these admin accounts.
https://twitter.com/sportsgurufsr/status/1135321188488663040
Brooks then went on to deny many of the claims in The Daily Beast article. According to Brooks:
After pushing back against the article, Brooks announced that he intends to take legal action and is crowdfunding his Legal Action Fund via GoFundMe.
In a statement on his GoFundMe page, Brooks says:
"I'm looking at my options for possible legal action against anyone who was associated in publishing that inaccurate trash article about me, misquoting me and accusing me of being the creator of the Speaker Pelosi video that went viral."
Before The Daily Beast published this hit piece on Brooks, many other legacy media outlets called on the social media platforms to delete the slowed down Pelosi video because it was fake. However, days later, when a fake President Trump quote started to circulate on Twitter, most legacy media outlets were silent, suggesting that their calls to remove the fake Pelosi video were politically motivated.
Facebook is also reportedly punishing users for sharing the slowed down Pelosi video.
Free Tutorial: Our step-by-step guide to starting your own website for fun or profit