First Facebook, now YouTube.
The Google video giant has today deleted the channel of author and speaker David Icke, accusing Icke of publishing misleading content about the coronavirus pandemic and lockdowns.
YouTube CEO Susan Wojcicki last month made a shocking admission that any content that contradicts the World Health Organization is a violation of its policies.
The move comes after the BBC approached YouTube for comment on Icke's videos.
"YouTube has clear policies prohibiting any content that disputes the existence and transmission of Covid-19 as described by the WHO and the NHS," a spokeswoman told the BBC. "Due to continued violation of these policies, we have terminated David Icke's YouTube channel."
David Icke's channel had around 904,000 subscribers at the time it was deleted by YouTube.
Icke had been posting videos to YouTube for 14 years; making his channel one of YouTube's longest-running in its history.
His first video was posted back in 2006, and it was only when Icke began to increase in popularity in recent months, as people began to question the coronavirus lockdowns and the proposed erosion of civil liberties that Icke was discussing, was Icke removed from the platform.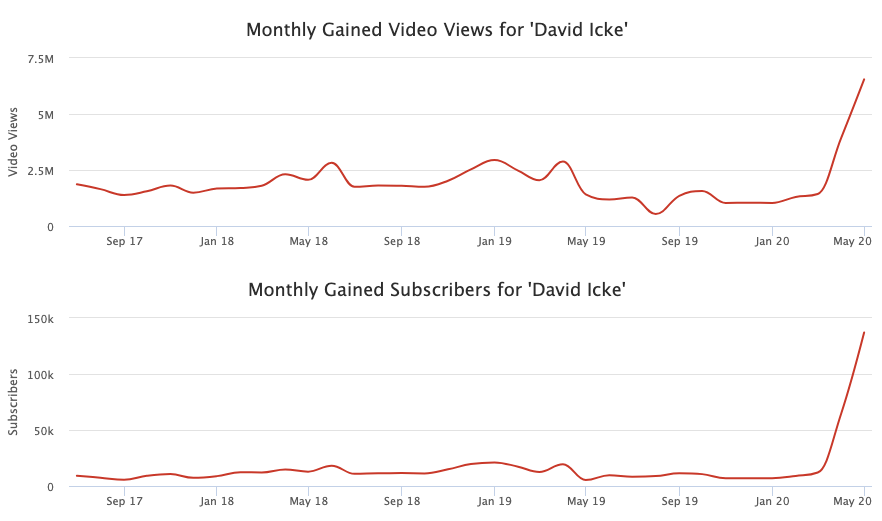 YouTube's censorship comes after Facebook this week deleted Icke's page from their platform, citing rules about "health misinformation."
While many are concerned about the significantly increased censorship that has been taking place in recent months, especially as the companies have a monopoly over the public conversation, YouTube and Facebook's move is welcomed by a UK activist group that call themselves the "Center for Countering Digital Hate."
Rather than working to counter any points they disagree with Icke on, the group instead want Icke to be completely removed from all Big Tech platforms.
"We commend YouTube on bowing to pressure," said Imran Ahmed, an executive for the activist group, to the BBC.
However, the CCDH not only want Icke to be scrubbed from the internet, but they also want anyone who talks about and promotes the work of Icke to be banned from the platforms too.
"There remains a network of channels and shadowy amplifiers, who promote Mr Icke's content [and] need to be removed," Ahmed said, in a chilling statement.