After President Trump announced he had been tested positive for the coronavirus, Dr David Samadi, a top New York doctor, tweeted out encouragement to President Trump, wishing him well, and suggested the treatment of hydroxychloroquine, zinc, and Zpack (Azithromycin).
But, despite being one of New York's highly-regarded doctors, Twitter didn't agree with Samadi's recommendation and locked the doctor's account.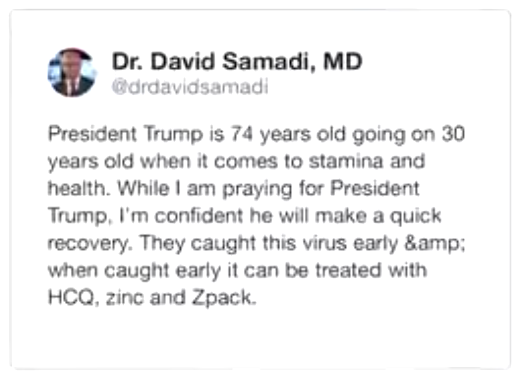 "We have determined that this account violated the Twitter Rules. Specifically, for: 1. Violating the policy on spreading misleading and potentially harmful information related to COVID-19," read the Twitter notice sent to Samadi. "We understand that during times of crisis and instability, it is difficult to know what to do to keep yourself and your loved ones safe. Under this policy, we require the removal of content that may pose a risk to people's health, including content that goes directly against guidance from authoritative sources of global and local public health information."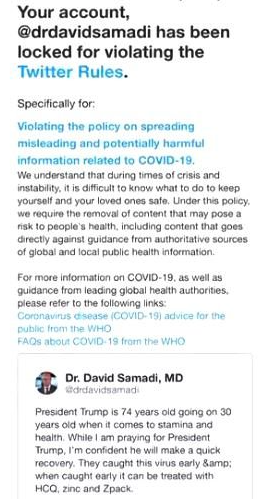 "As a result, we've temporarily limited some of your account features. While into this state, you can still browse Twitter, but you're limited to only sending Direct Messages to your followers — no Tweets, Retweets, follows, or likes," the social network said, before claiming the suspension would last 12 hours.
Governor Mike Huckabee of Arkansas criticized Twitter's move, calling on Twitter CEO Jack Dorsey to reverse the decision. "Does some 20 yr old at Twitter know more than @drdavidsamadi," Huckabee exclaimed.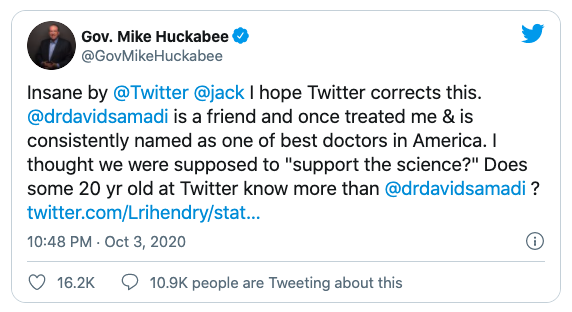 This isn't the first time Dr Samadi has been silenced by Twitter for giving his medical expertise.
In July, Twitter suspended Dr Samadi for 24 hours for saying, "Hydroxychloroquine works and has worked."
Twitter employees decided this was, "spreading misleading and potentially harmful information related to COVID-19."
Since President Trump first touted the benefits of HCQ, social media platforms have been quick to suspend or lock the accounts of those who recommend it, even though it is a favored COVID-19 treatment in many countries.