Egypt has had a history of internet shutdowns, censorship, and surveillance over the past decade, and now data from an NGO monitoring internet governance suggests that this practice may be continuing.
According to NetBlocks, network disruptions have been recorded with two major Egyptian ISPs – Telecom Egypt and Raya – starting on Sunday and affecting social platforms and news websites.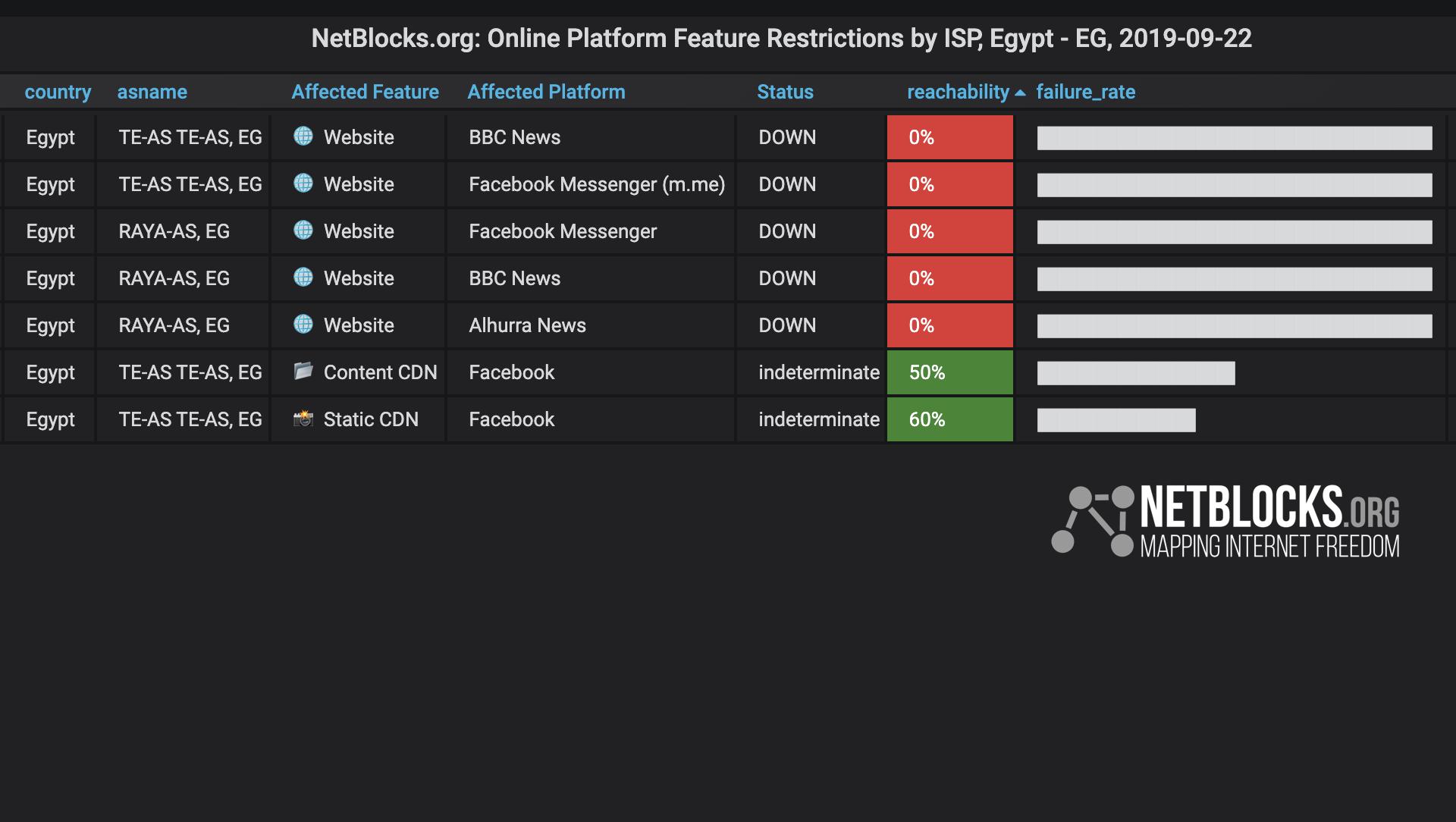 This is reportedly happening against a backdrop of political tensions and the county's "first political demonstrations in years" that re happening over videos alleging high-level corruption, made public by businessman and actor Mohamed Ali.
Ali, who, according to the BBC, lives in self-imposed exile in Spain, used social media to accuse President Abdul Fattah al-Sisi and the authorities of corruption and to call on protesters to gather and express their dissatisfaction. The president, meanwhile, has rejected the accusations as "slanderous lies."
Other reports suggest that the protests have in the meantime resulted in hundreds of arrests.
NetBlocks said that while access to Facebook Messenger, Facebook image CDN servers, and the BBC, among others, was not blocked as of Sunday, it appeared to be restricted to various degrees.
Internet access difficulties that have been reported by users and that NetBlocks said it was able to confirm coincide with the protests that saw demonstrators clash with the police. The report suggests that making access to social networks difficult might be motivated by the desire of the authorities to keep the unrest under control – as the current protests are described as "social media-fueled."
And given that the demonstrations are not massive or wide-spread at this time, an imminent internet shutdown doesn't seem to be in the works.
NetBlocks said that it decides on internet performance and network reachability via its "web probe measurements."
In the past, this group reported about state censorship imposed during the 2019 constitutional referendum in Egypt, when "technical restrictions briefly caused disruption to social media link shortening services, causing widespread disruption to social media sharing for several hours."
This time, it looks like Facebook Messenger might be hit the hardest, while restricted access to the social media giant's CDN servers means users will have trouble uploading or viewing images.
All this means that civil rights such as freedom of assembly and media rights might once again be in jeopardy in Egypt, NetBlocks is reporting.