New allegations suggest Canada's federal Farm Credit Canada bank was involved in spying on customers based on their political activities, specifically linked to the Freedom Convoy protest, organized against government policies around Covid restrictions.
Reports say that the bank, which is supposed to serve farmers, put rules in place to deal with politically "disobedient" clients. Some are comparing the way this has been set up to China's Social Credit System.
Related: Canada: Some Freedom Convoy supporter's bank accounts are still frozen
Internal documents obtained via access to information requests published by Blacklock's Reporter show that the bank was monitoring and investigating those opposed to the Trudeau government's policies and created a blacklist while denying doing that in public statements.
Blacklock's first reported about the bank's blacklist back in February; Farm Credit Canada flat-out denied it in response, stating that it "has not compiled any list with respect to the Freedom Convoy."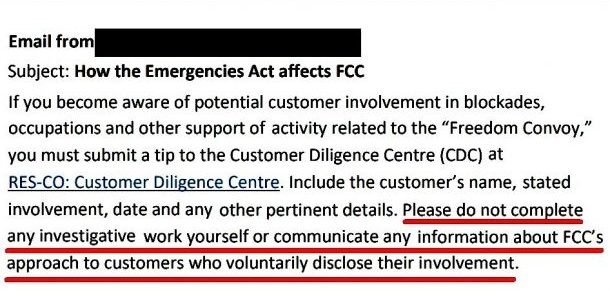 The emails from Farm Credit Canada managers that have now come to light refer to "the Act" (the Canadian authorities used the Emergencies Act to end the protest) and say that those who are found to be participating in Freedom Convoy were to face a number of punitive measures, such as refusal to onboard them, freezing disbursements, and "assess the need to terminate business relationships."
The bank's employees were instructed by Chief Operating Officer Sophie Perreault to immediately report a customer's involvement, and not inform them about being blacklisted.
The employees were to "submit a tip" to the customer diligence center if they discovered that a client has been involved in or supported the protest. Judging by the emails, the blacklisting continued even after the emergency measures were lifted.
The information contained in the "tip" should include customer's name, date, stated involvement, and other "pertinent" details.
The Canadian government's preferred tactic in crushing the protest was to cut participants and supporters off from their money by freezing bank accounts, and using a number of other methods toward the same end.