A Finnish politician and a member of the Christian Democrat party, Päivi Räsänen, is being investigated for an alleged "hate crime" as she shared a Bible verse on her Facebook page as an effort to criticize the Evangelical Lutheran Church of Finland for participating in LGBT Pride events in June this year.
Congresswoman Räsänen had posted a status update criticizing the Church's participation in LGBT events along with a picture of Romans 1:24-27 from the Bible, which describe same-sex relationships as shameful.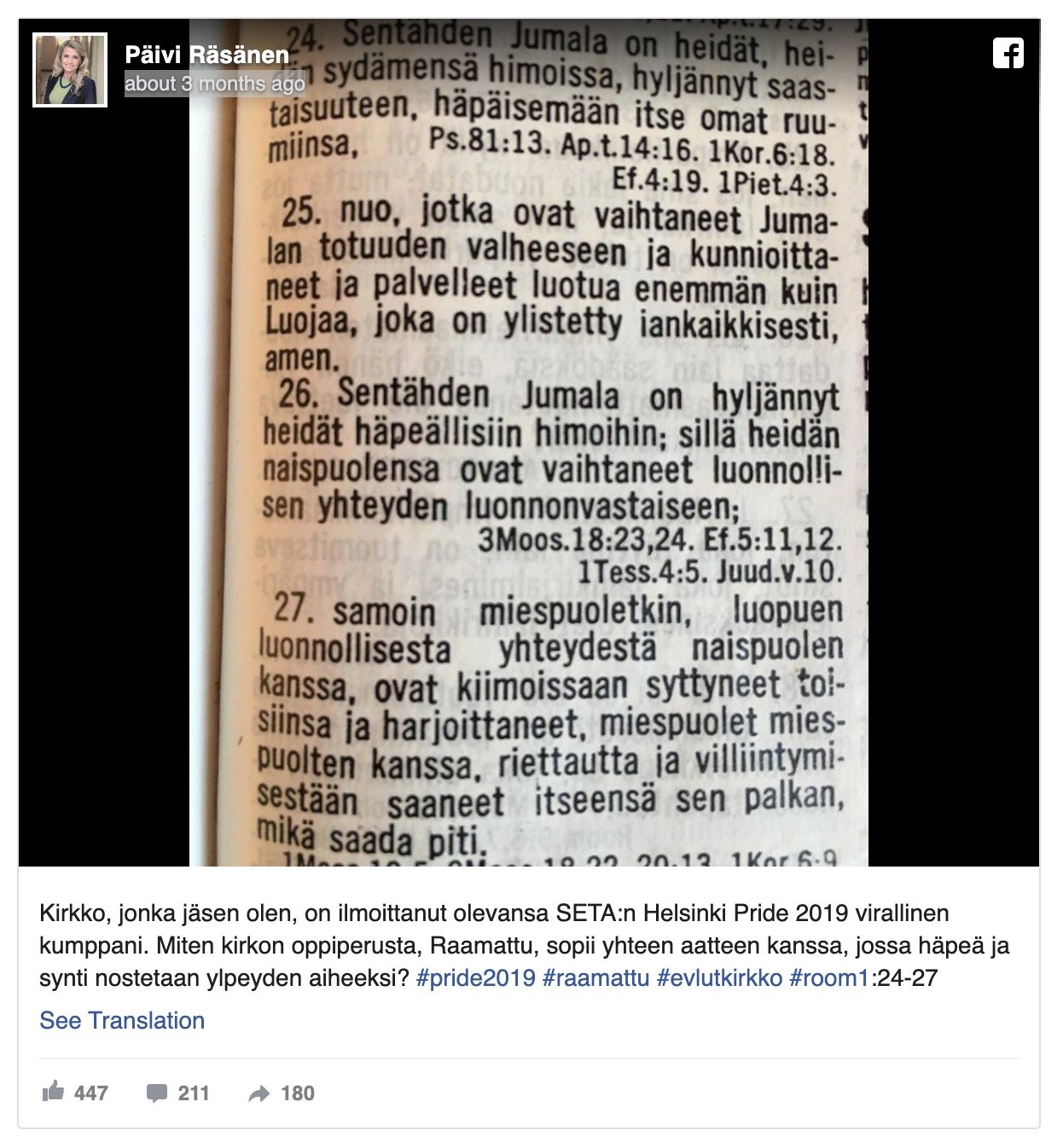 "The Church of which I am a member has announced to be the official partner of the set Helsinki Pride 2019 How does the church's doctrine, the Bible, fit together with the cause where shame and sin are raised as a topic of pride?" read the Congresswoman's post.
Due to the Facebook post, Räsänen was accused of a "hate crime" and is currently under pretrial investigation for a suspected provocative behavior against gender and sexual minorities.
The Finnish politician is married to a pastor belonging to the Evangelical Lutheran Church that she accused. The ELCF has enjoyed vast support of nearly 69% of the Finns for quite some time now; however, the church is now facing a steady decline for the last few years, says the Evangelical Focus.
The officer-in-charge of Räsänen's investigation said that the pre-trial phase hasn't been completed yet and that more details will be provided after the investigation is either completed or presented to a prosecutor, as reported by the Helsinki Times.
With regard to the investigation, the politician tweeted saying, "I am not concerned on my part, as I trust this will not move on to the prosecutor. However, I am concerned if quoting the Bible is considered even 'slightly' illegal. I hope this won't lead to self-censorship among Christians. Rom. 1:24–27."
Räsänen is known for her outspoken defense of orthodox Christian views when it comes to sensitive aspects such as marriage and abortion. But after public outrage and being labeled as a "homophobic" for her comments, Räsänen responded by saying that "It is not right to label Christian conviction as phobia."