Florida Governor Ron DeSantis has embraced the growing video sharing platform Rumble and created a channel where he'll be posting video updates and live streams.
"Gov. Ron DeSantis is a longtime proponent of free speech and has been at the forefront of the effort to demonopolize Big Tech," Rumble CEO Chris Pavlovski said in a statement. "He understands firsthand Americans' distrust of monolithic tech companies and the danger they pose to free expression and free markets. In fact, YouTube recently removed from its platform a video of the governor and a handful of Ivy League-educated medical experts discussing the downsides of prolonged pandemic-related lockdowns. Rumble, on the other hand, invites robust and civic dialogue on our platform, including Gov. DeSantis' insights and expertise."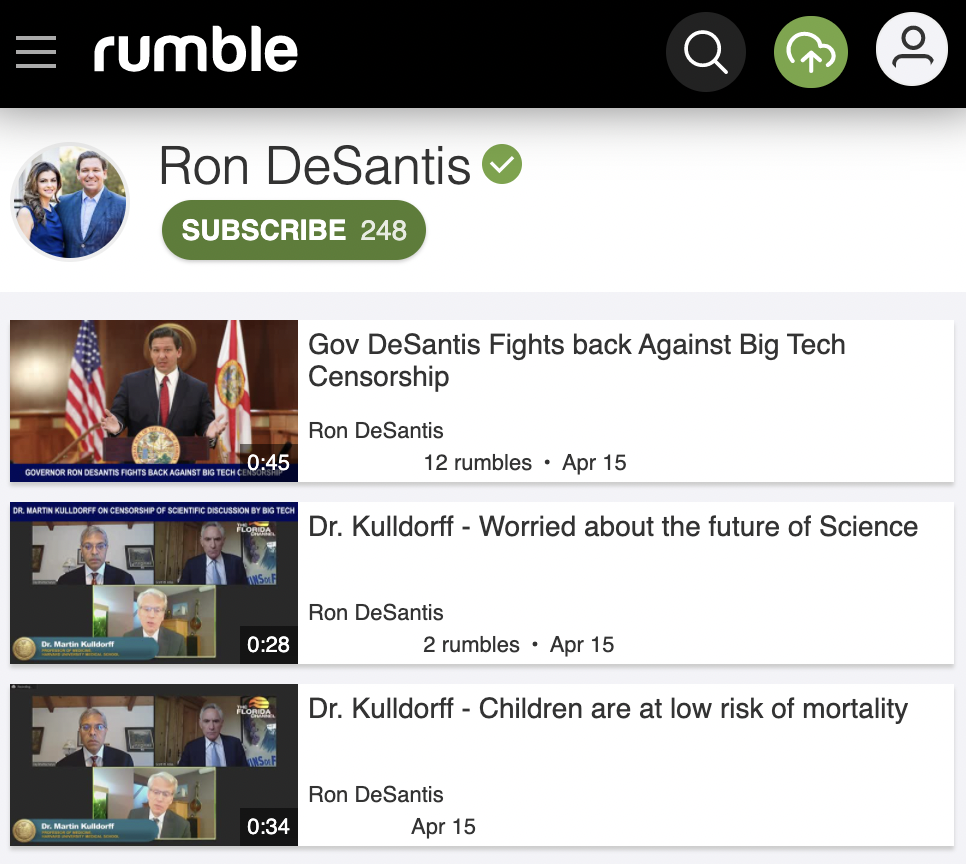 The channel already has several clips from DeSantis, former White House coronavirus advisor Dr. Scott Atlas, epidemiologist Dr. Martin Kulldorff, and professor of medicine Dr. Jay Bhattacharya where they warn of the dangers of censorship.
All of those featured in the clips have recent direct experience with Big Tech censorship and were part of the censored discussion that Pavlovski mentioned in his statement. The video of this discussion had racked up more than half a million views on YouTube before it was removed by the tech giant.
DeSantis is the latest of several high profile public figures and brands to embrace Rumble. Earlier this week, former White House advisor Sebastian Gorka started live streaming his popular show on the platform. One American News Network and conservative commentator and Rumble investor Dan Bongino, and conservative comedian Terrence K. Williams have also built a strong presence on the platform in recent months.
Rumble's addition of DeSantis to its roster of creators follows it introducing live streaming earlier this week – a feature that gives creators the freedom to broadcast their thoughts live without having to worry about the stream being taken down by Big Tech censors if they express dissenting viewpoints.
More features are expected later this year including playlists and improved monetization. And Rumble continues to enjoy impressive growth as users flock to the platform to see the videos that have been censored by Big Tech.