Those who might consider Vimeo a viable YouTube alternative, particularly where it concerns free speech, might also feel the need to rethink this in light of an announcement made on August 10 by Frontline COVID-19 Critical Care (FLCCC), a group of leading critical care doctors who formed an alliance.
In a post, they informed their followers that videos missing from the FLCCC website (embedded from Vimeo) have been disappearing – as a consequence of the video site deplatforming the organization, i.e., deleting their account and therefore all content.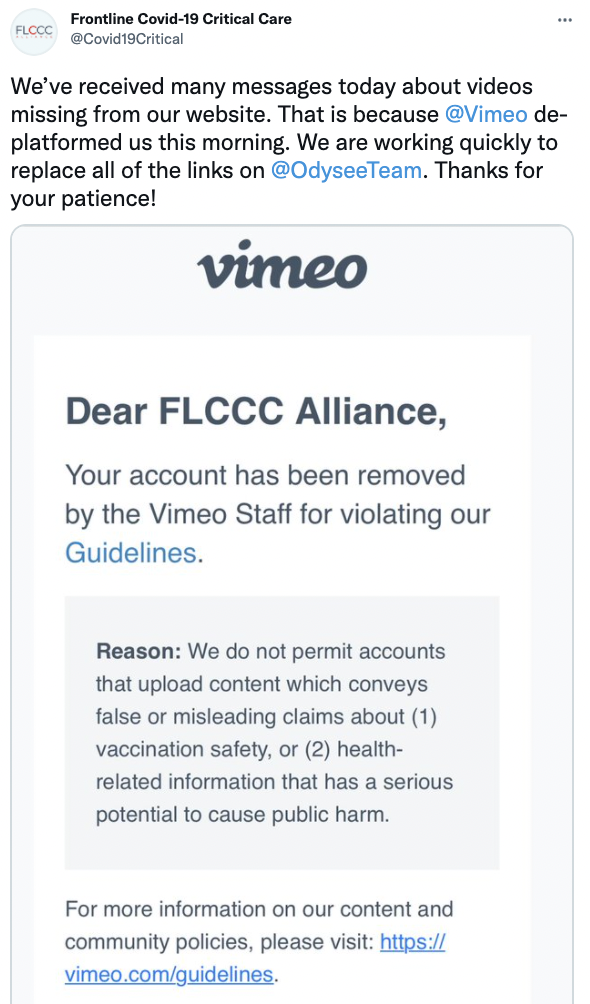 But the tweet continued, "We are working quickly to replace all of the links on @OdyseeTeam" – referring to Odysee, a video site built on top of the Lbry blockchain protocol. Odysee Team was all too happy to respond on Twitter, promising to support FLCCC and its audience as the alliance's content is transitioned to the platform.
Vimeo, who sits on the opposite end of the platform "philosophy" as a centralized one, informed FLCCC that the account was removed in a notice shared in a screenshot, which cited a violation of the site's guidelines.
Vimeo accused FLCCC of uploading videos that spread misinformation or untruths about vaccination safety or other health-related information that is seen as having "a serious potential" to cause public harm.
The Vimeo message doesn't copy the platform's Big Tech counterparts' boilerplate "explanations" of censorship, but it is identical in spirit, by nor providing any details on what content and in what way violated its guidelines. Instead Vimeo provides a link to the guidelines page for the subject of deplatforming to "study" and try to understand what they did wrong.
But it's clear FLCCC had no intention of taking that path, or "replying to the message" (ostensibly this is "Vimeospeek" for, "you can appeal the decision"). Instead, the alliance seems determined to indeed find a platform that better suits its needs – as "advised" by Vimeo at the end of the notice – and that would be Odysee.
According to its website, the FLCCC Alliance was formed in the early days of the pandemic in Europe and North America – in March 2020, as a non profit whose goal is to develop "highly effective treatment protocols to prevent the transmission of COVID-19," as well as to "improve the outcomes for patients ill with the disease."