Remove China Apps, a service that promised to help users get rid of Chinese apps, is no longer available on Google's Play Store. The app was popular in India and had become the number one downloaded app in the country.
Remove China App was developed by an Indian-based developer, OneTouch AppLabs. According to data from Sensor Tower, it had 4.7 million downloads since it appeared on Play Store on May 27.
Google says it disabled the app as it forbids apps that encourage or allow the removal of other apps.
In a statement, Google told us:
"We recently suspended a number of apps for violating the policy that we don't allow an app that "encourages or incentivizes users into removing or disabling third-party apps or modifying device settings or features unless it is part of a verifiable security service". This is a longstanding rule designed to ensure a healthy, competitive environment where developers can succeed based upon design and innovation. When apps are allowed to specifically target other apps, it can lead to behavior that we believe is not in the best interest of our community of developers and consumers. We've enforced this policy against other apps in many countries consistently in the past – just as we did here."
The developer of the app was responding to the tensions over the influence of Chinese-based tech. The app also came after the Indian government made a move targeting foreign direct investment policies for Chinese companies.
An analyst at Counterpoint Research, Parv Sharma, also noted the app came amid rising tensions at the border between India and China.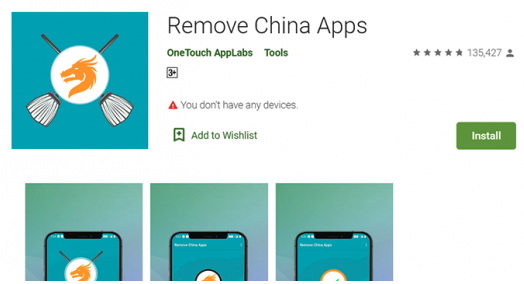 Despite its high review rating, the app wasn't perfect. It failed to identify pre-installed apps on Chinese smartphones and other popular Chinese apps such as Tencent's Battle Royale.
That said, on its website, OneTouch AppLabs disclaims accuracy by claiming the technology discovered country of origin "based on market research."
Replacing Chinese technology, however, is not an easy task. As of the first quarter of 2020, Chinese smartphones represented 70% of the Indian smartphone market, according to Counterpoint Research.
TikTok, a Beijing-based social media app, had 636 million downloads, compared to 99m for Snapchat and 277 million for Instagram, both of which have been around for longer.