Google has removed Dissenter, the free speech focused comments extension, from its Google Chrome Web Store. This decision from Google comes less than 24 hours after Mozilla removed Dissenter from the Firefox extensions gallery.
Dissenter shared the email from Google about the removal of the Dissenter extension on Twitter and suggested that this removal combined with the recent removal of Dissenter from the Firefox extensions gallery could be a form of collusion because Chrome and Firefox have 75% of web browser market share.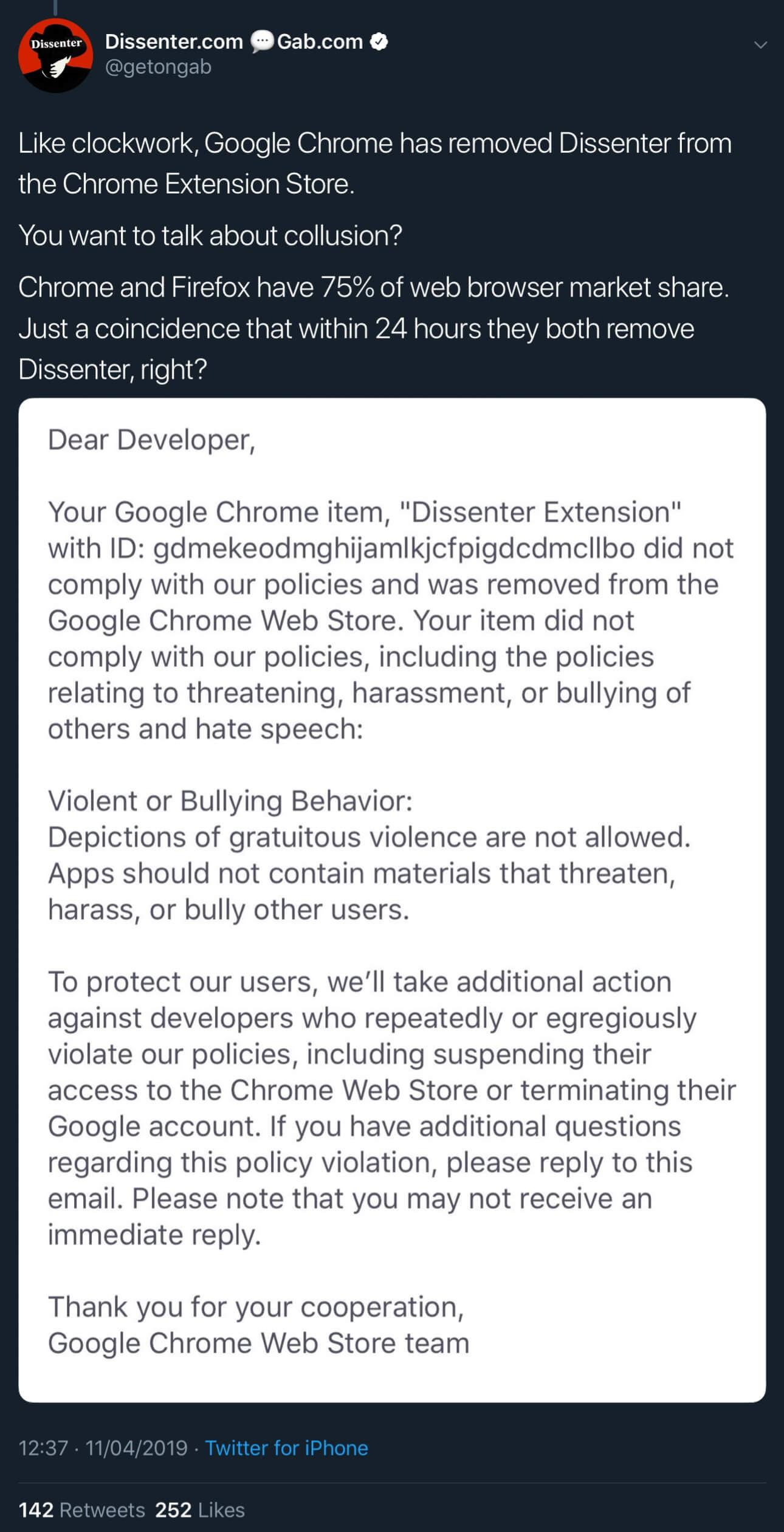 Here's the full email text from Google explaining why Dissenter was removed from the store:
Your Google Chrome item, "Dissenter Extension" with ID: gdmekeodmghijamlkjcfpigdcdmcllbo did not comply with our policies and was removed from the Google Chrome Web Store. Your item did not comply with our policies, including the policies related to threatening, harassment, or bullying of others and hate speech:

Violent or Bullying Behavior:

Depictions of gratuitous violence are not allowed. Apps should not contain materials that threaten, harass, or bully other users.

To protect our users, we'll take additional action against developers who repeatedly or egregiously violate our policies, including suspending their access to the Chrome Web Store or terminating their Google account. If you have additional questions regarding this policy violation, please reply to this email. Please note that you may not receive an immediate reply.
Dissenter added that both Google and Mozilla have provided zero examples of any violations of their terms and haven't given Dissenter the opportunity to take action against any potentially violative content.
Both companies have pointed to general violations around threatening behavior, harassment, bullying, and hate speech. Mozilla also says that it received "abuse reports" about the Dissenter extension from its users.
Dissenter champions free speech and uses the First Amendment of the United States Constitution as its standard for moderating content, with all legal speech being protected. It's unlikely anyone who truly supports free speech is going to download the free speech Dissenter extension and then file an "abuse report" to Google or Mozilla based on the content they see. It could be the case that these "abuse reports" were part of an orchestrated campaign to have Dissenter removed from Google and Mozilla's web extension stores.
According to SimilarWeb stats, the Google Chrome Web Store gets over 300 million visits per month and the Firefox extensions gallery gets more than 37 million visits each month.
Additionally, most users of these browsers are familiar with the simplified one-click installation process for browser extensions that are added through either the Google Chrome Web Store or Firefox extensions gallery. They may not be comfortable with the extended manual installation process that's now required since Dissenter is no longer available in these web extension stores. This could result in some users deciding not to install Dissenter.
If you still want to use the Dissenter extension in Chrome, you can still install it manually by following the instructions on Dissenter's download page.