The rest of the world may be busy figuring out how to handle the global health, human, and economic crisis caused by the coronavirus outbreak – but Google's determination to hint at what those humans should and should not be typing into their phones using the Gboard keyboard is not taking a back seat here.
Controlling the message is a very serious business, and Google knows it: but how exactly do you do it with a keyboard app for mobile devices?
When there's a will there's a way, as they say. One of the features of most virtual keyboards, including Gboard, is to help Android and iOS users by "predicting" and/or "autocorrecting" their input. That's all good – until users discover the keyboard is actively "resisting" their attempt to type a certain word.
This means that the app will stop suggesting or correcting the spelling of words, and even attempts to "swype" them on the screen.
In the case of Google's Gboard, it's not a bug, it's a feature.
Hong Kong-based researcher Jane Manchun Wong shared on Twitter that the list now includes several references to coronavirus (i.e., COVID-19, the disease caused by the virus).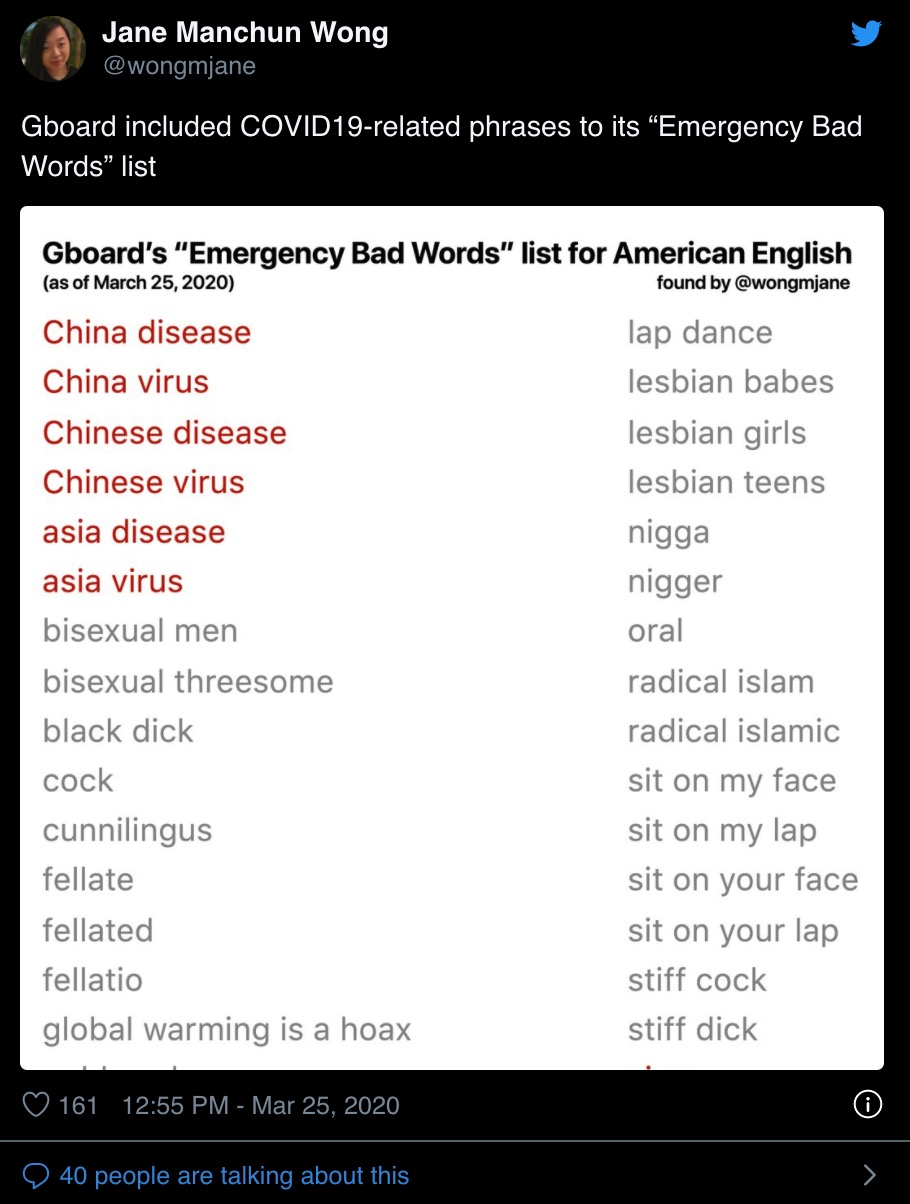 The terms that are blacklisted are those linking the virus to its country of origin: China.
The screenshot Wong posted to back up her discovery shows "China disease, China virus, Chinese disease, Asia disease" and several variations on the theme sit somewhat oddly among other "bad words" – most of them profanities or slang terms.
Literally, the only "odd bad words out" in the screenshot are the terms "global warming is a hoax" and, "radical Islam/Islamist."
This tells us that Google's intent is not simply to be the prudish police its users never asked for, and most likely don't even know exists. The inclusion of these two terms suggests that the tech giant might also have a political agenda to cater to.
And it's nothing new. A year ago, Reddit users spotted it was virtually impossible to enlist Gboard's help while typing the phrase, "radical Islamist."
But then again, Google also includes a neutral word like "virus" into the latest iteration of the list. To a human mind, it sometimes seems like there's no rhyme or reason to Google's overall censorship effort. Maybe its almighty algorithms "know better."