Instagram is testing yet another feature that could come to the platform in the near future. According to app researcher Jane Manchun Wong, Instagram is developing a feature that would allow users to group followers into categories, which could come handy in some situations – but lead to questionable results in others.
Apparently, this feature would let users group their followers into categories like "Least Interacted with" and "Most Shown in Feed", making it easier for users to unfollow individuals they don't really talk to and focusing more on the ones they actually care.
Instagram is testing to "group the accounts you follow to make them easier to manage", such as:

"Least Interacted With" and "Most Shown in Feed" which are counted in the last 90 days pic.twitter.com/REykEoMqu5

— Jane Manchun Wong (@wongmjane) October 19, 2019
The screenshots provided by Manchun Wong also show additional categories like Art and Comics, which are self-explanatory.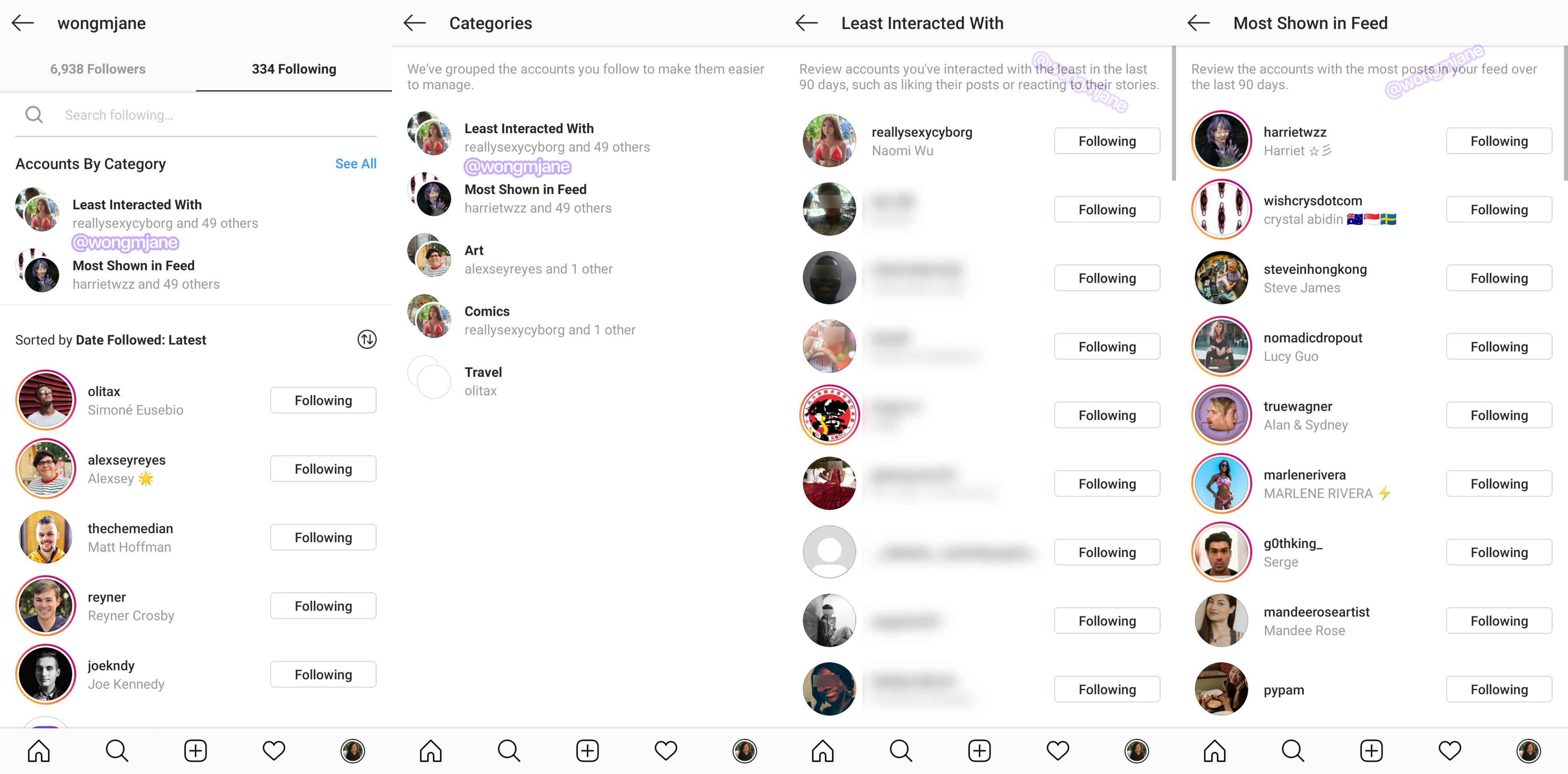 However, it is not clear if users will be able to customize such categories and move accounts from one category to the other, although we can assume that the ones based on interaction won't be customizable at all.
Instagram categories could be useful, but for who?
On the other hand, users on Twitter have had a mixed reaction to the upcoming feature for Instagram. While some are happy that function is actually coming, a large group has expressed that they would rather have the chronological feed again, which is sorely missed.
weird, this doesn't look like the chronological feed I asked for

— Joel Califa (@notdetails) October 19, 2019
Other people are worried that the platform could be slowly turning into a new Facebook. And If we delve into this line of thought for a second, Instagram could potentially use this new feature to decide who should users follow, and if that's the case, nothing could stop them from subtly telling them whom not to follow. As some people put it: "Sure… making us easier to manage".
If we forget for a second that Instagram is a Facebook-owned company, then sure, it looks like a useful feature for people with a large following list that might be in the need of an option to sort their feed in categories.
It is still unclear when will the feature start rolling out, as this is only a leak, but given Jane Manchun Wong's accurate history with this kind of stuff, we give it a couple of months until the update drops.