Vocal actor James Woods has threatened to sue Democrats for censoring him. He claimed that the censorship has damaged his career and reputation.
In 2020, before the November election, Woods tweeted a photo featuring Hunter Biden half-naked and doing drugs. The photo was obtained from Hunter's laptop whose contents were exposed by the New York Post. The post was considered politically relevant as the younger Biden was partaking in activities that were targeted by then-Senator Joe Biden's 1994 Crime Bill, which some scholars allege resulted in mass incarceration across the United States.
Twitter removed the tweet at the request of the Democratic National Committee (DNC), according to internal communication exposed on Friday.
"How would you like to fund a class action suit for those who were suppressed?" Wood asked Elon Musk. "I'll be happy to be lead plaintiff."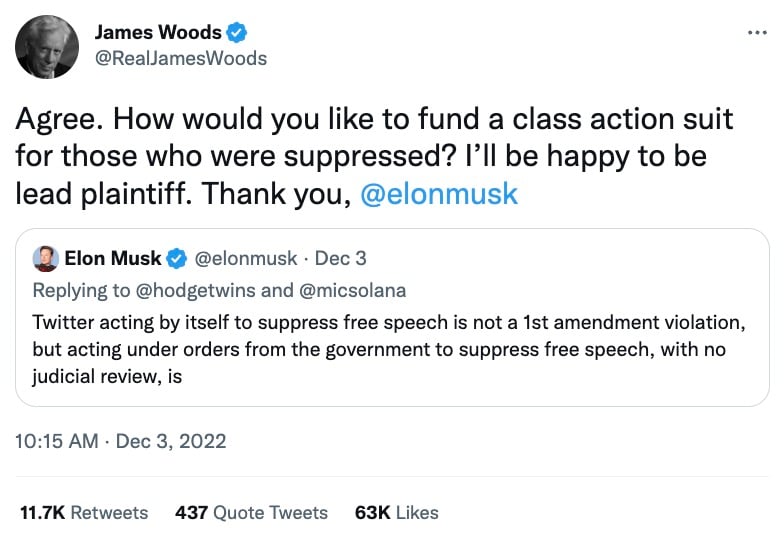 The tweet was in response to Musk's tweet about free speech.
"Twitter acting by itself to suppress free speech is not a 1st amendment violation, but acting under orders from the government to suppress speech, with no judicial review, is," Musk wrote.
However, Musk is yet to publish evidence that government bodies pointed out any of Wood's tweets for censorship – something that has been found in other lawsuits against Twitter. Though, Musk has promised more revelations.
In an interview on Fox News, Woods said, "I will be getting a lawyer. I will be suing the Democratic National Committee no matter what."
He added: "I'm hardly recognizable anymore because my career has been destroyed by these very people. I will sue. And I'm hoping other people will sue."