YouTuber lawyer Leonard French has taken to Twitter to reveal his trouble with posting online his commentary about Robert Mueller's highly controversial testimony.
https://twitter.com/leonardjfrench/status/1210872108135407621
Mueller is a former FBI Director who, from 2017 until 2019, served as special counsel to a US Department of Justice investigation into alleged Russian interference in the US 2016 presidential election. Needless to say, essential issues of this nature must be highly politicized and investigated in any self-respecting democracy – but does a true democracy also try to prevent public reports about the proceedings?
Depending on where you stood at the time the Mueller report was released last summer – and even today – what it actually said, whom the report accused and/or exonerated, remains by and large a matter of interpretation.
In this context, any new insight, point of view, or commentary, might be viewed as a welcome and even a sorely needed addition in a democracy that wants to hear all points of view on such a fundamental issue. However, Leonard French now says that US-based Spanish language broadcaster Univision is curtailing his right to offer his point of view on this important controversy by invoking fake copyright claims on his YouTube channel.
And in this way, he says, the broadcaster is also removing an opportunity for the public to learn about what "public domain" actually means – and how people like him, or anybody who wants to speak their mind and back it up with facts – is entitled to use public domain content and information.
French said that the falsely-contested content he used in this case came from C-SPAN – a publicly-funded US non-profit broadcaster – "and, as such, content that is created in the chambers of the House or Senate is automatically public domain."
However, the claim French has been struck with reads: "video cannot be monetized."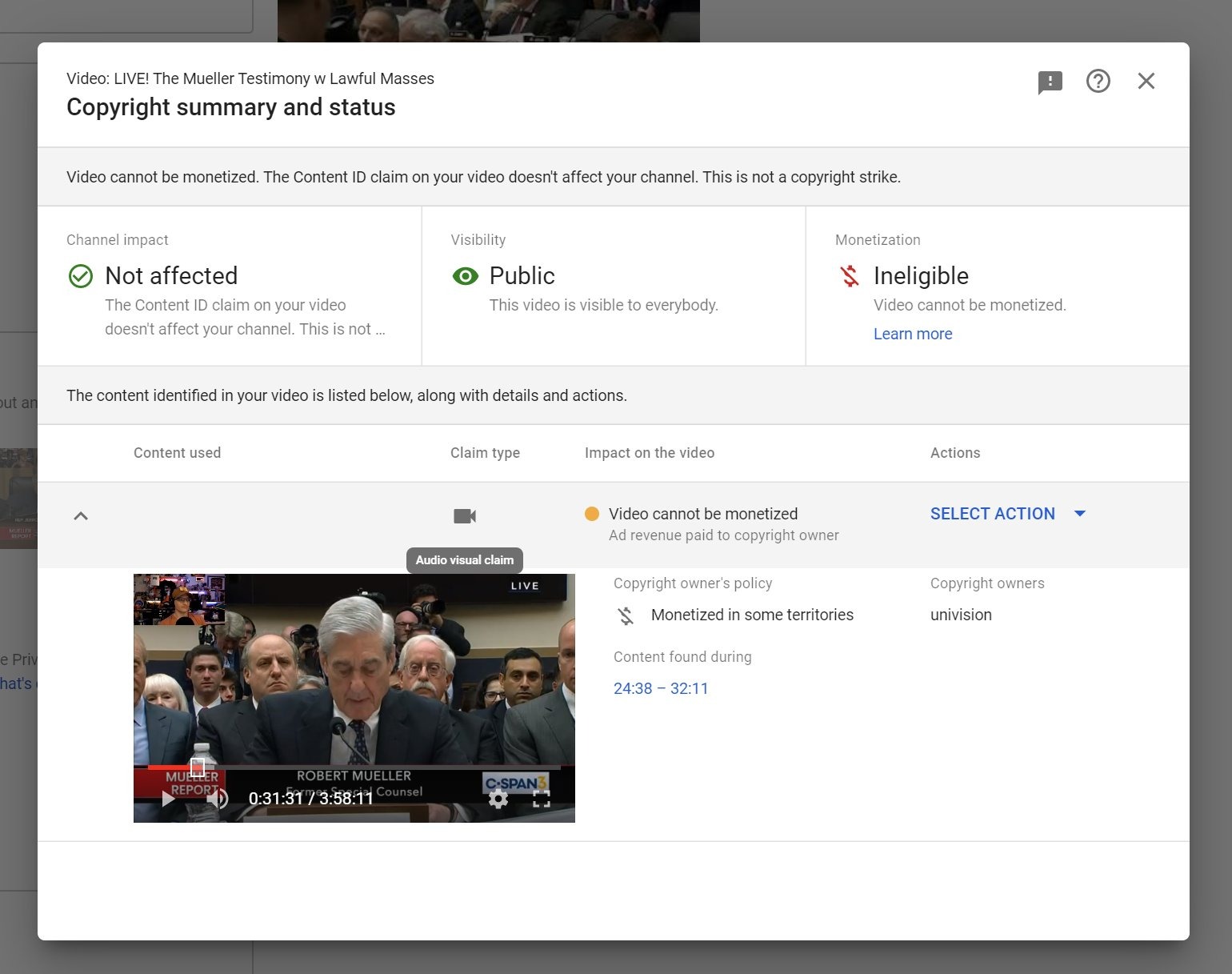 French advises the Univision who got his content in trouble on YouTube in the first place – to rectify the situation on the platform as soon as possible by removing the false claim – or face legal action in Federal Court.
https://twitter.com/leonardjfrench/status/1210872133993283584