Free speech activist Lindsay Shepherd has had her Twitter account with over 76,000 followers permanently suspended after a heated argument with a transgender person known as JY.
In the days before she was banned, Shepherd had spoke out against JY for filing human rights complaints against estheticians. JY reportedly often contacted these estheticians using a stereotypical male name and image and was then informed by the estheticians that they only waxed women. In response, JY claimed discrimination on the basis of "gender expression and gender identity."
In a an article on The Post Millennial, Shepherd says that she was suspended for two tweets but Twitter didn't specify which tweets led to her ban. However, she believes that two of her tweets from a recent exchange with JY are what caused the suspension.
Shepherd says that last night, JY tweeted that Shepherd has a loose vagina from pushing a 10-pound baby out but that JY still has a "tight pussy." Shepherd pushed back against both of JY's claims in her column by highlighting that:
According to the proceedings of a current human rights tribunal which JY has been testifying in, JY still has male genitalia
In reality, Shepherd had a C-section and a 6 pound, 10 oz baby
Shepherd responded to JY on Twitter by saying:
"This is how men who don't have functional romantic relationships speak. But…I guess that's kinda what you are!"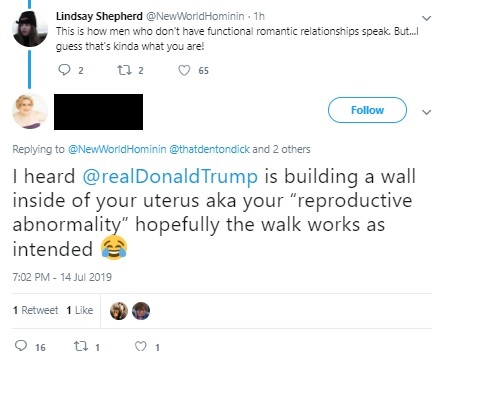 Shepherd believes this is the first tweet that led to her Twitter account being suspended.
JY tweeted a reply back to Shepherd and mocked her having a separate uterus:
"I heard @realDonaldTrump is building a wall inside of your uterus aka your "reproductive abnormality" hopefully the walk works as intended ?"
Shepherd then responded to JY again, this time saying:
"At least I have a separate uterus, you fat ugly man."
Shepherd believes this is the second tweet that caused her Twitter suspension and says that she responded in this way because she was thinking: "I can't allow him to make these misogynistic remarks about me and not fight back."
Shepherd added that she removed these tweets this morning but found out her account had been suspended this afternoon.
Shepherd's biggest concern about being banned from Twitter is that she can no longer respond to false information that spreads about her on Twitter:
"Well, I am most concerned about the lies that can now be spread that I cannot counteract via Twitter. For instance, I saw an account tweeted that I have 'sock puppet' accounts. No, I do not have any accounts other than @NewWorldHominin. But I can't correct that misinformation anymore."
This isn't the first time someone has been banned from Twitter after criticizing transgender ideology. Last year, the feminist journalist Meghan Murphy was banned from the platform after tweeting "women aren't men."
featured image source: The Rubin Report
Update – July 27, 2019: Lindsay Shepherd's Twitter account has been restored.