Tutanota, an end-to-end encrypted email service based in Germany, is accusing Microsoft of violating antitrust laws by blocking Tutanota users from registering accounts on the tech giant's cloud-based collaboration service Teams.
The problem is Microsoft treats Tutanota as a corporate email instead of an email service. So, when a Tutanota user attempts to register an account with Teams, they get a message that the registration has been blocked and that they should "contact your admin or try a different email."
Asked what they think the problem is, a Tutanota spokesperson said: "When the first Tutanota user registered a Teams account, they were assigned the domain. That's why now everyone who logs in with Tutanota address should report to their 'admin.'"
Tutanota says it has repeatedly tried to get Microsoft to rectify the issue without success.
In one of the responses, obtained by TechCrunch, Microsoft said: "We have reviewed this internally and as of now, it is currently not feasible for the domain to become a public domain and this is because the domain has used the Microsoft Teams services."
In another email, Microsoft said: "As earlier discussed, we are unable to make your domain a public domain. The domain has already been used for Microsoft Teams. If teams have been used with a specific domain, it can't work as a vanity/public domain."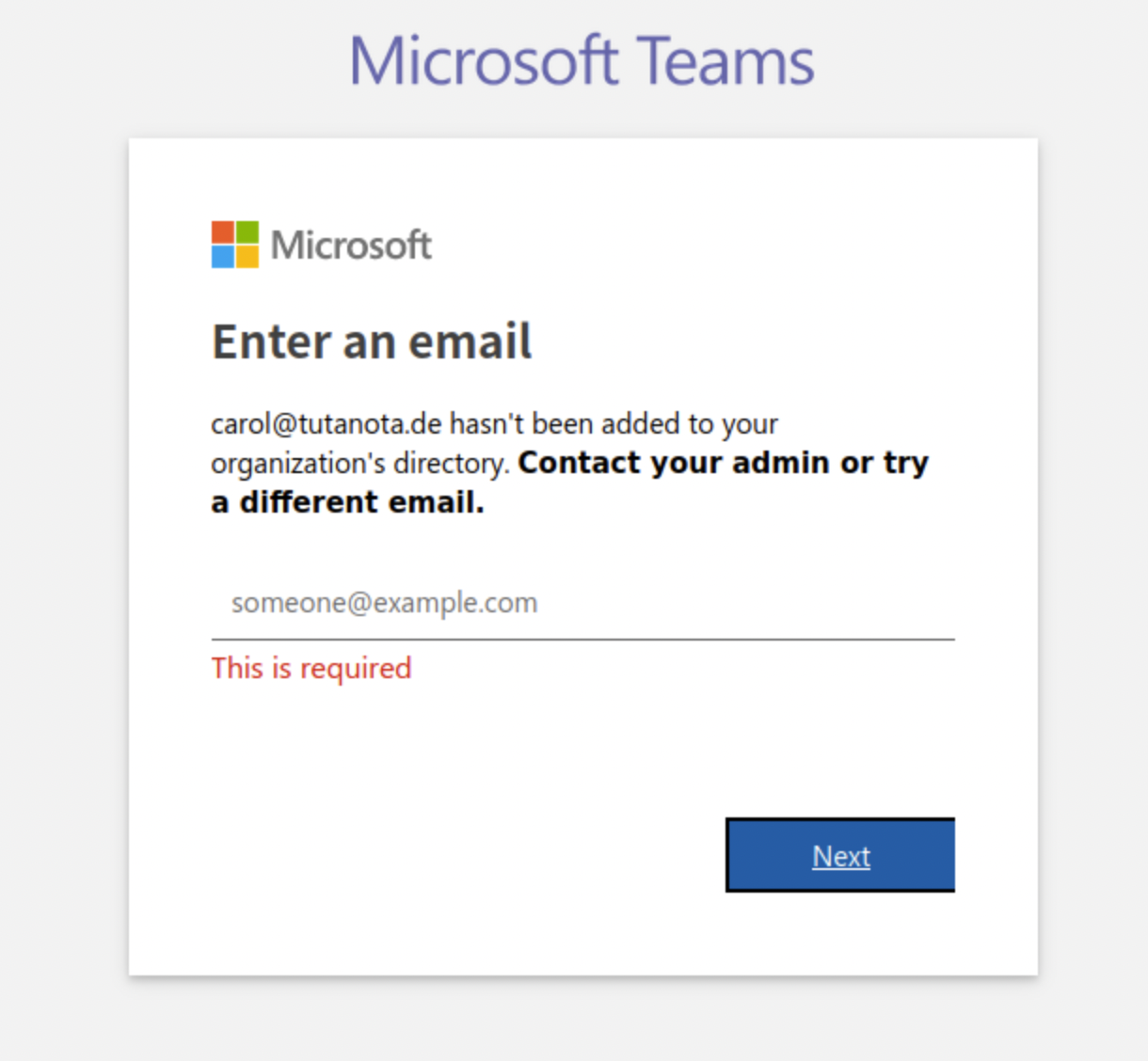 Now Tutanota is calling on antitrust authorities to intervene.
"Politicians on both sides of the Atlantic are discussing stronger antitrust legislation to regulate Big Tech. These laws are badly needed as the example of Microsoft blocking Tutanota users from registering a Teams account demonstrates," Tutanota wrote in a blog post explaining the story. "The problem: Big Tech companies have the market power to harm smaller competitors with some very easy steps like refusing smaller companies' customers from using their own services."
"This is just one example of how Microsoft can and does abuse its dominant market position to harm competitors, which in turn also harms consumers."