Popular Brazilian podcaster Monark has passed one million total views on the free speech video sharing platform Rumble less than two weeks after he joined. According to Rumble, Monark also nearly broke 40,000 concurrent viewers on his most recent live stream.
Monark is known as "Brazil's version of Joe Rogan" and recently announced that he'd be exclusively live-streaming his "Monark Talks" podcast to Rumble. His Portuguese-language podcast features long-form interviews with guests and he streamed his first episode to Rumble on April 4.
When he announced the switch to Rumble, Monark said that he'd been "completely censored and demonetized" on YouTube. And within two weeks, the influential podcaster has already racked up more than 1.2 million views on his Rumble podcast episodes and over 139,000 subscribers on his Rumble channel. His most popular Rumble video has over 440,000 views.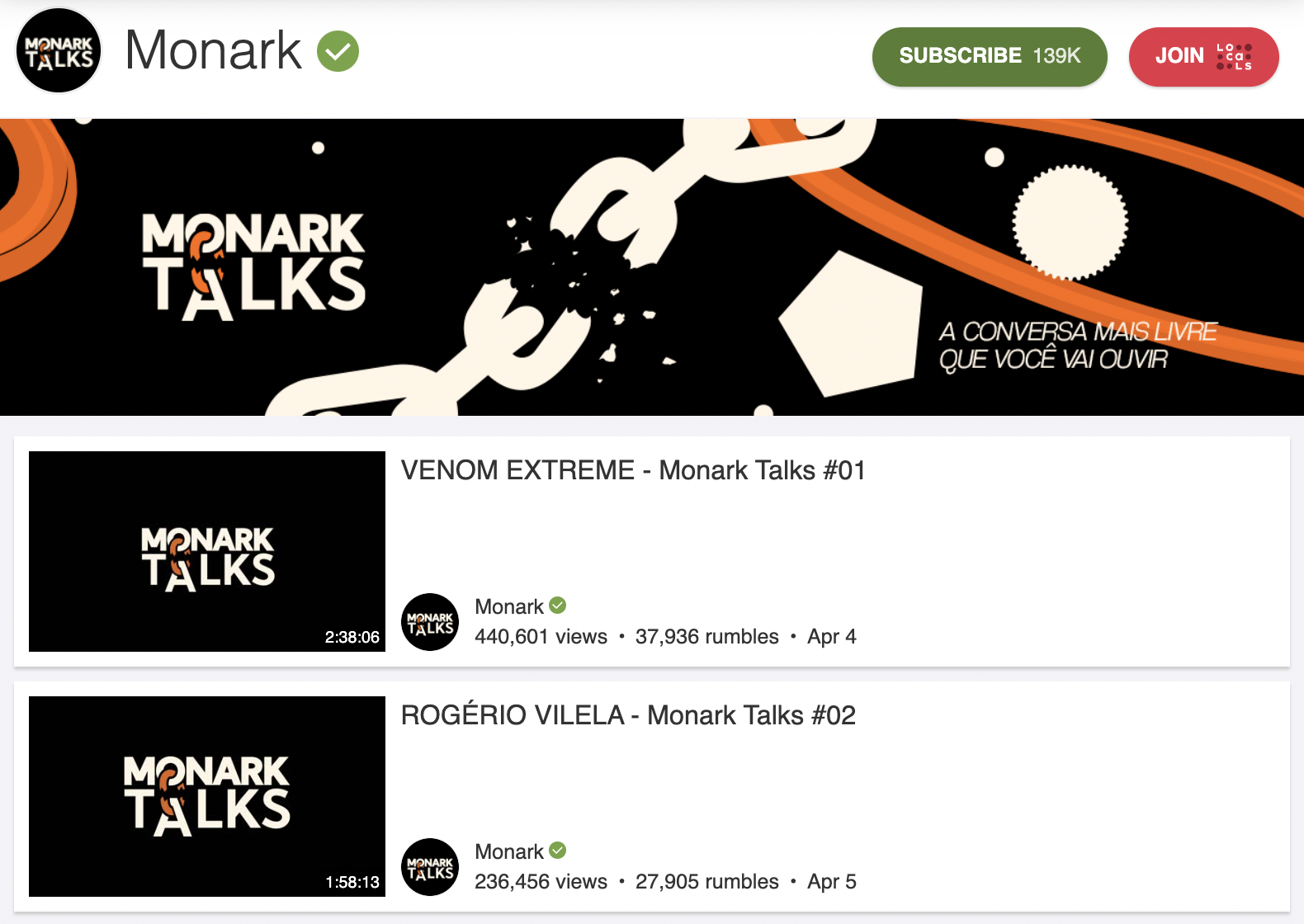 Monark is one of several creators to experience rapid success on Rumble. Conservative commentator and Rumble investor Dan Bongino set Rumble records when his channel grew to over two million subscribers.
The Rumble platform as a whole also broke traffic records in the first quarter of 2022. Its monthly active users increased to an average of 41 million (a 22% increase compared with Q4 2021), users watched an average of 10.5 billion minutes per month (a 23% increase compared with Q4 2021), and creators uploaded an average of 6,158 hours of content per day (an 88% increase compared with Q4 2021).
Rumble's growing popularity has been spurred by its policy of allowing a much wider range of speech and content than YouTube.
Monark is one of many high-profile creators to join the platform in recent months. Ferréz, a left-wing favela-based commentator, announced an exclusive deal with Rumble on the same day as Monark. Physical therapy channel Bob & Brad, progressive political commentator David Pakman, libertarian magazine Reason Magazine, wellness channel PyscheTruth, and wood crafting channel ND – Woodworking Art are some of the other channels that have embraced Rumble this year.