YouTube's broken copyright system has struck again. This time the YouTube creator Mumbo Jumbo, who primarily creates video tutorials of the popular video game Minecraft, says over 400 of his videos have been falsely claimed by Warner Chappell Music. Mumbo Jumbo says that he owns all rights to the music used in his videos and has a signed contract that proves it.
He shared a screenshot of some of the copyright claims on Twitter.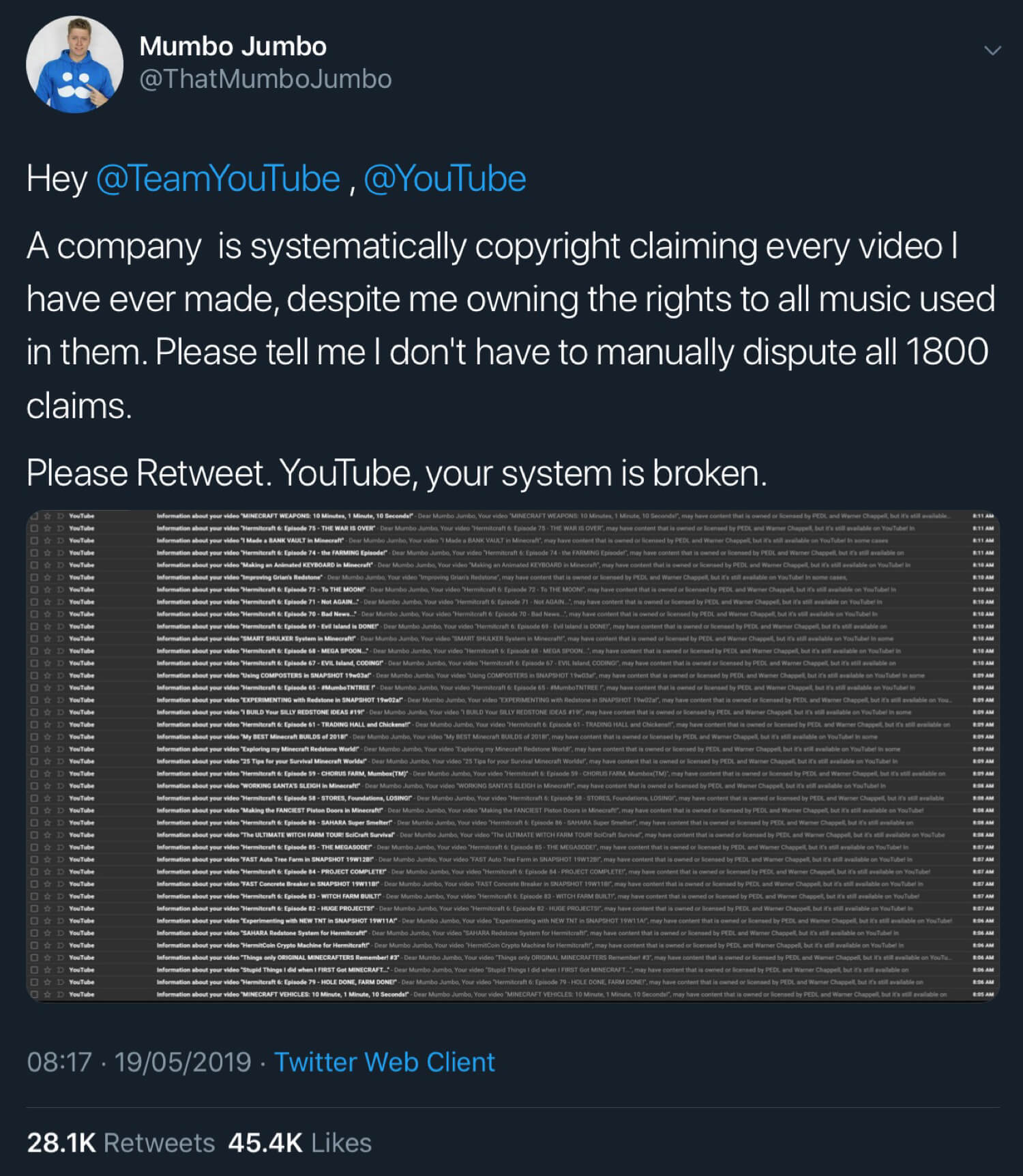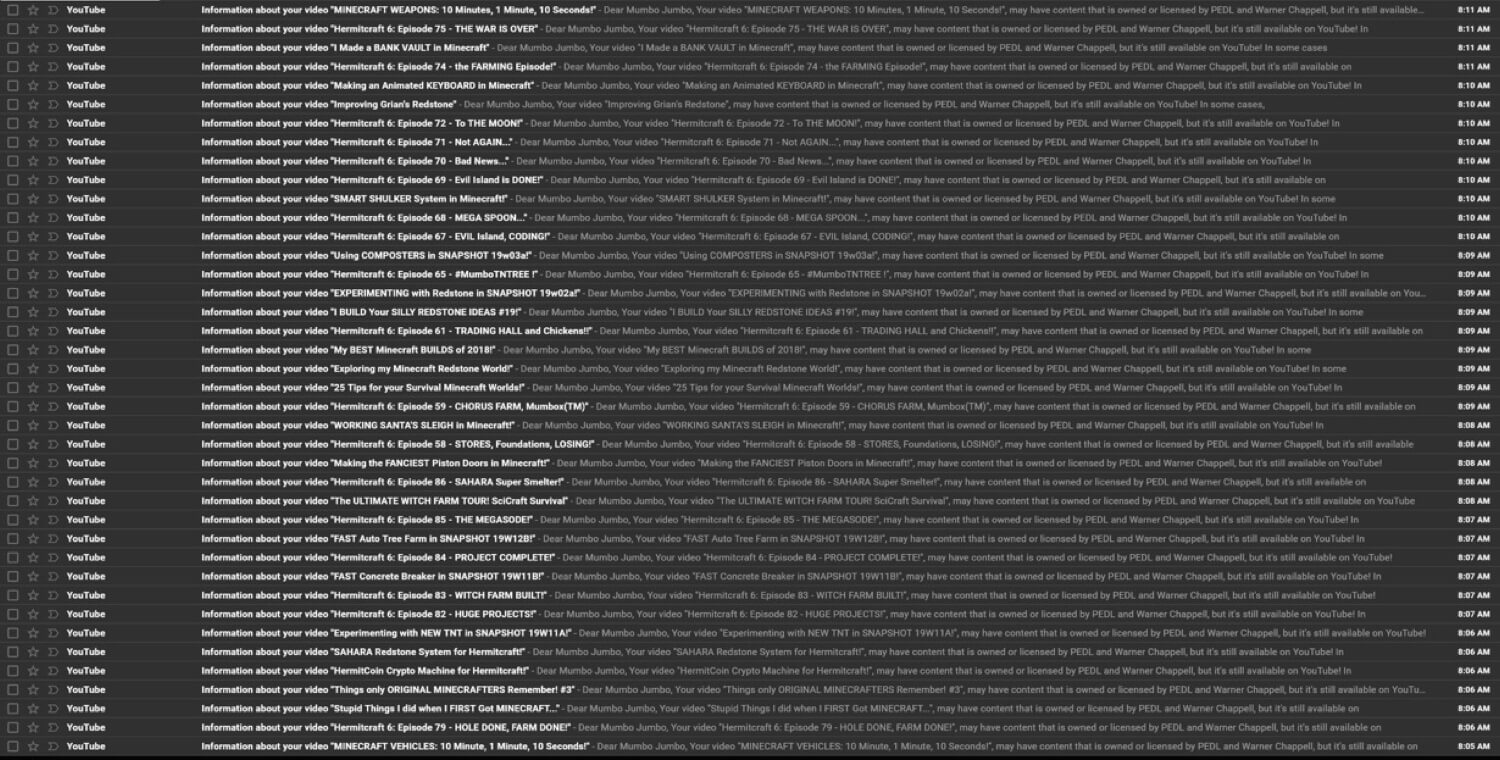 The screenshot shows his inbox being flooded with emails from YouTube that say:
"Information about your video "[Video Title]"

Dear Mumbo Jumbo,

Your video "[Video Title]" may have content that is owned or licensed by PEDL and Warner Chappell but it's still available on YouTube!"
PEDL refers to Pan European Digital Licensing which is a form of licensing used by companies such as Warner Chappell Music to grant European-wide licenses for the use of their music.
Mumbo Jumbo also shared a screenshot of his YouTube upload manager on Twitter which shows a long list of his videos that have been labeled with the message "Includes copyrighted content."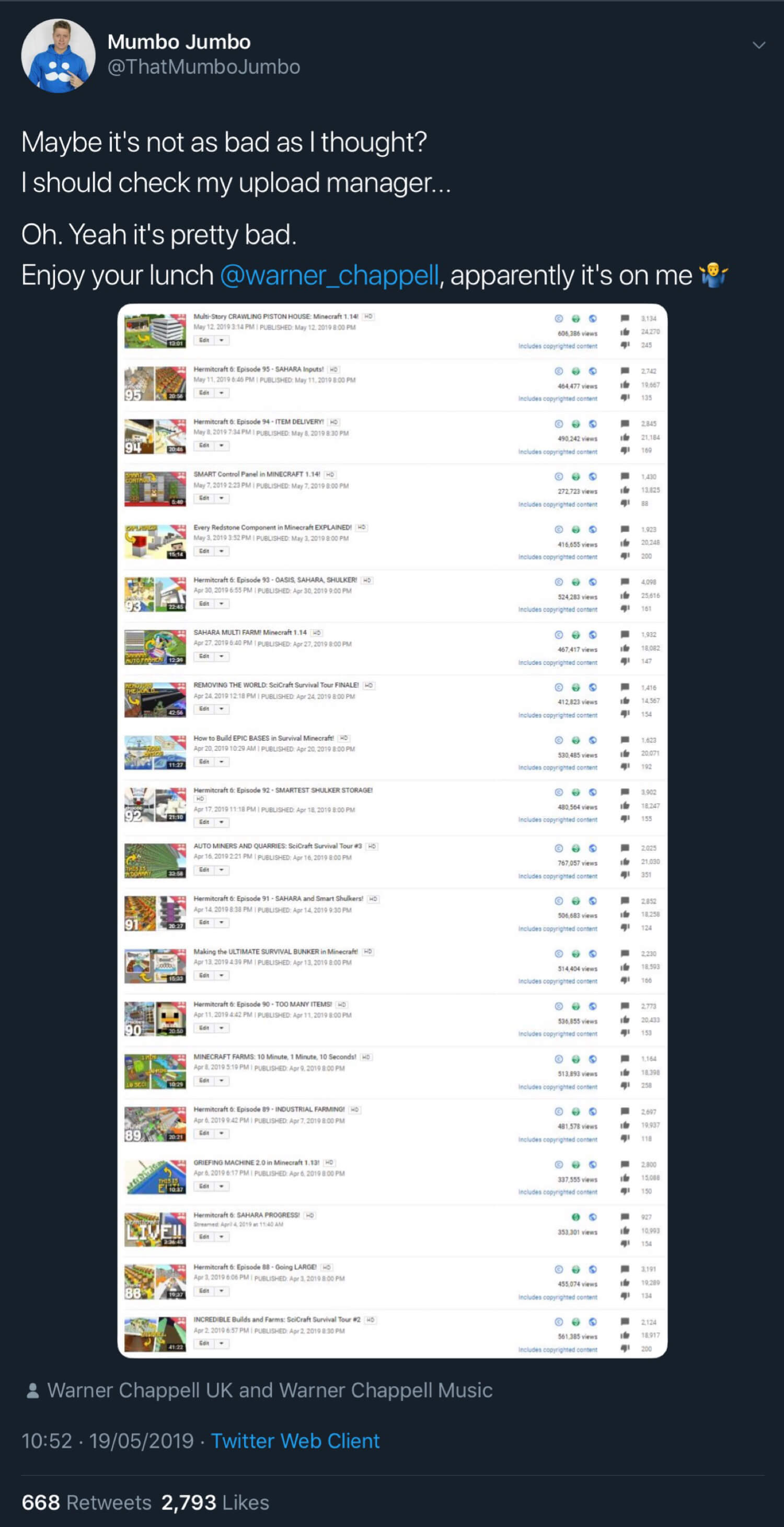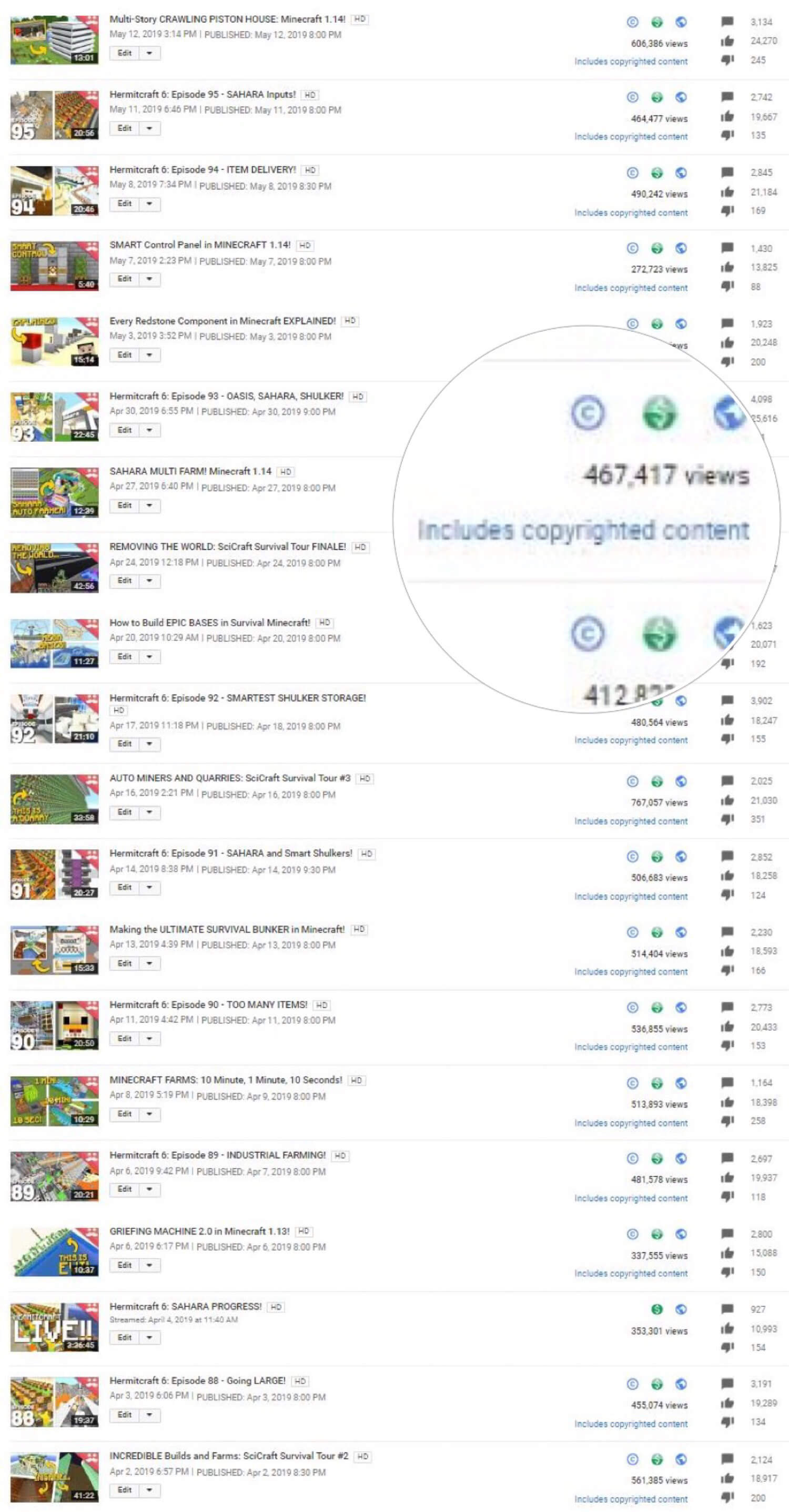 In another tweet, Mumbo Jumbo said that he has a signed contract that allows him to use the songs in his videos and that Warner Chappell Music has no rights to the revenue.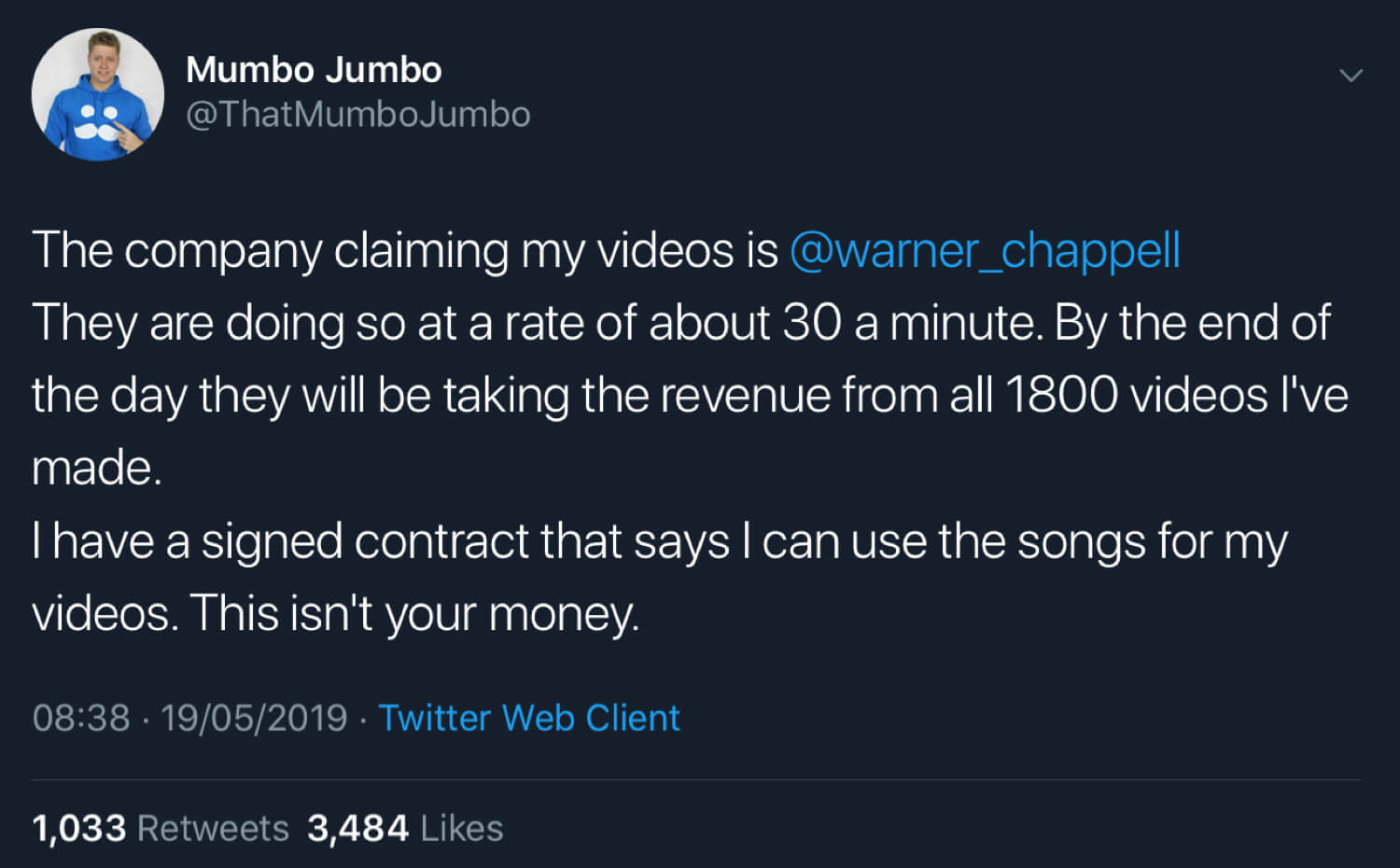 In a video update, Mumo Jumbo said that as a result of these copyright claims, he and Warner Chappell Music are currently sharing the revenue on all 400+ of the claimed videos.
Mumbo Jumbo added that Warner Chappell Music is claiming the music he uses in the intro and outro of his videos which is written by an artist called Pro Letter. He says that he has a written agreement with Pro Letter to use the music in his videos.
This music plays for a total of 22 seconds in Mumbo Jumbo's videos – five seconds at the start and 17 seconds at the end. Most of his videos are at least 10 minutes long and many are much longer. This means Warner Chappell Music is filing these claims based on video snippets that at most represent 2% of the entire video and often represent less than 1% of the entire content.
Mumbo Jumbo also highlighted that YouTube's broken content ID system heavily favors those making the claims and places an unfair burden on creators such as himself because:
It instantly punishes creators by taking their revenue and doesn't lift the punishment until they prove their innocence.
It forces creators to invest lots of time disputing false claims (Mumbo Jumbo estimates that manually disputing the 400+ claims on his videos would take around 800 minutes which adds up to over 13 hours).
It warns creators that if they incorrectly dispute a copyright claim, their video will be taken down and they will receive a copyright strike (three copyright strikes results in YouTube channel termination) but doesn't give any warnings or penalties to people filing false claims.
People who file copyright claims can take up to 30 days to respond to disputes. During these 30 days, all revenue generated from the video is held by YouTube which allows people filing false claims to lock up the revenue creators generate on their videos for up to a month.
This isn't the first time Warner Chappell Music has claimed content from a high profile creator. The company previously filed false copyright claims against a completely original parody video created by the comedian Steven Crowder.
Warner Bros., the parent company of Warner Chappell Music, also previously filed a copyright claim against President Trump which led to a "Dark Knight" themed Twitter video that he shared being blocked on the site.
The claims on Mumbo Jumbo's videos follow many other examples of YouTube's broken copyright system being used against YouTube creators. This system has faced increased scrutiny in recent months with many experts claiming that it's breaking DMCA law.
Update – May 19, 2019: Mumbo Jumbo says that things are a bit muddy because he has written permission from the artist to use the claimed song but a sample from the song has been claimed by Warner's content ID bot.