A revised bill has been introduced in the US, with an amendment to the Journalism and Competition Preservation Act (JCPA) having the goal of providing a temporary safe harbor for online publishers to collectively negotiate the terms on which content may be distributed by Big Tech platforms.
We obtained a copy of the revised bill for you here.
The temporary safe harbor provision would give broadcast, digital, and print media outlets – specifically, local ones struggling to survive in the digital age – eight years "grace" from complying with antitrust laws.
The legislation has bipartisan support, led by a medley of Democrat and Republican members of Congress such as David Cicilline, Ken Buck, Jerry Nadler, as well as Amy Klobuchar, John Kennedy, and Dick Durbin.
This is by no means the first time similar legislative attempts have been made in the US over the past years – so far, unsuccessfully. One of the main takeaways from the revised JCPA is the size of media companies that would benefit from it – they can have no more than 1,500 full-time employees.
Meanwhile, those on the other end of the bargaining, Big Tech platforms like Google and Facebook, must have at least 50 million users or subscribers in the US, a minimum of one billion around the world, and a market cap exceeding $550 billion (importantly – adjusted for inflation) to be covered by the bill, that its sponsors hope to make into law.
JCPA would force Silicon Valley heavy-hitters to link to news outlets and pay them, while those outlets can collectively withhold their content during negotiations or arbitration – but the other side wouldn't be able to refuse to link to them.
Under the bill, Big Tech is prohibited from actions defined as discriminatory or retaliatory against digital journalism outlets. And if platforms or entities think violations had occurred, the bill allows them to file lawsuits.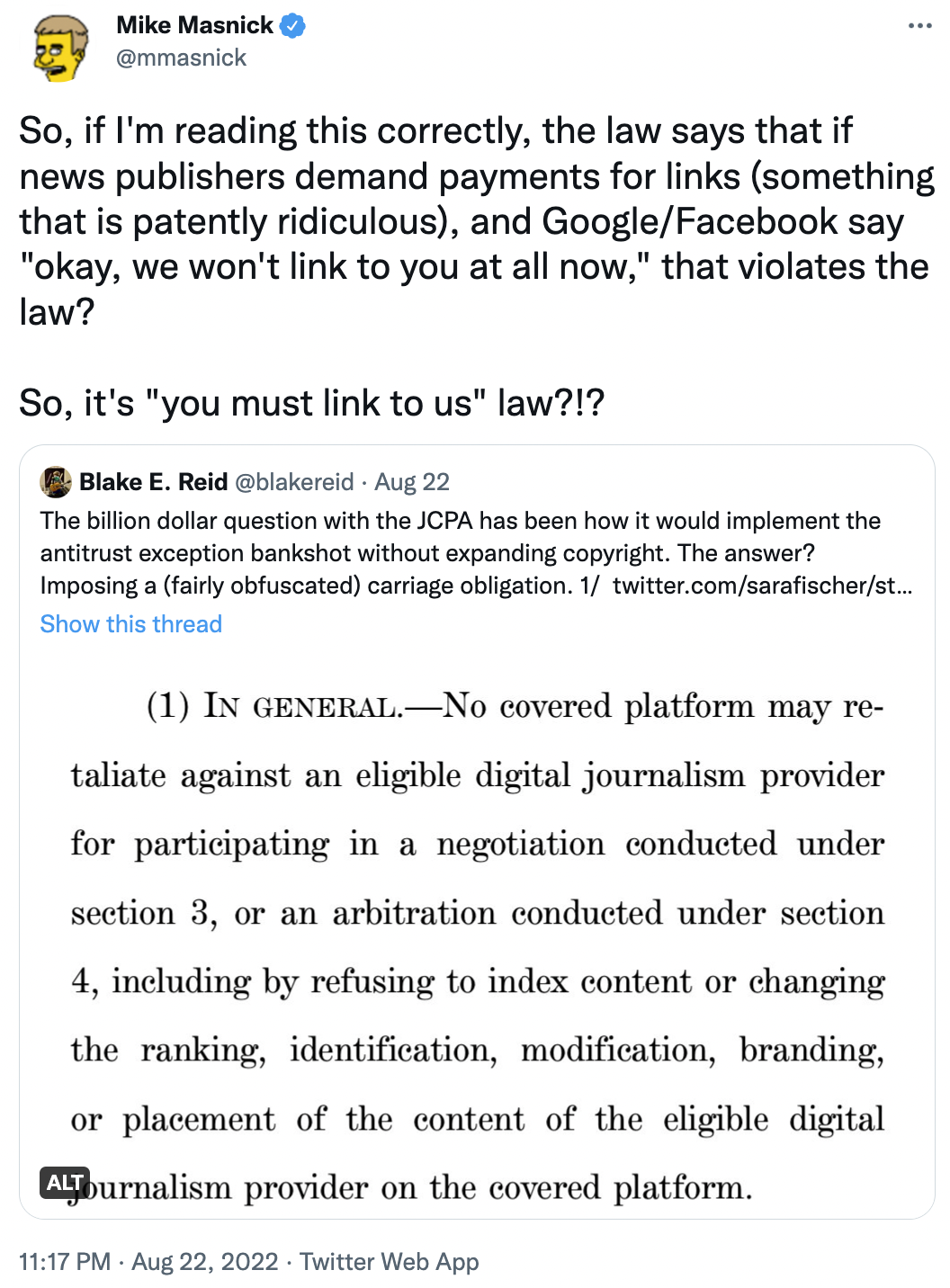 Outlets (broadcasters – minus TV networks – digital journalism providers, publishers, network stations, online platforms) eligible under the revised bill must, among other things, have an editorial process in place and be engaged in activities such as creating, producing, and distributing original content, covering local, regional, national, and international affairs, and updating their content at least once a week.