Mayor Eric Adams of New York City, who once said that "Big Brother is protecting you" has unveiled a new policing initiative involving a robotic law enforcement officer. Announced in a press conference on Friday, the NYPD plans to trial a dystopian robotic surveillance platform in the Times Square subway station.
Dubbed the Knightscope K5, this semi-autonomous robot is no lightweight. Weighing in at approximately 400 pounds and capable of moving at a top speed of three miles per hour, the K5 has been described by Adams as "not a pushover." This was clearly demonstrated during the press conference as the Mayor tried unsuccessfully, multiple times, to knock it over.
This debut, however, has spurred a wave of concerns hinging on privacy and a seeming inclination towards surveillance. New York congresswoman Alexandria Ocasio-Cortez called the robots "privacy disasters on wheels."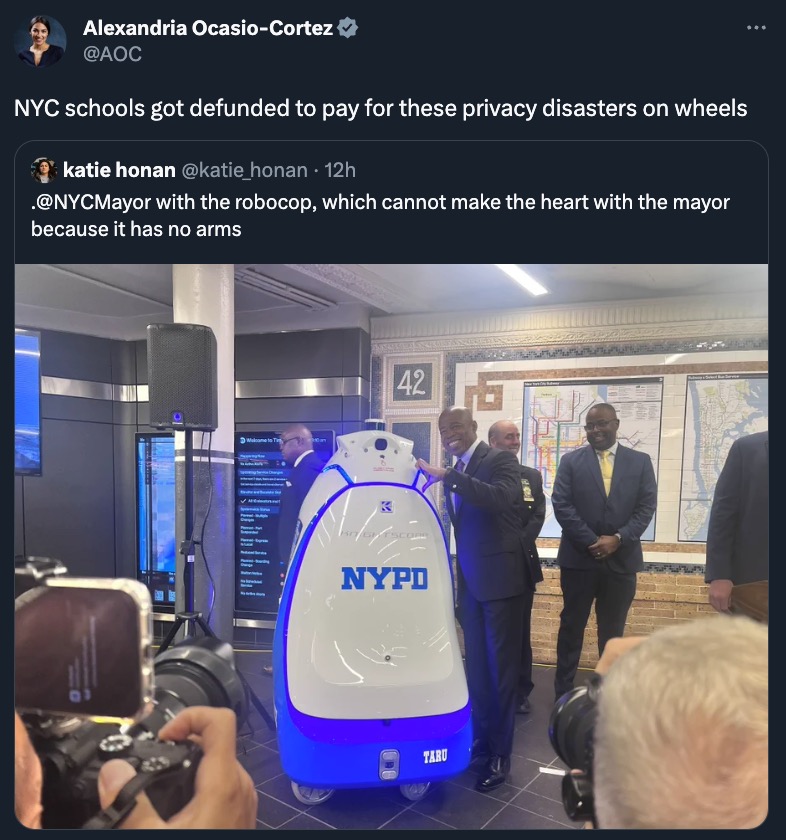 The initiative is positioned as a strategic approach to enhance safety measures. However, critics argue that this could symbolize the kindling of a potentially fatal blow to privacy.
Apprehensions about this technological addition to policing continue to burgeon, particularly from those who advocate for civil liberties. They view such measures as excessive surveillance that could easily slip into a vehicle intense surveillance.