New Yorkers who criticize the state's Senate on Twitter have been blocked from commenting and seeing tweets, according to FIRE who is representing a New Yorker who was blocked for criticizing the state's new gun control legislation.
Related: Court rules that it's unconstitutional for public officials to block people on Twitter
In June, the US Supreme Court struck down a New York State legislation that required people to have a license to carry a concealed firearm outside of their homes. The state's legislature responded by expediting a new gun control legislation limiting who is allowed to carry firearms among other controls.
New Yorkers upset with the reform took to Twitter to express their frustration. According to FIRE, the state's Senate Twitter account hid about 90 tweets and blocked multiple users.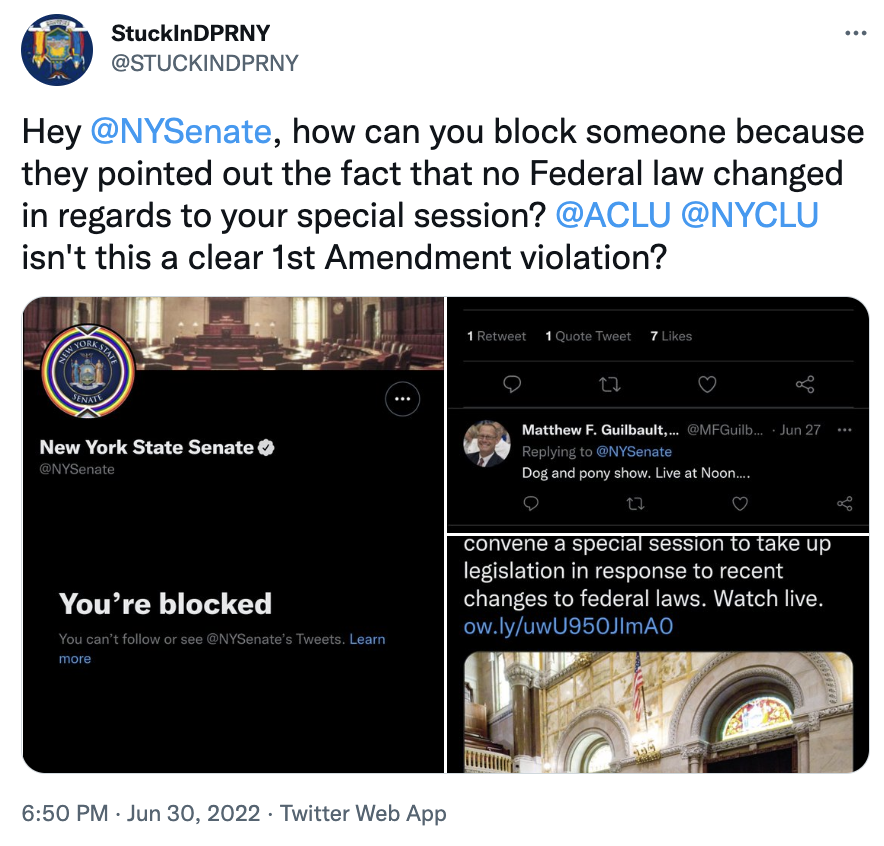 Twitter allows accounts to hide replies and block people, which prevents them from commenting and seeing future tweets. The New York State Senate's account takes advantage of these features to hide criticism of legislators and legislation.
Because the Senate is a government entity, it is going against the First Amendment by blocking users. Several courts have agreed that when a government entity invites public comment on social media, regulating comments and engagement violates the First Amendment. The most notable case was when a court ruled that then-President Donald Trump violated the First Amendment by blocking critics on Twitter.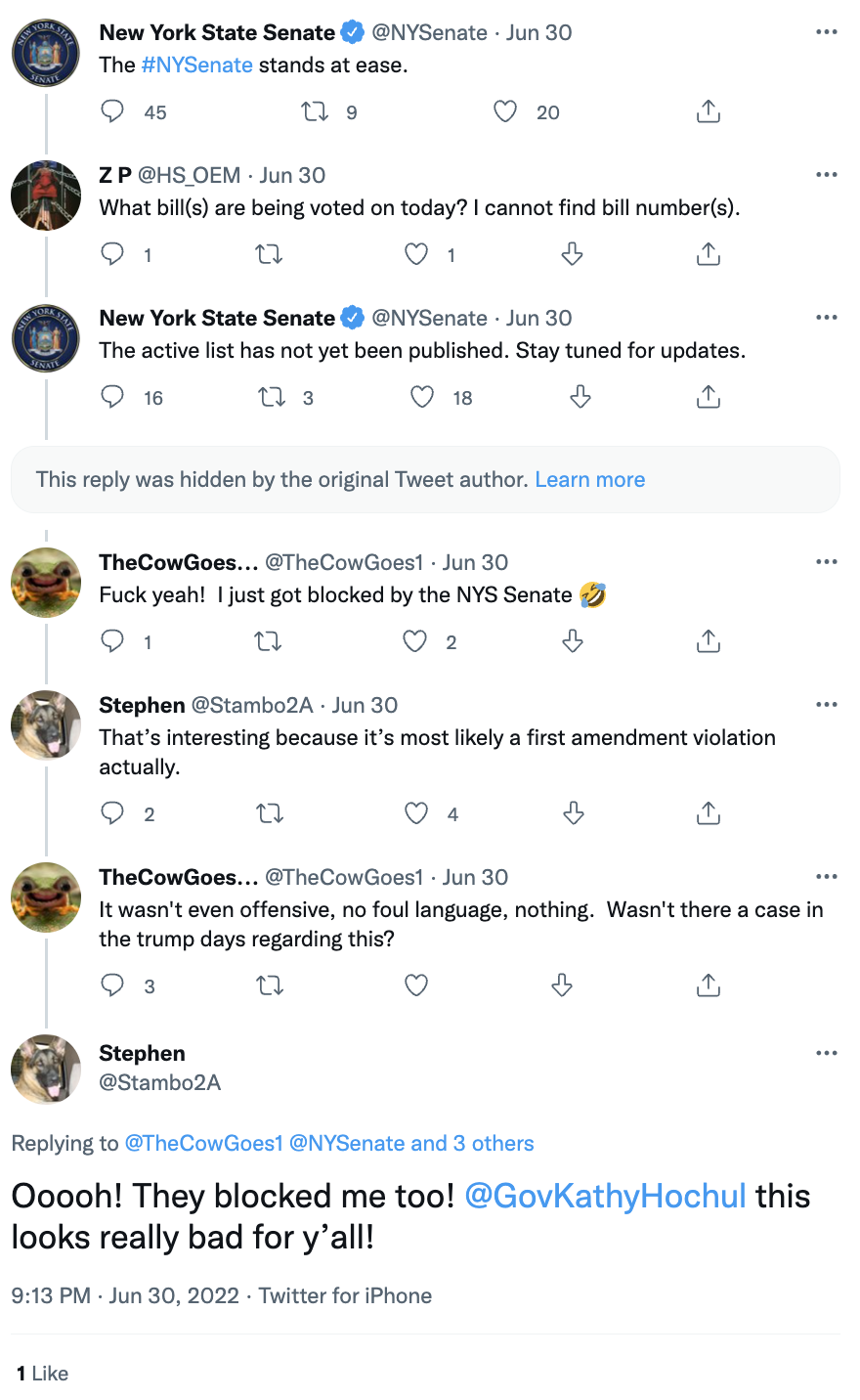 "The First Amendment protects the pen, the press, and the pixel," said FIRE attorney Adam Steinbaugh. "When state actors go online, the First Amendment follows."
"The New York State Senate cannot hide tweets or block users based on their viewpoints. In culling tweets and blocking users based on viewpoint, the New York State Senate undermines its own role in facilitating the democratic process and violates the Constitution."
FIRE is representing William Silver, who was blocked by the New York State Senate's Twitter account for criticizing the new gun control legislation. He commented about the legislation using two words from the Second Amendment: "Shall not."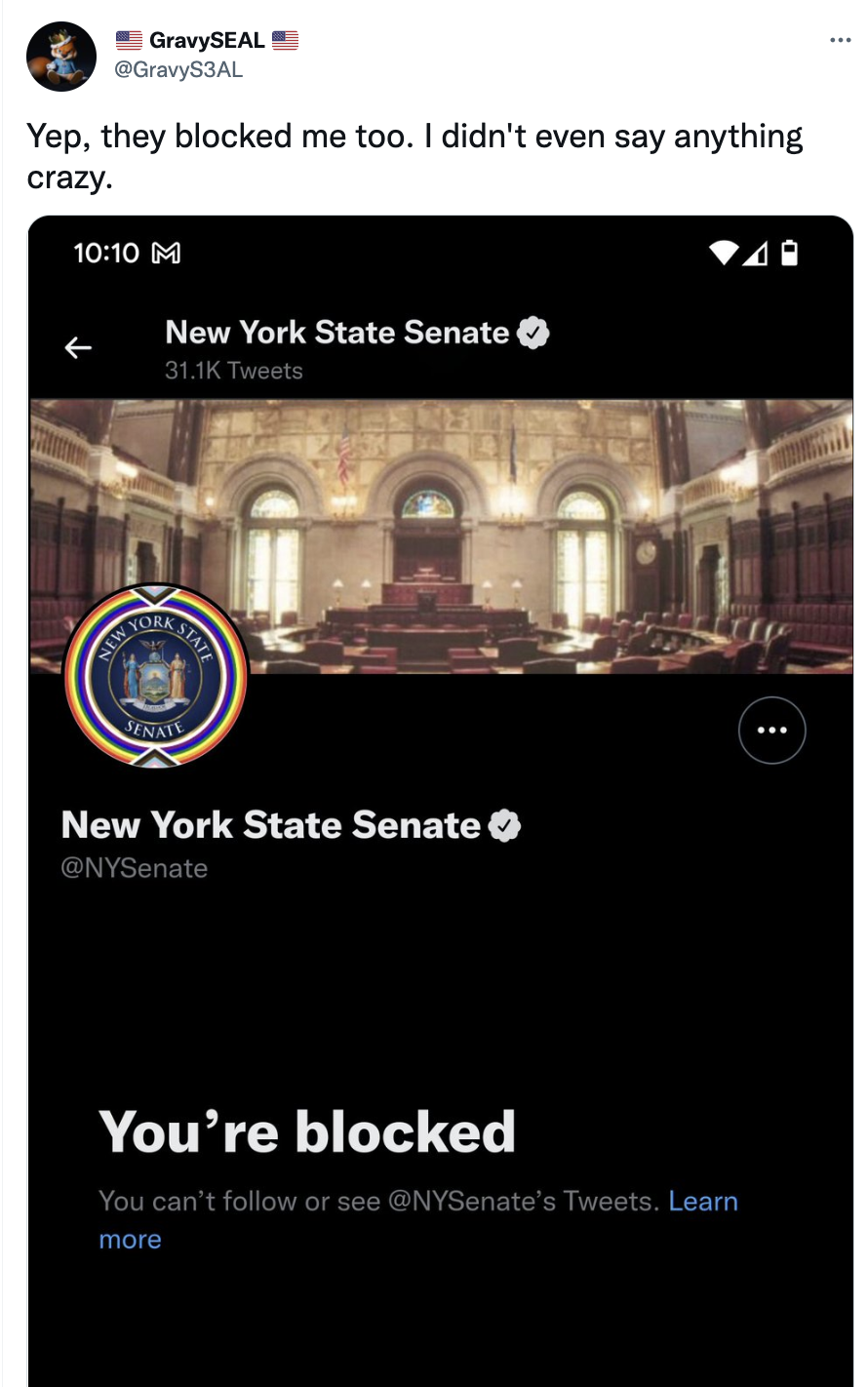 "While the Senate was considering legislation on an expedited basis, I thought it was important to voice my opinion while I had the opportunity," said Silver. "It's concerning that the Senate would try to prevent me from doing that. We can't expect politicians to agree with us on every issue, but they also can't subvert the democratic process by hiding constituents' publicly voiced concerns."
FIRE sent a letter to the New York State Senate demanding it unblocks all users, unhide all hidden tweets and Facebook comments, and agree to never block users. The organization also sent a freedom of information request demanding information about every comment that has been hidden and those who have been blocked. The state's Senate has until September 1 to respond to the letter.
"Legislatures should seek out the opinions of their constituents, not disappear them," said FIRE attorney Harrison Rosenthal. "Our democracy depends on the ability of the public to share their views, but the New York State Senate is suppressing the views they don't like."