Since the gruesome New Zealand shooting took place a few days ago, the internet has spun into chaos in terms of mass censorship and internet policing.
The gunman made a first-person video recording of himself, simulating that of a video game, as he went around and shot people. This ended up being a 17-minute horrific clip.
It was a tragic event that took 50 lives and left 50 injured. It was an act of discrimination against Muslims as the shooting took place in a mosque.
Discussing the video or the event, however, should be not seen in the same light that the event itself was. It should not be treated similarly, or even remotely the same.
Censorship
While the bulk of the censorship is taking place locally in New Zealand, the major platforms such as YouTube, Facebook, and Twitter are all taking action worldwide to stop the spread of the video. Deleting videos, altering search filters and suspensions are all taking place across the three platforms in an effort to prevent the spread of the video and talk of the shooting.
RELATED: The EFF Warns That Scrubbing Violent Content From The Internet Can Actually Make People More Unsafe 
And while it's certainly difficult to contain the sheer volume of hundreds of millions of people all trying to share the same thing, it is much easier to take action and effectively take control in one smaller area like New Zealand. This is especially true when all authorities agree to it.
The New Zealand police officially announced on their Twitter that "it is an offense to distribute an objectionable publication is punishable by imprisonment," referencing the video of the mass shooting.
In a headline you might think would come out of somewhere like North Korea, ABC reports:
New Zealand man, 22, arrested for allegedly distributing video of mosque shootings

A 22-year-old man from New Zealand has been arrested in connection with distribution of the video recording of Friday's tragic mosque shootings that killed 50 people.

The 22-year-old, who has not been named by police, will be charged under the Films Videos and Publications Classification Act. He is expected to appear in court Monday.
Out of all the violent videos out there on the web, for this one, in particular, all of a sudden the "law" is being enforced and enforced heavily.
The heroic free speech extension app known as Dissenter, where users would just click and enter a comment section that is unmonitored and uncensored, was banned in New Zealand in the wake of this tragedy. Even something like Dissenter which is still sort of a small community that's branched out recently as a way to preserve free-speech is being targeted by the New Zealand internet police.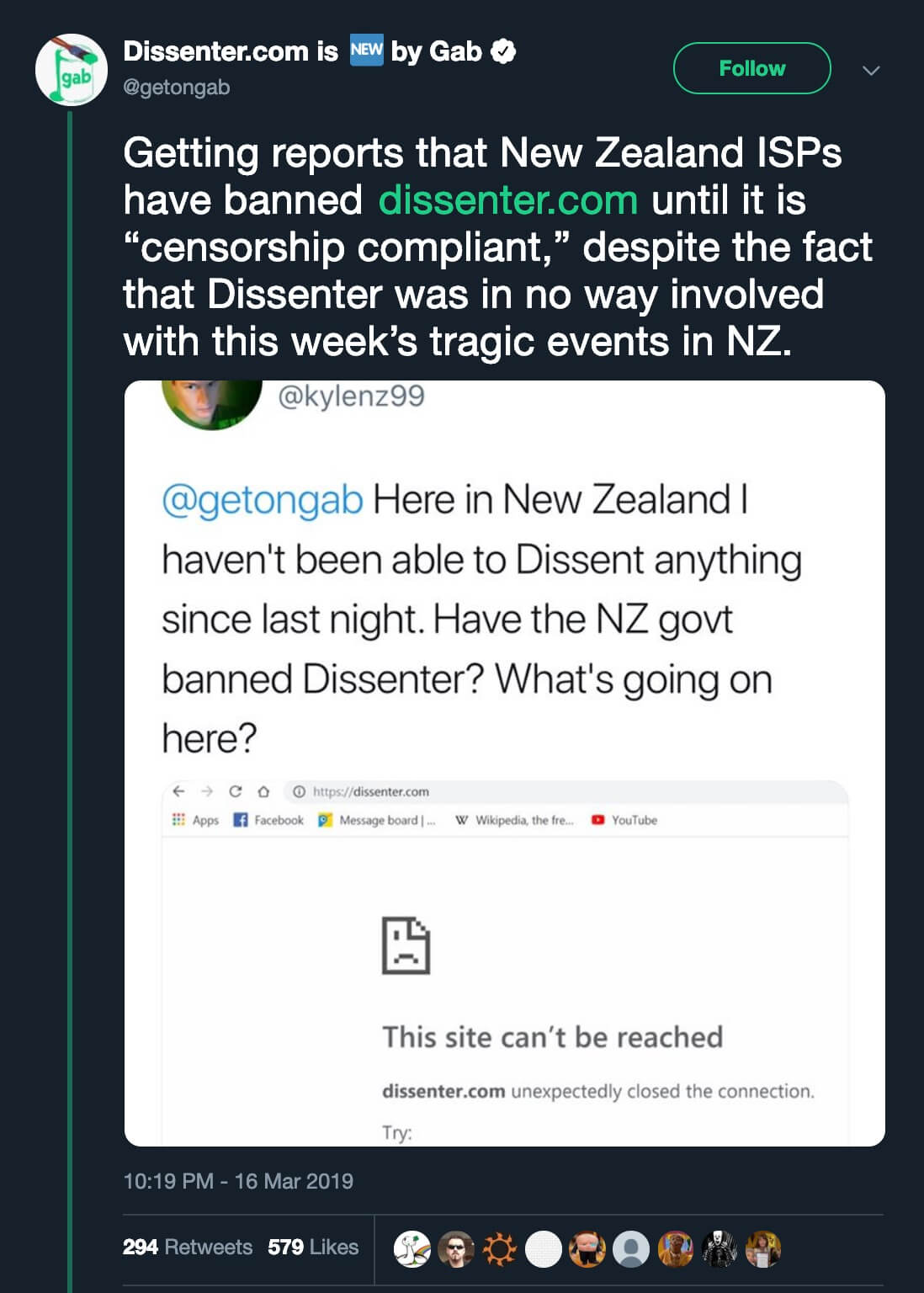 "Getting reports that New Zealand ISPs have banned http://dissenter.com until it is "censorship compliant," despite the fact that Dissenter was in no way involved with this week's tragic events in NZ."
The website ZeroHedge, the popular moderately conservative news site, was also reportedly down in New Zealand.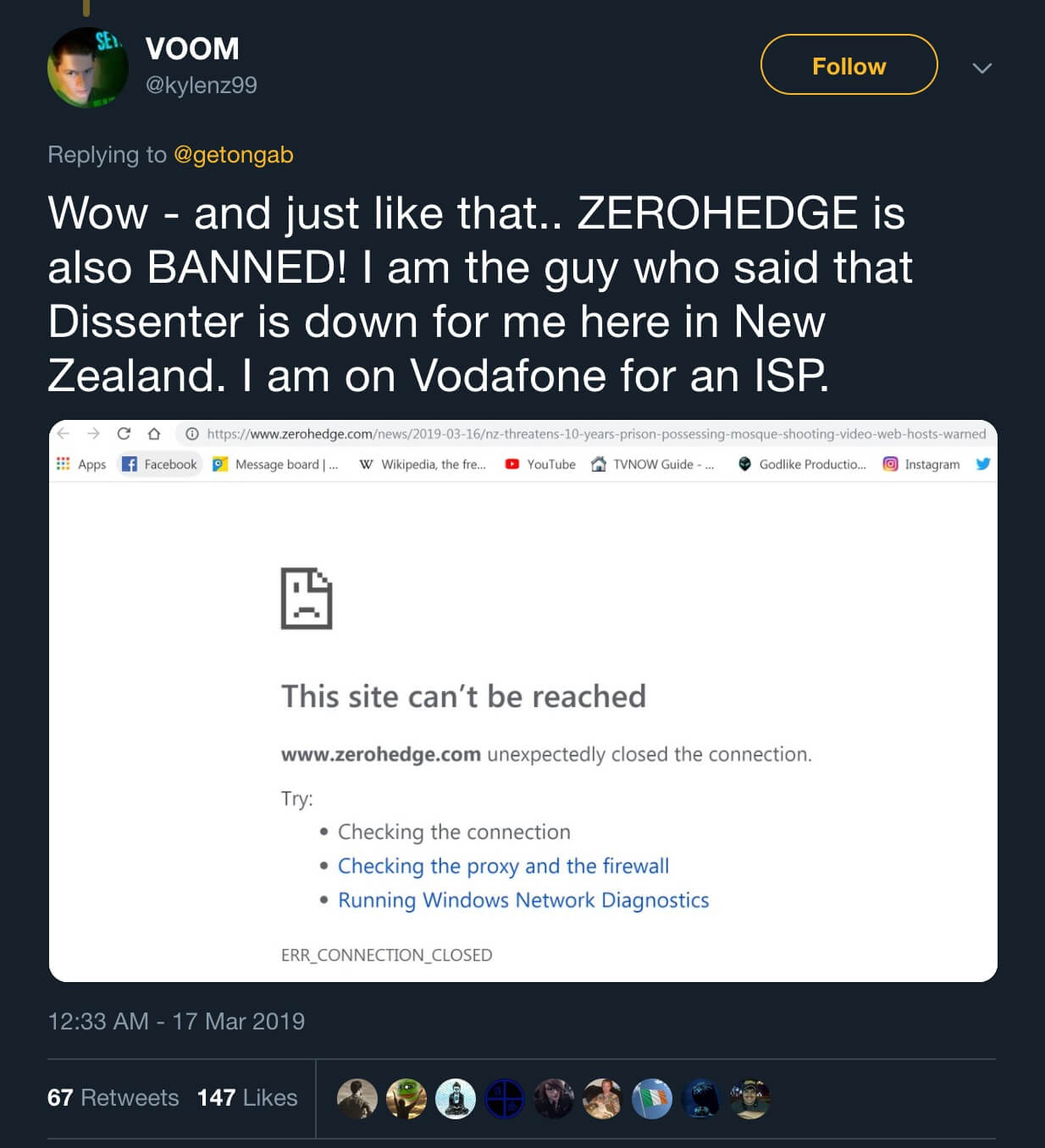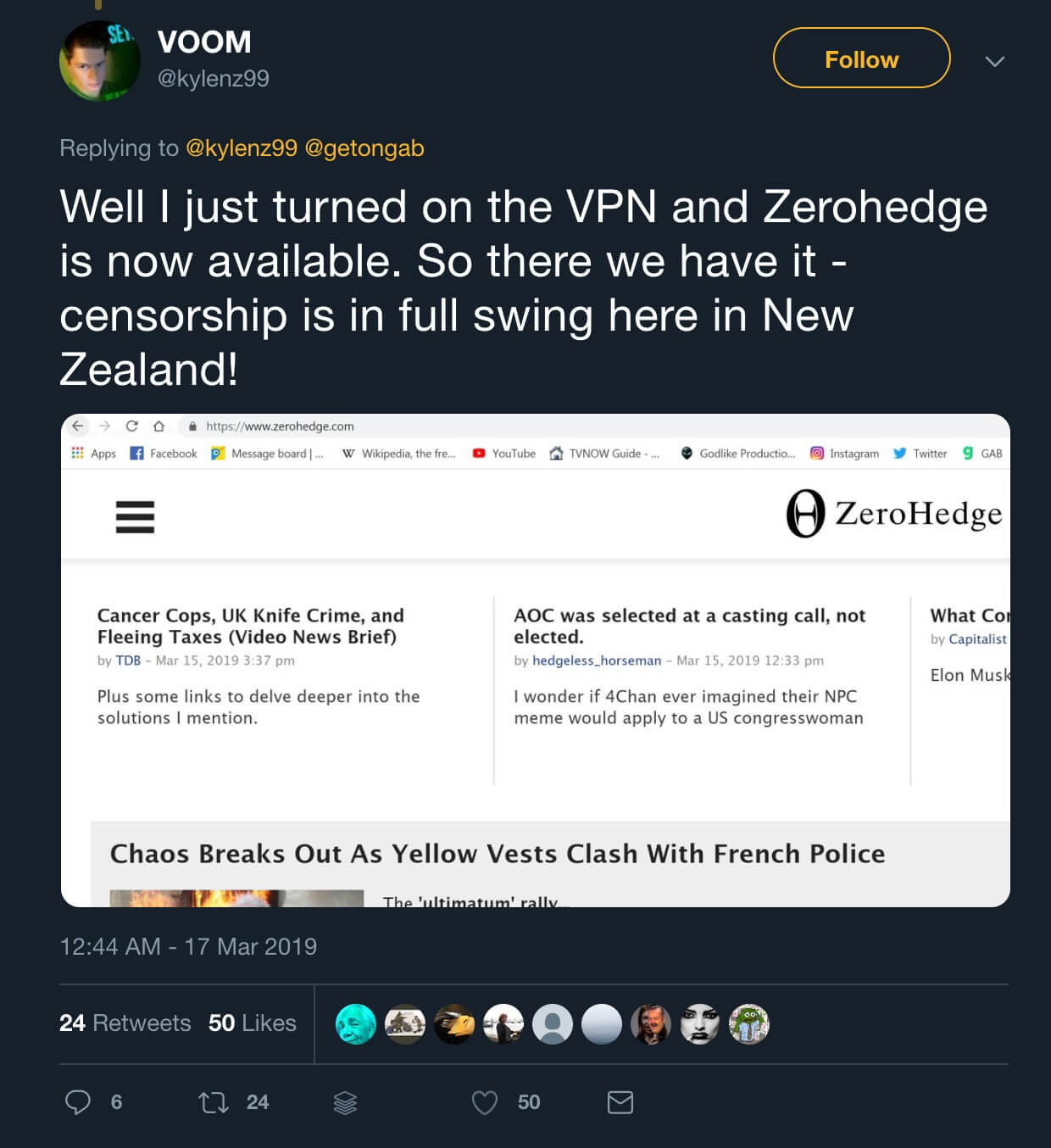 Censorship Continues
The censorship taking place in New Zealand hardly stops there, surprisingly.
We know three internet companies in New Zealand were working together to maintain a temporary ban against sites that spread any sensitive publications of the shooting.
Accessing certain websites through any of these internet companies, Spark NZ, Vodafone NZ, and Vocus NZ, will result in an error message that says "The URL has been blocked for security reasons"
The websites that these internet service providers have reportedly been banning are, 4chan, 8chan, Kiwi Farms, Mixtape, Mega, and more.
"Confirmed. NZ ISPs are blocking access to #Liveleak, 4chan, 8ch, a certain farm, Mixtape, Mega, and many other sites that are not complying immediately with the takedown orders."
Managing director of Spark NZ Simon Moutter confirmed this as well in a tweet.
"Our Spark security experts are working hard to close off the websites attempting to distribute the hateful stuff originating from the perpetrators of the massacre in Christchurch. We hope it causes minimal inconvenience to legitimate internet use by our customers."
Simon then provided further clarification on the situation.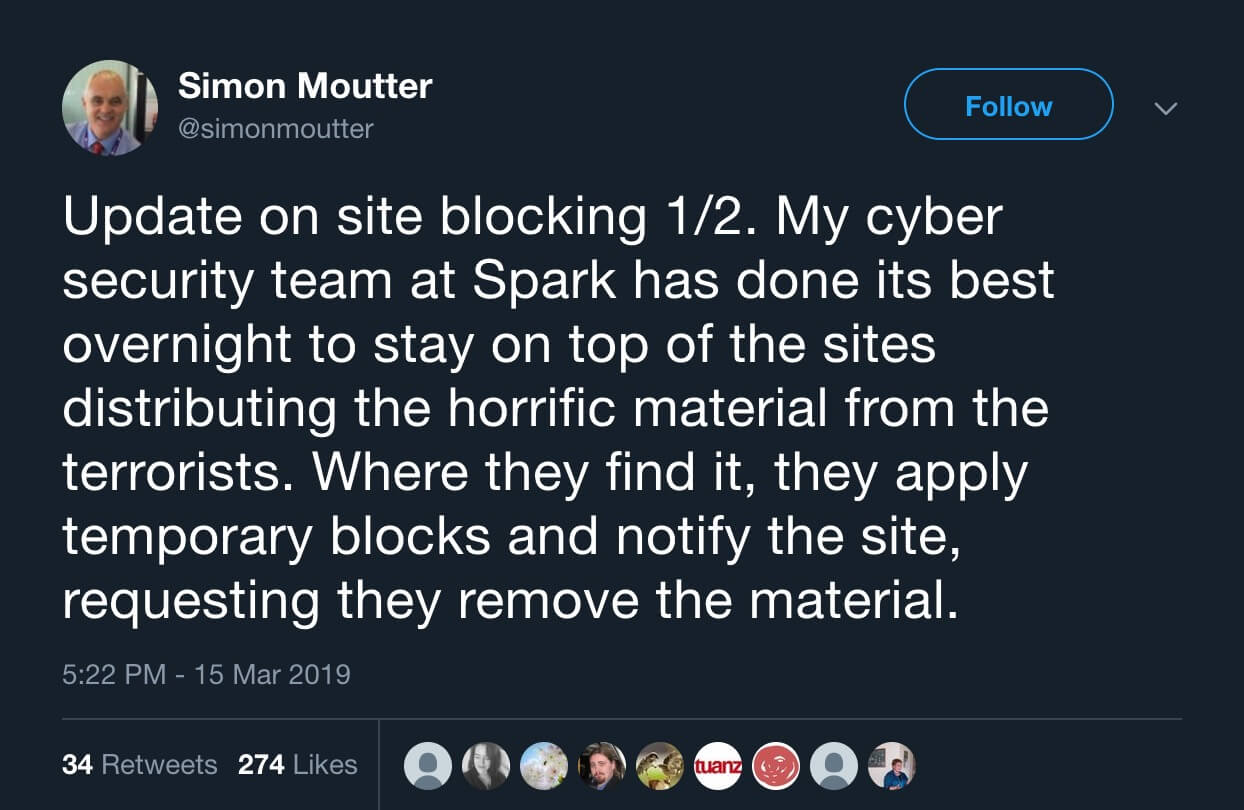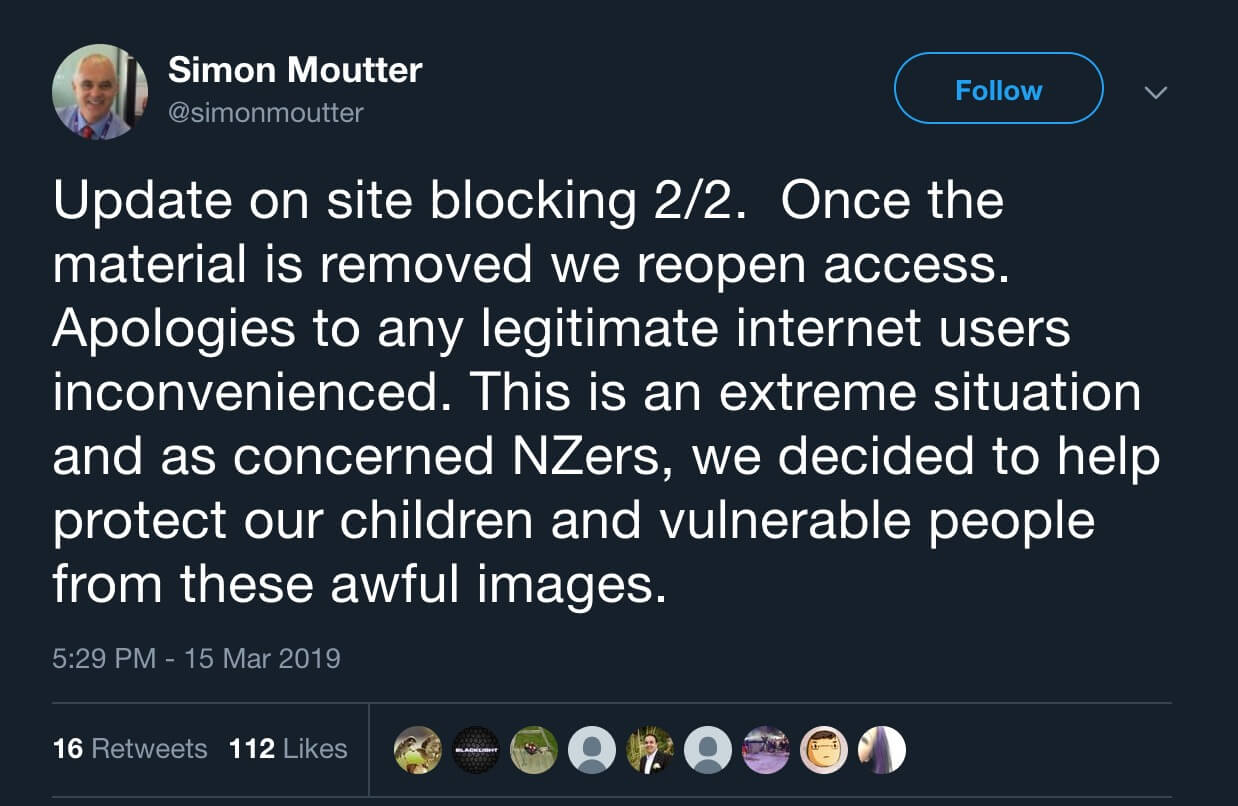 "Update on site blocking 1/2. My cyber security team at Spark has done its best overnight to stay on top of the sites distributing the horrific material from the terrorists. Where they find it, they apply temporary blocks and notify the site, requesting they remove the material."
"Update on site blocking 2/2. Once the material is removed we reopen access. Apologies to any legitimate internet users inconvenienced. This is an extreme situation and as concerned NZers, we decided to help protect our children and vulnerable people from these awful images."
There was a letter leaked from a Senior Sergeant New Zealand Police detective named John Michael, demanding Kiwi Farms message board owner to hand over the IP and email addresses of his users.
"At around the time of the shooting there were a number of posts and links posted on kiwifarms.net relating to the shooting and TARRANT," reads the letter from Senior Sergeant New Zealand Police detective John Michael. "We would like to preserve any posts and technical data including IP addresses, email addresses etc linked to these posts pending a formal legal request."

"Could you please advise what legal process you require for this request and also confirm preservation of the data requested pending legal process," the letter concludes
The letter was confirmed by journalist Nick Monroe: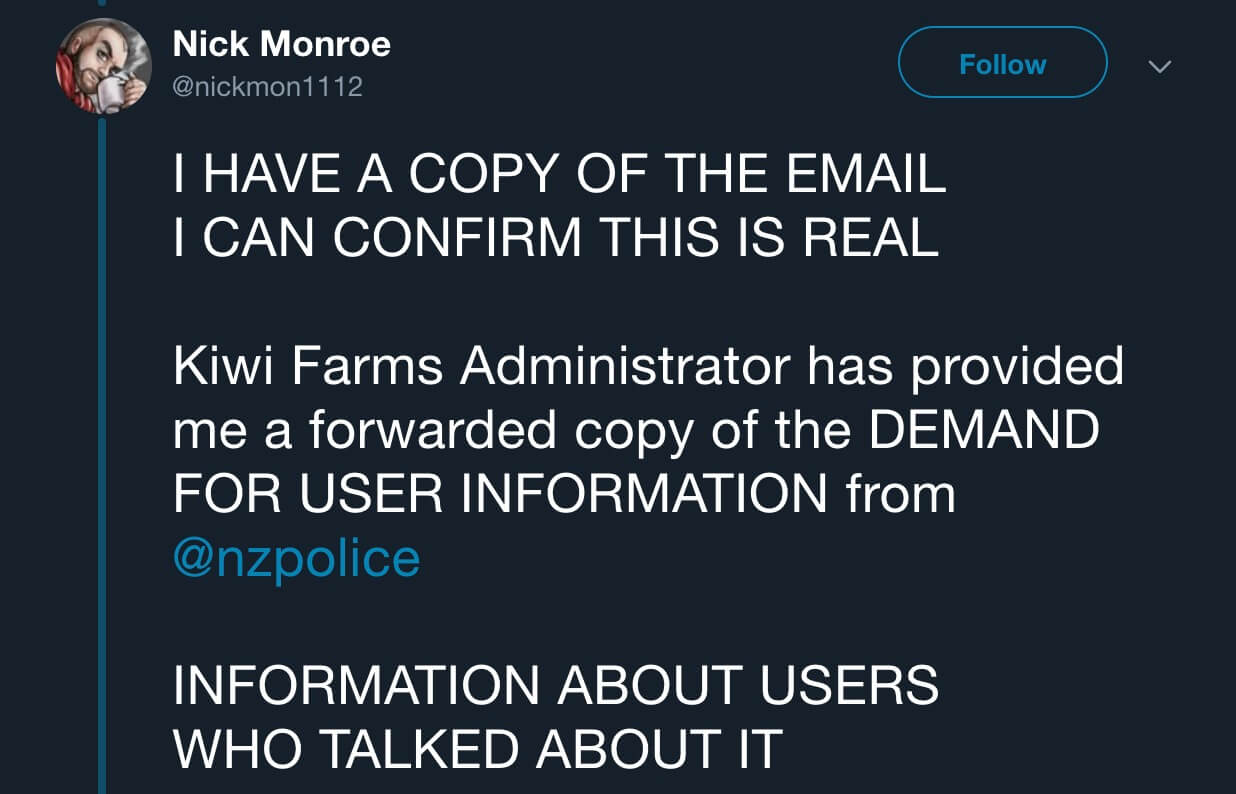 Responding to the information request, Kiwi Farms owner Joshua Moon responded in epic fashion in a response letter by stating, "Is this a joke? I'm not turning over information about my users…"
"Tell your superiors they're going to make the entire country and its government look like clowns by trying to censor the Internet. You're a small, irrelevant island nation barely more recognizable than any other nameless pacific sovereignty. You do not have the clout to eradicate a video from the Internet and you do not have the legal reach to imprison everyone whose posted it. If anyone turns over to you the information they're asking for they're not only cowards, but they're fucking idiots."
Probably not exactly what senior police sergeant John Michaels was expecting.
After Joshua wrote that letter response to the police, he then wrote a warning post to his users on Kiwi Farms urging them to take caution at this point, as they are being 'hunted.'
"If you are from New Zealand, your government is hunting you. Read this letter from NZ Police, then change your email address if you're using a personal account. Start using a VPN everywhere. I'm setting data retention to zero for the immediate future. Warrant canary is in the footer.

Good alter-ego email services not associated with me: Cockli, ProtonMail
Logless VPNs: PrivateInternetAccess, NordVPN, ProtonVPN"
The Kiwi Farms message board had nothing to do with the shooting, yet the police sergeant thinks it's justified to grab a hold of private information of innocent people.
Free Speech Tyranny Is Ensuing
As one might expect, internet users and New Zealand citizens are protesting the censoring of their speech. The authorities, however, seem to be just responding with more crowd control. They are literally reaching for anything to stop and prevent further terrorism from spreading even though events like this happens not even once in a blue moon but every other blue moon.
If you compare with all the other causes of death such as gang violence, vehicle accidents, and disease, they add up far more significantly in numbers, yet we don't see this panic surveillance going on. The media dramatizes and hypes the situation to the point where police can be given orders and then oblige to launch a crackdown over the internet and free speech.
Despite the tragedy and horror, we can all feel from watching clips like this, it is important not to forget that talking about this, and even sharing the video is still an act of free speech. It's an inherent right we have that cannot be hinged upon no matter how bad it makes us feel. Our sovereignty is the most important thing we have, and it's the very thing that allows us to even engage in anything.