The news and opinion magazine Newsweek has claimed responsibility for flagging YouTube accounts with Alex Jones content so that they are removed from the platform.
Since Alex Jones was censored from most social media platforms in 2018, all of his content has been erased from social networks and public multimedia streaming platforms.
Not only that, but it is forbidden to upload any type of material of his authorship on several platforms.
The banning is in effect on sites like Facebook, Spotify, Twitter, Apple's App Store, and much more.
YouTube, of course, is among the platforms where its content is prohibited.
However, a series of alternative accounts under the "General Shepherd" username managed to temporarily circumvent the restriction and feature content from Infowars.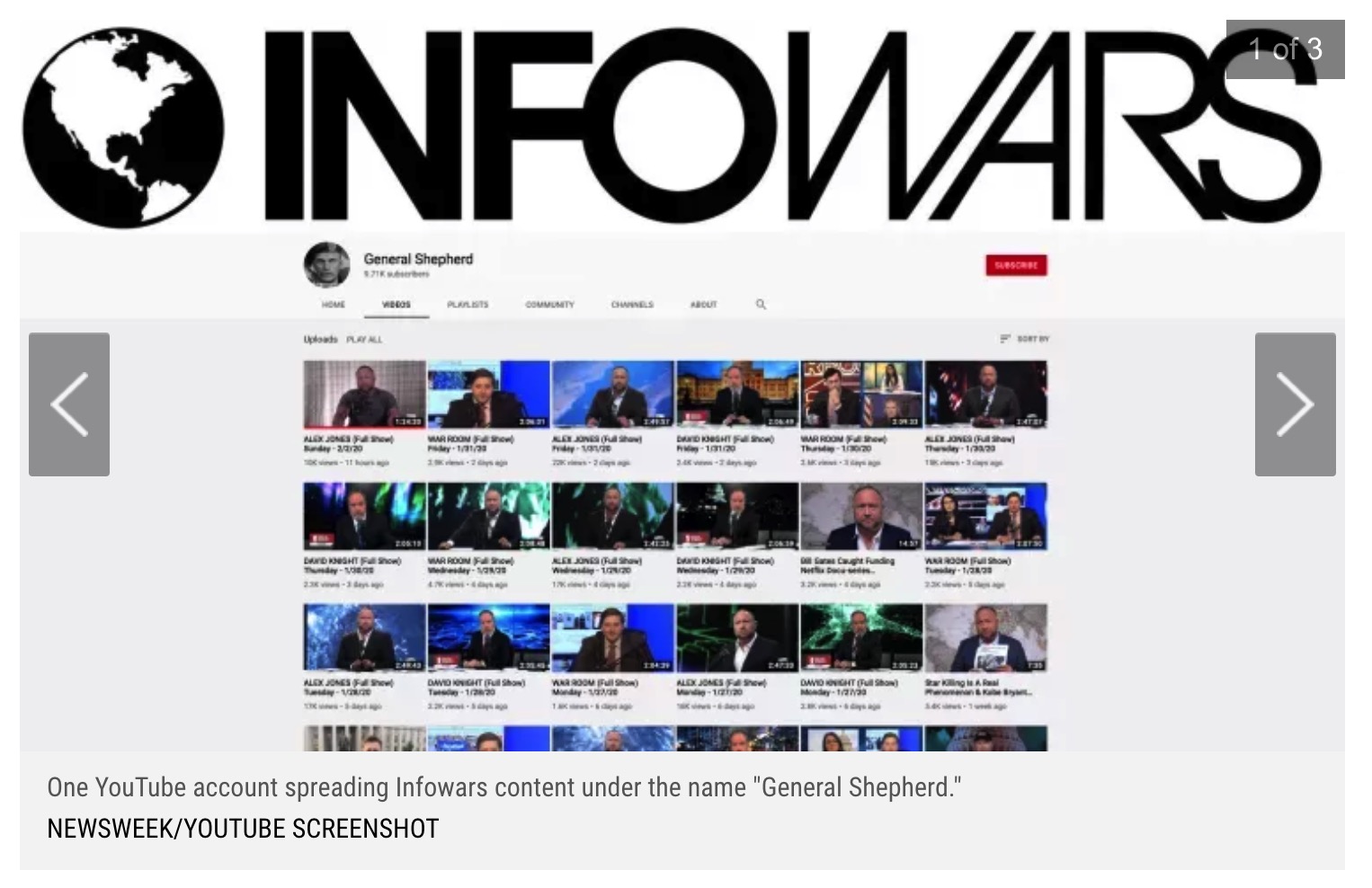 And Newsweek made sure that the content of its competitor Infowars was reported to YouTube and removed.
"A YouTube spokesperson said the channels flagged by Newsweek had been deleted, noting they were created to circumvent a previously-issued suspension by uploading "terminated content." YouTube confirmed the ban on Infowars and its host remains "active and consistent."

General Shepherd – 9.73K subs, 943,982 views
General Shepherd – 8.87K subs, 1,696,939 views
General Shepherd – 1.17K subs, 29,825 views

Jones, 45, who continues to spearhead the controversial media operation made famous by peddling conspiracy theories and unfounded claims, was banned from mainstream social media websites and app stores in 2018 – including Facebook, Twitter, Apple, Spotify and Google. Prior to deletion, Jones' YouTube channel had over 2.4 million subs and 17 million monthly views."
The three deleted accounts went unnoticed until the YouTube algorithm began to surface them due to the rapid growth they were experiencing since October last year.
Between the three accounts, they already accumulated more than 2 million views, and little more than 10,000 subscribers.
From YouTube, they assured that the ban on Alex Jones and all his content remains firm.
Jones has the "honor" of being banned from using social networks since 2018 because he is the main driver of some of the most popular conspiracy theories in the United States.
Alex Jones' latest appearance on the Joe Rogan Experience Podcast became the most-listened-to podcast episode of all time, meaning that the public still has a large appetite for Alex Jones – even though many media outlets want him kept away from the platform.
Newsweek tagged the channels that contained the videos of Alex Jones so that YouTube would review them.
The way Newsweek managed to eliminate this content considered as "false information," is very similar to the one Buzzfeed used a few days ago against the financial blog ZeroHedge.
Buzzfeed gave notoriety to an article where the contact information from a research scientists' website was complied into a news article on ZeroHedge.
A Buzzfeed author alleged that this was "doxxing" and brought this to Twitter's attention, who then banned the account, wiping out over 600,000 followers.