Free speech friendly video sharing platform Odysee has revealed that it will be staying online after a challenging year and is now working towards full decentralization on a new censorship-resistant protocol — Arweave.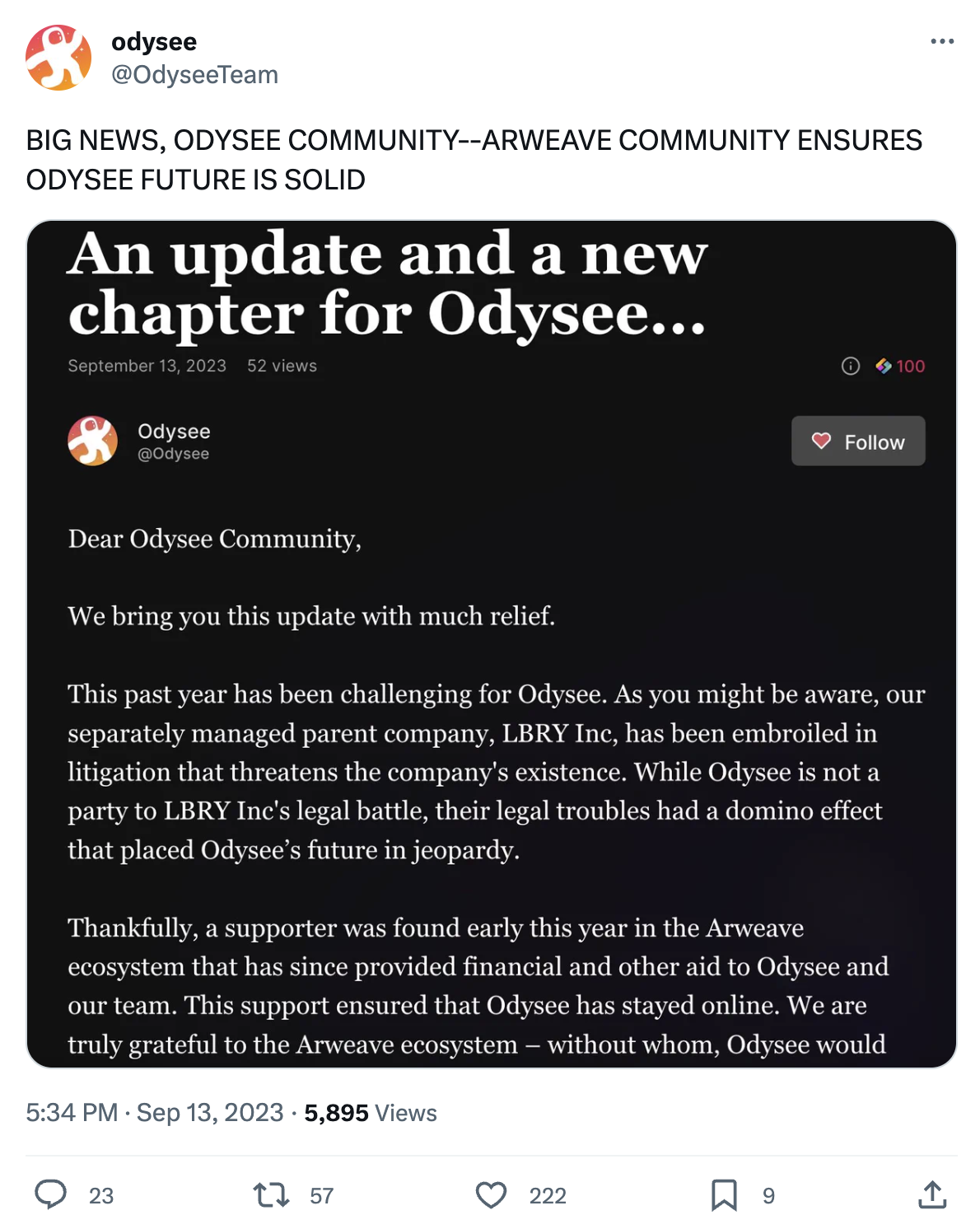 Odysee's challenges stem from a legal battle between its separately managed parent company, LBRY Inc., the company that created the open-source, decentralized, blockchain-based LBRY network, and the US Securities and Exchange Commission (SEC).
While the two companies are separately managed, Odysee's content is currently hosted on the LBRY network.
The legal battle threatened the existence of LBRY Inc. In July, LBRY Inc. said it expected to start winding down the company over the next few months after the final judgement in its case. However, earlier this month, LBRY Inc. appealed the final judgement.
Odysee said LBRY Inc.'s legal battle "had a domino effect that placed Odysee's future in jeopardy" and that Arweave started providing financial and other aid to Odysee earlier this year.
"This support ensured that Odysee has stayed online," Odysee said. "We are truly grateful to the Arweave ecosystem – without whom, Odysee would have had to shut down many months ago."
Both Odysee and Arweave are now working on "fully decentralizing Odysee on top of Arweave as well as developing new non-tokenized products, that continue to imbibe Odysee's values and push the notion of a fully decentralized media ecosystem forward."
Unlike most of the Big Tech platforms, which continuously censor their users, Odysee has committed to letting its creators speak freely.
Arweave has also helped creators avoid censorship with Chinese creators using the protocol to preserve content and fight back against government censorship.