Jeanne Hedgepeth, a Palatine High School, Illinois, social studies teacher, has been fired over one of her social media posts after the Township High School District 211 board members voted 5-2 to terminate her employment.
"I am about facts, truth-seeking and love," Hedgepeth wrote in the Facebook post that led to her termination. "I will speak on any topic I choose because I live in a free country. I find the term 'white privilege' as racist as the 'N' word. You have not walked in my shoes either so do not make assumptions about me and my so called privilege. You think America is racist? Then you've been hoodwinked by the white liberal establishment and race baiters like Jesse Jackson and Al Sharpton. Travel the world and go see that every nation has racism and some more than others but few make efforts such as we do to mitigate or eliminate it."
She also recommended the work of economist Thomas Sowell, political commentator and activist Candace Owens, and author and radio host Larry Elder.
Additionally, Hedgepeth argued that there is a "deeper problem than racism." She finished by recommending that the black community should stop believing "Democrats, mainstream media and intellectuals in ivory towers."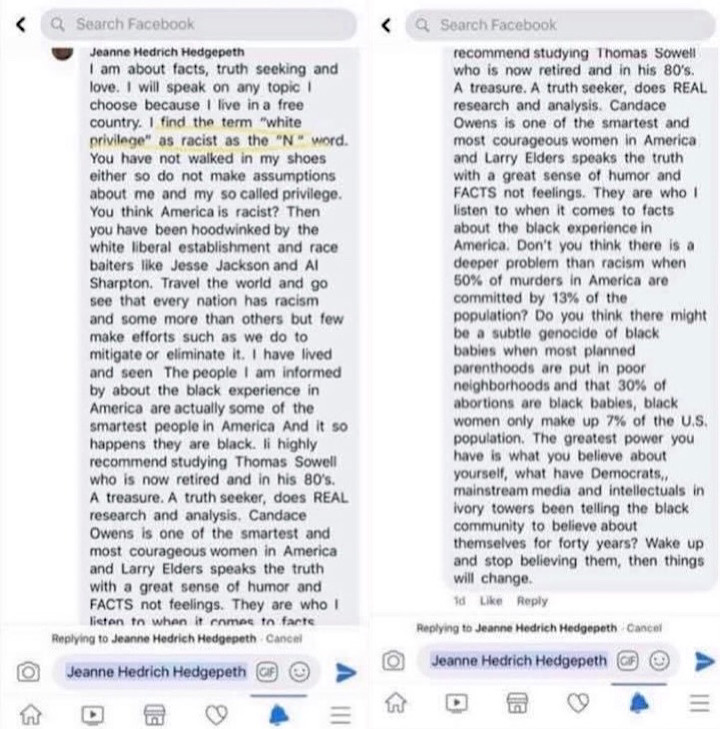 The now-deleted Facebook post became the subject of an internal investigation in June after several former students complained about the post and a local activist who had organized a Black Lives Matter rally called for Hedgepeth to be fired.
Hedgepeth then submitted a retirement letter that would have ended the investigation but later rescinded the letter.
The Township High School District 211 board members voted to end her employment.
Hedgepeth is one of the many people to be fired for expressing their opinions on social media in recent months with others being fired for supporting the drug hydroxychloroquine as a coronavirus treatment, criticizing Black Lives Matter, supporting President Trump, and more.
In some instances, these firings are preceded by digital outrage mobs bombarding the employer with demands for the person to be fired until the employer yields and terminates the employee because of what they post on social media.