Ethan Klein has hit out at YouTube for demonetizing a podcast episode with Papa John's former CEO.
Although the interview was long-awaited by fans of the channel, the video was not going to receive any monetary income, which has angered the H3 Podcast host.
A video that will go unnoticed
Being demonetized by YouTube means that, aside from being unable to earn revenue from the video, the affected video will not appear in the Trending category of the platform.
This greatly affects the visibility that some publications can reach, even if it is content that users wanted to see.
H3H3Productions has been going through this since yesterday.
On February 10, Ethan and Hila Klein produced an episode for the H3 Podcast channel with the once-CEO of Papa John's Pizza, John Schnatter.
This podcast was highly anticipated by fans of the channel.
However, despite the episode being popular, it was quickly demonetized.
The video in question reached 700,000 views in less than 1 day, but remaining on the YouTube demonetization blacklist means stalling its visits and H3H3Productions could not receive revenue for it.
YouTube attention call
Ethan Klein has not lost the opportunity to show his dissatisfaction with the YouTube action.
Through a Tweet, he attacked the platform for demonetizing the Papa John episode.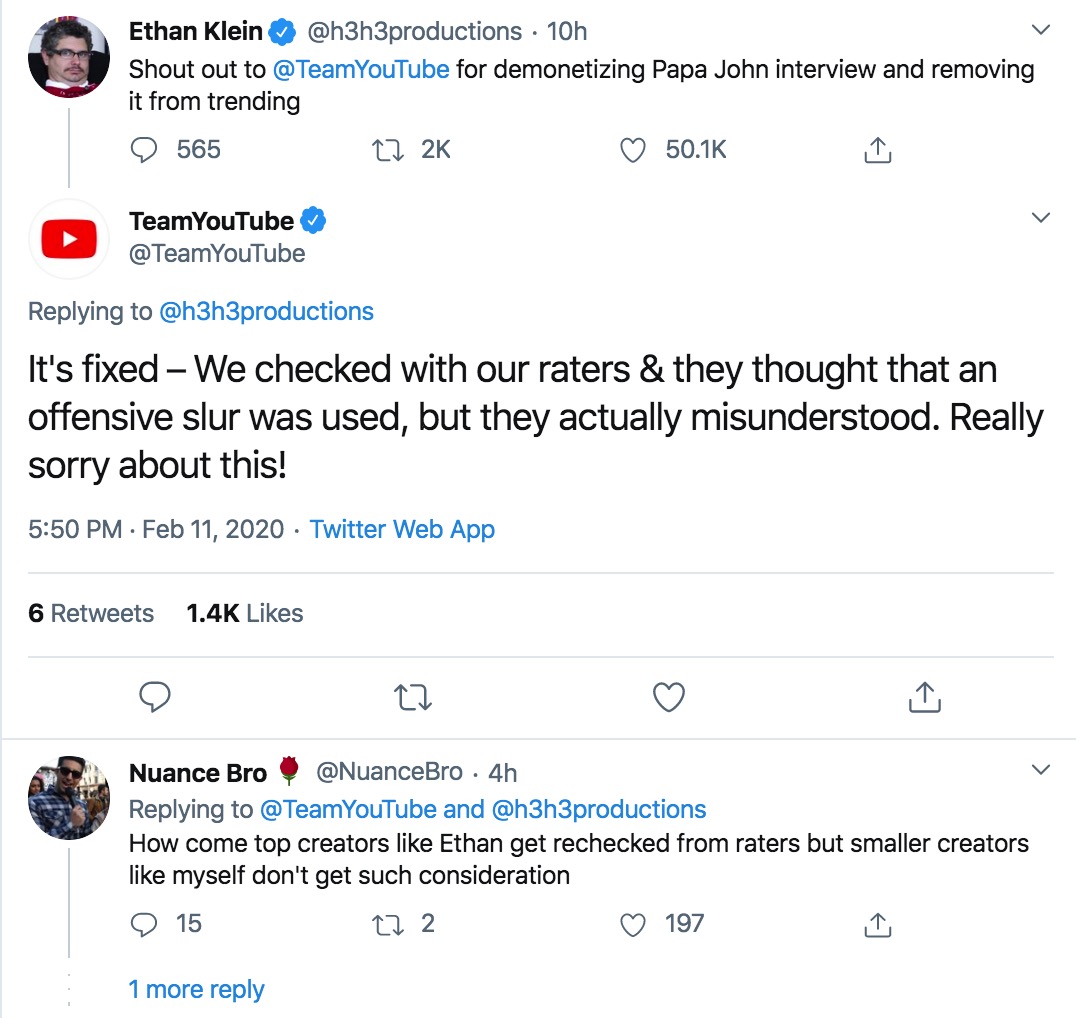 However, it seems that this complaint took effect.
The YouTube team verified the video and confirmed that the demonetization was an error.
Apparently, their raters thought they heard an offensive "slur" on the podcast.
https://twitter.com/h3h3productions/status/1227327660143017992
The video has recovered all privileges now, so it is visible again in the Trending tab.
Many have speculated that the demonetization was due to John Schnatter's presence itself.
He has been actively involved in political issues since 2012, demonstrating a commitment to the Republican Party, and a supporter of the Donald Trump campaign with monetary funds.