An anti-critical race theory parents group has written a letter to Meta CEO Mark Zuckerberg, asking him to address the censorship of harmless posts by its members.
Speaking to the Daily Caller, the founders of Moms 4 Liberty Tiffanny Justice and Tina Descovich said that they noticed a spike in flagged posts after the National Education Association (NEA) wrote a letter to social media companies to address critical race theory propaganda by "radicalized parents."
In the letter, the NEA asked TikTok, Twitter, and Facebook to address the online "trends" helping "create a culture of fear and violence with educators as targets."
Moms 4 Liberty's letter accuses Facebook employees of being NEA's "enforcement agents."
"In an era where 'parental rights' have been slandered as a dog whistle for 'radical extremism,' the NEA's intent seems clear. They want to use any tool at their disposal to push parents out of education. And, unfortunately, it appears that your staff has determined to act as an enforcement agent on their behalf," the letter reads.
Moms 4 Liberty represents over 70,000 parents nationwide, and has 167 chapters. Its letter to Zuckerberg calls on the tech giant to "apply the same standards to [Moms 4 Liberty] as [they] apply to others."
The co-founders told the Daily Caller that 22 chapter pages have been removed in "recent weeks." The nationwide page was also suspended from publishing new posts for 29 days.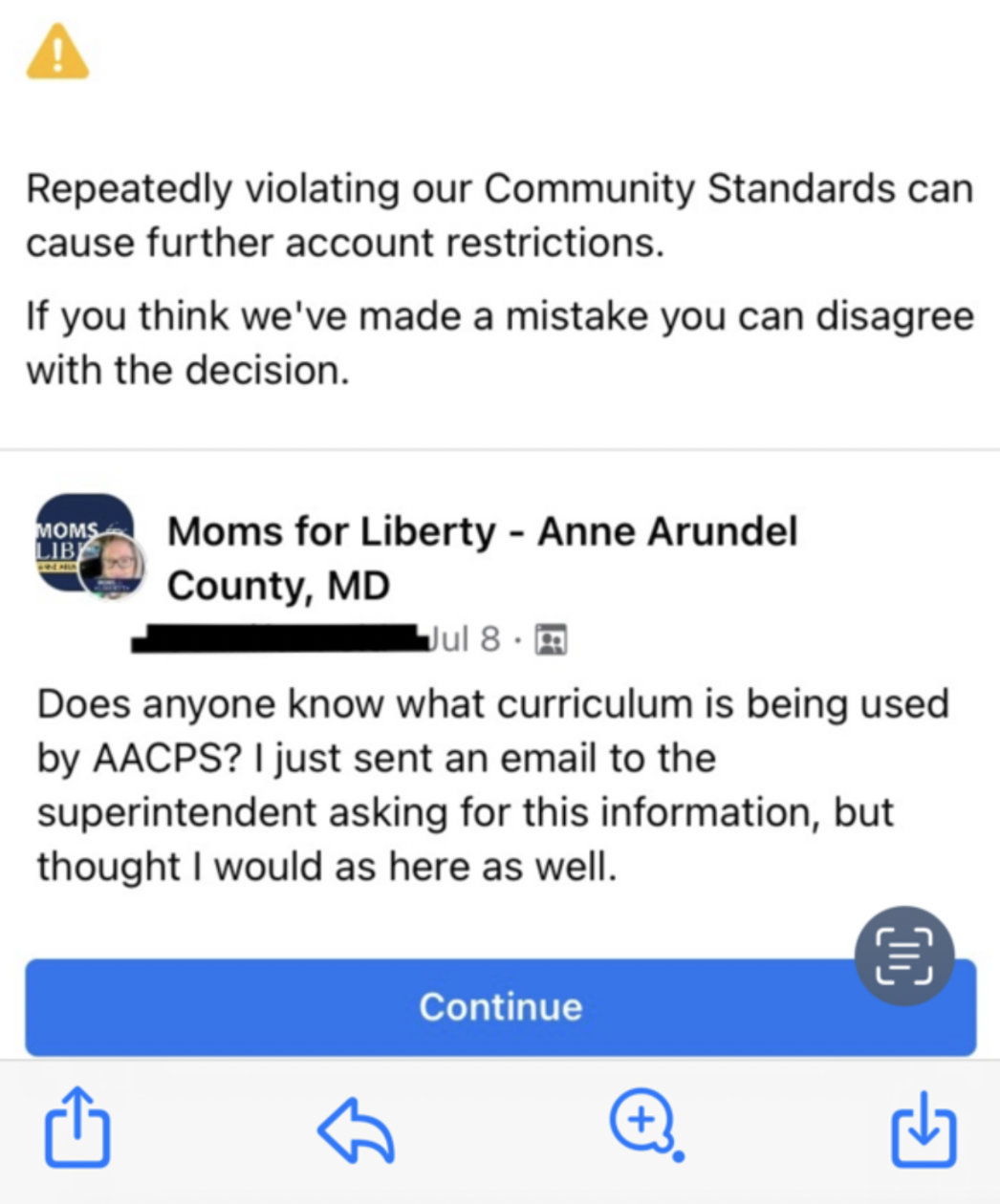 The letter states that the organization's chapter groups received notifications claiming "communications violations," that resulted in restrictions from "posting basic information about local governments operations such as school board meeting times, or questions about student textbooks."
The letter further explains that no valid reasons for flagging or censorship of the posts have been provided.
"Our groups have been shut down repeatedly," the letter reads. "Our admin accounts have been suspended and our National Page restricted for posting for 'security reasons.' We have not been provided with what these 'security reasons' might be, leaving us unable to address any concerns."
The Daily Caller reviewed some of the posts that were flagged.
One parent from Maryland was censored for asking about how to find the curriculum of the Anne Arundel County Public Schools (AACPS).
She wrote: "Does anyone know what curriculum is being used by AACPS? I just sent an email to the superintendent asking for this information, but thought I would as [sic] here as well."
Another was censored for posting, "Are you ready to run for school board?" Another post that was flagged included a photo of moms wearing Moms 4 Liberty t-shirts, with the caption, "We had a great second meeting."