On Tuesday, Suzie Dawson clarified some details regarding PayPal's withholding of funds raised by new social and messaging app Panquake.
In a tweet, Dawson said that PayPal didn't facilitate refunds and that this job was done by Panquake staff, while the giant payment processor charged not only fees on all withheld money – but also on refunds that it apparently took no action to make happen.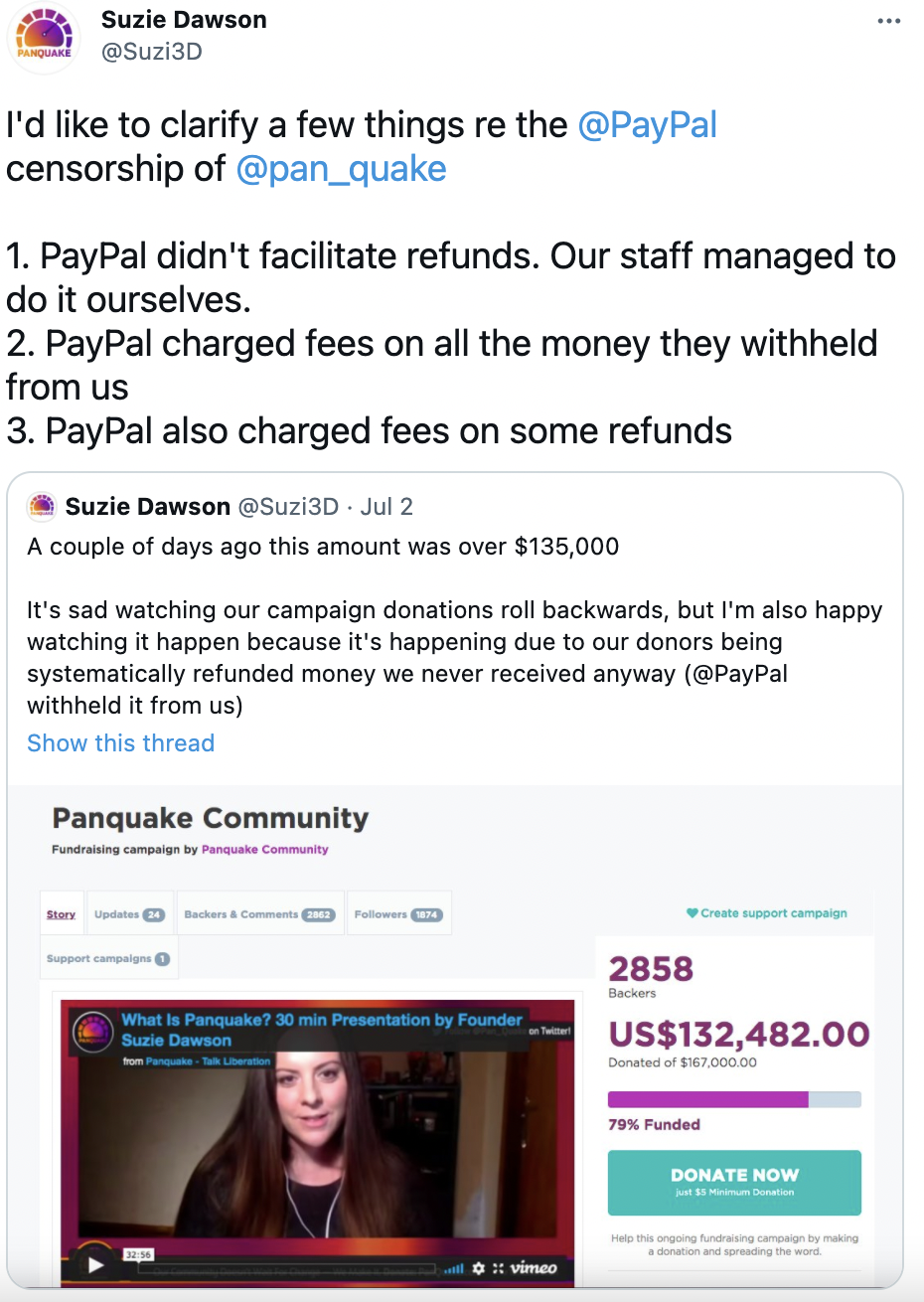 In a previous Twitter post on July 2, Dawson revealed that the donations at that time stood at $132,500, having rolled back from over $135,000 thanks to PayPal's actions. She also urged those wanting to help the platform get off the ground to donate via the GoGetFunding site.
(As of Thursday, the campaign had reached 79% of its $167,000 goal – $133,150.)
Dawson is describing PayPal's behavior as a form of censorship of the new app but vowed that those behind it will have to double their efforts to find ways to raise the funds "required for restoring the human rights of freedom of communication, expression and association."
Some of those who commented on the development suggested one of the crypto solutions or donating to the project directly.
It's unclear what exactly caused PayPal to withhold Panquake's money, but the app has positioned itself as an anti surveillance and anti-censorship tool that has a number of prominent endorsers from the free speech community, including Christine Assange, the mother of Julian Assange.
On June 25, Panquake revealed in a blog post on its website that PayPal had not been transferring any donations since May 13, adding that the staff was trying to get to the bottom of this, but with no success.
"Our business is in full compliance with all of PayPal's documented information requests," the post said, noting that the company acknowledged receiving all the information they've requested from the app. "However, PayPal still will not release our funds to us. PayPal's processes and explanations throughout this period have been circular, nonsensical, diversionary and remain unresolved," the blog post said.