pCloud Crypto is an easy to use encrypted cloud storage solution that's a solid performer when working from a desktop machine and performing basic file operations. However, it lacks many of the advanced features that are offered by competing cloud storage services with end-to-end encryption. Additionally, the mobile and web versions of the service are more limited than the desktop version.
If you mostly work on solo projects from a desktop machine and you don't need access to more advanced features such as file versioning, pCloud Crypto will most likely have everything you need to manage and encrypt your files. However, if you often manage files from your mobile device, share files with other people, or regularly need access to advanced file management features such as file versioning, it's probably not the right service for you.
Keep reading for our full review where we'll expand on all these points, do a full breakdown of pCloud Crypto and highlight some of the best alternative encrypted cloud storage services.
Why use pCloud Crypto?
With services such as Dropbox, Google Drive, and Microsoft OneDrive all offering compelling cloud storage solutions, you're probably wondering why you should consider an encrypted cloud storage solution like pCloud Crypto.
While these mainstream solutions are certainly convenient, they make your data more vulnerable by using server-side encryption. With server-side encryption, the decryption key is held by the service provider and hosted on its servers. This means they can easily decrypt your files and any third parties who gain access to the servers or files will also find it much easier to decrypt your files.
This makes any files you store on these services more susceptible to data breaches, data mining and scanning, mass government surveillance, misuse by the service provider, misuse by rogue employees, and many other problems that involve third parties gaining access to your data.
Services like pCloud Crypto claim to offer client-side encryption (also known as end-to-end encryption) which encrypts the files on your device before they're uploaded to the cloud. This encryption is done using a key or password which is unique to you and only known by you.
Since you hold the decryption keys, end-to-end encryption gives your files a much greater level of protection from third parties while still allowing you to enjoy many of the benefits and convenient features that cloud storage provides. However, this additional protection does come with a couple of important caveats.
First, pCloud Crypto and many other services that claim to apply end-to-end encryption are closed source. We'll be going into more detail on how this can affect the privacy of your files later in this review but the main takeaway is that there's no way to verify the encryption, so you have to trust the company to apply the encryption in line with its claims.
Second, even if you choose an open source service, no encryption is unbreakable. Experts believe the strongest encryption will take supercomputers billions of years to crack, so good end-to-end encryption does provide an incredible level of protection for your files. However, there is still a very small chance third parties can break this encryption and gain access to your files.
pCloud Crypto pros
Easy to set up and use
No file size limits
Document previews
Media playback
Available on multiple platforms
Two-factor authentication
Auto-lock encrypted files and folders
Multiple payment options (including Bitcoin)
Fast and responsive customer support
pCloud Crypto cons
No file version history
No deleted file recovery
No selective sync
No offline file or folder access on mobile devices
No bulk copying of files on mobile devices
No in-app encrypted file or folder sharing features
No automatic backup features
No advanced media management and playback features
No integration with the iOS files app
Password management options are limited
New features aren't added very often
Customer support is email only
pCoud Crypto data privacy and security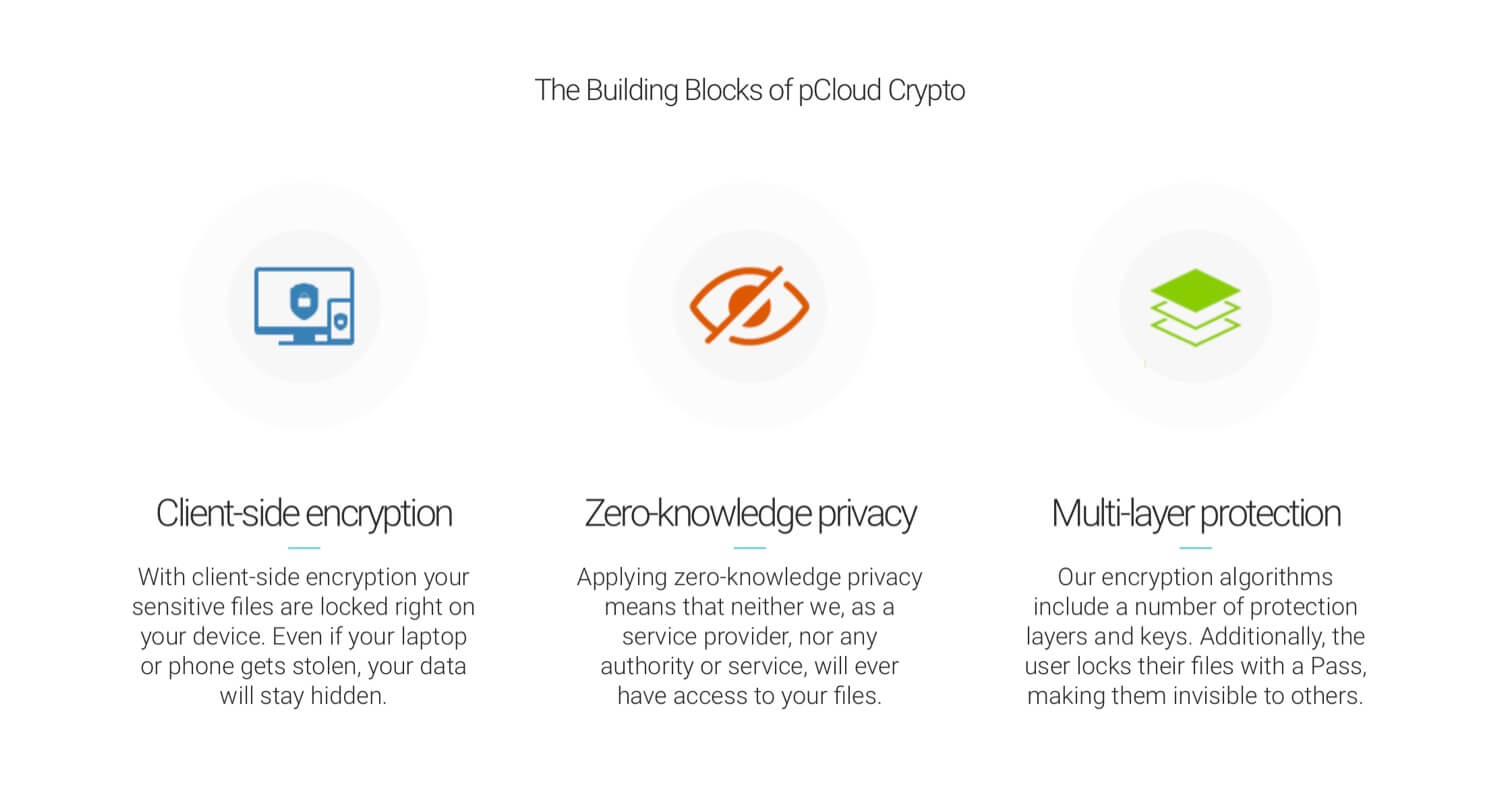 pCloud Crypto's main selling point is its data privacy and security. The tagline for this service claims it's the "best secure encrypted cloud storage." The sales page suggests that with the client-side encryption, you can "encrypt your sensitive files on any device and make them invisible to others," that "you hold the key to your online privacy," and that "applying zero-knowledge privacy means that neither we, as a service provider, nor any authority or service, will ever have access to your files."
This all sounds impressive but as with many products and services in this space, you have to trust that pCloud Crypto is doing what it says. There is no way to fully verify how well protected your files are or if you are the only person who has access to them.
To get a clearer picture of pCloud Crypto's overall data privacy and security, we looked at the following key areas of the service and examined how they could impact the privacy and security of your files:
Source code
Encryption
Security
Third-party audits and tests
Source code
pCloud Crypto is closed source which means the code can't be directly audited by third parties. This forces you to trust pCloud's encryption because there's no way to directly verify how well it protects your files.
Another issue with the closed source code is that the encryption can only be used on files that are stored on pCloud's servers. There's no way to encrypt files that are saved to your device, files that are saved to external storage, or files that are saved on other cloud storage services. This means you're locked into pCloud's service and if you ever want to move your files elsewhere, you lose the encryption and have to find an alternative solution for encrypting your files.
While pCloud hasn't opened up the source code for pCloud Crypto, it claims that third parties were allowed to test the security of its encryption during the pCloud Crypto Challenge. The company describes this as a six-month challenge where over 2,000 participants attempted to hack pCloud Crypto and none of them were successful.
Ultimately, the importance of this closed source code will depend on your personal preferences.
Many proponents of open source code believe that it's an essential requirement for any product or service that makes strong claims about privacy. They suggest that the risk of backdoors or vulnerabilities being hidden in closed source code is too great and that using open source software is the only way to guarantee that encryption is being applied in a way that matches a company's claims.
Other people suggest that closed source code allows businesses to profit from their development and makes their software more sustainable. They believe that this leads to the creation of software with better features and a cleaner user interface, particularly on mobile devices. They also believe that this financial mechanism gives businesses a strong incentive to build trust with their users and follow through on their claims because losing their user's trust would be too costly and cause them to go out of business.
Encryption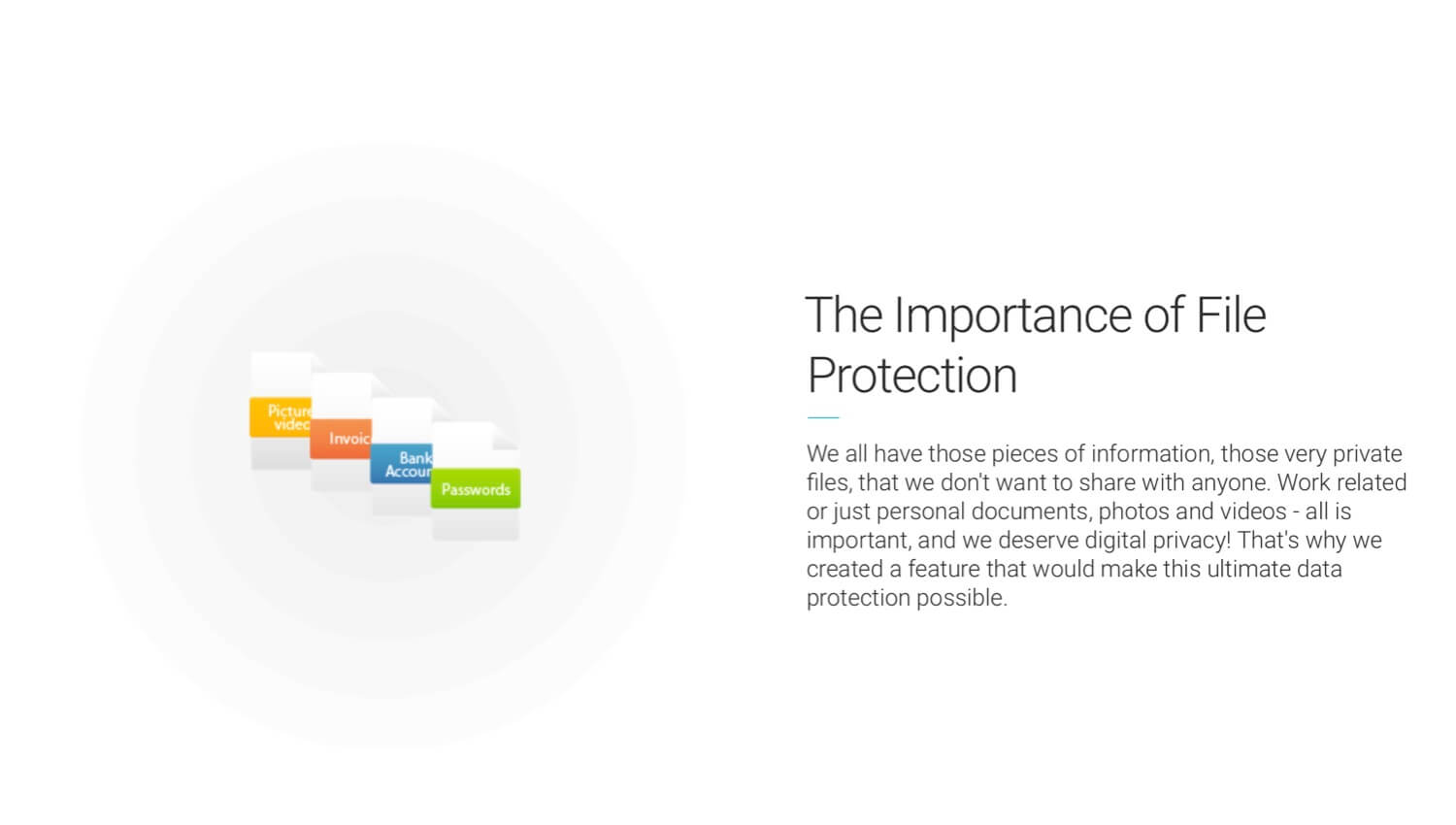 pCloud says it applies apply zero-knowledge privacy and uses client-side encryption to protect your pCloud Crypto files. Zero-knowledge privacy means no one but you has the ability to access your files. Your files can only be encrypted and decrypted using a unique password which is personally chosen by you and only known by you. Client-side encryption means this unique password is used to encrypt your files on your device before being sent to pCloud's servers.
When encrypting your pCloud Crypto files, the company states that it uses a combination of 4096-bit RSA (Rivest–Shamir–Adleman) to encrypt your private key and 256-bit AES (advanced encryption standard) to encrypt per-file and per-folder keys. 4096-bit RSA is one of the most secure encryption systems and 256-bit AES would take a supercomputer billions of years to crack.
This combination of zero-knowledge privacy, client-side encryption, secure encryption systems, and powerful encryption algorithms suggests that pCloud Crypto offers a much stronger level of protection than server-side encryption, which is used by many of the leading cloud storage providers. Based on the company's claims, your files should be private and well protected from third-party access when stored in pCloud Crypto.
One thing to be aware of with pCloud Crypto's encryption is that if you forget your password and get locked out of your account, you lose access to your encrypted files because the password reset process can only be triggered from a logged in account. This is a standard that many end-to-end encrypted services employ to protect users and ensure that third parties can't trigger a password reset and maliciously gain access to the account. However, it's also something that people who are new to end-to-end encryption often aren't aware of.
If you're considering pCloud Crypto but often forget your passwords and use the password reset feature in other services, you should consider investing in a password manager such as 1Password before moving your files to pCloud Crypto.
Security
pCloud says it uses transport layer security (TLS) to protect your files during transfer to its servers. This is a trusted protocol which ensures privacy and security when transmitting data over a computer network.
Your files are stored in an outsourced data center in Dallas, Texas, USA, which according to pCloud, has been certified with SSAE 16 SOC 1, Type II – a certification which ensures the highest level of data security.
pCloud states that it is also ISO 27001:2013 certified. This is the leading and most updated information security management standard in the world and suggests that pCloud has effective information security management systems in place to manage your files.
When your files arrive on pCloud's servers, the company claims that five copies are made and stored in at least three different server locations. This should give you a great level of protection against file loss or corruption. If anything damages the files in your pCloud Crypto folder or one of the servers holding these files is destroyed, it should be easy for pCloud to restore your encrypted folder from one of these backup locations.
Third-party audits and tests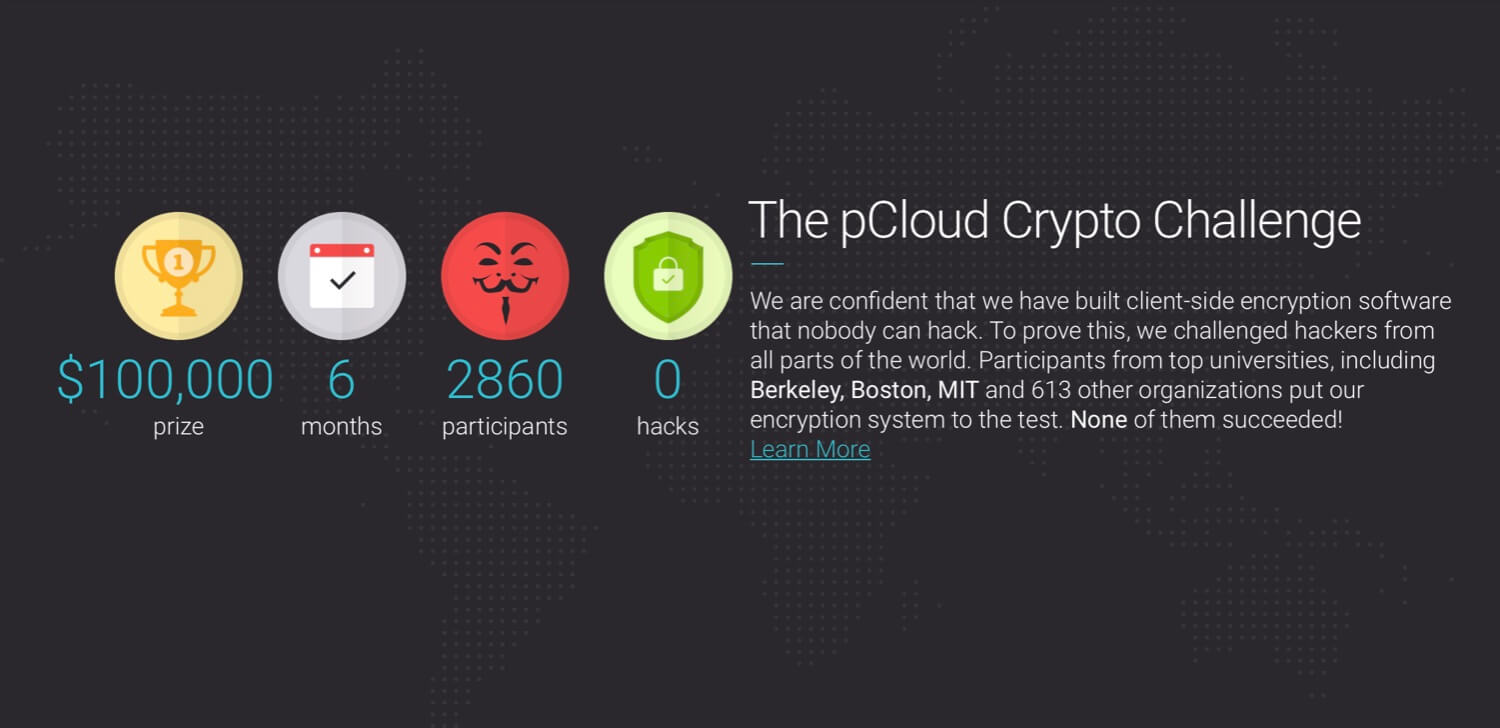 As mentioned earlier in this review, pCloud Crypto is closed source, so the code can't be audited by third parties. However, pCloud claims the strength of its encryption was openly tested during the pCloud Crypto Challenge.
pCloud describes this as a six-month challenge where it offered a $100,000 prize to anyone who could crack the encryption. It states that 2,860 people and 616 organizations (including Berkeley, Boston, MIT, and 21 other top tech universities) participated in the challenge and that none of the participants were successful in breaking pCloud Crypto's encryption.
pCloud company profile
While the pCloud Crypto service has strong data privacy and security standards on paper, learning more about the company behind the service can give you a greater insight into its overall perspective on privacy and security.
To better understand pCloud's attitude toward privacy and security, we looked at the following areas of the company:
History
Location
Total users
Privacy policy and terms
History
pCloud was founded on September 13, 2013 with the goal of creating a seamless cloud storage solution for individuals and businesses. The company relocated to Switzerland on Feb 6, 2015 to provide better file security for its users. On February 23, 2015, the company launched pCloud Crypto.
With over six years experience, pCloud has shown it can thrive in the competitive cloud storage space. The move to Switzerland is also a great sign if you're a privacy-conscious user because this country is famous for its strong privacy laws.
Location
As mentioned above, pCloud moved the company to Switzerland in 2015 which in theory provides excellent privacy protections for you as a customer. This country is outside the scope of the 14 Eyes – an international surveillance alliance between 14 countries which involves mass data collection and sharing. Additionally, all requests for data in Switzerland, including those made through international assistance treaties, must go through a judge.
However, parts of pCloud's business are located outside of Switzerland. This includes its data center which is based in Dallas, Texas, USA. Since the files on those servers are located outside of Switzerland, they may not be subject to the privacy protections that are granted under Swiss law.
The location of your files and the corresponding legal privacy protections should make very little difference with pCloud Crypto because the files are protected by strong encryption. Additionally, most encrypted cloud storage providers do use some servers that are located within the 14 Eyes. However, having your files stored in a country with strong privacy laws does add a welcome extra layer of protection.
If you want your files to be hosted in a location that provides the maximum legal privacy protections, go with Tresorit which has servers in Ireland (outside the 14 Eyes) and the Netherlands (in the 14 Eyes but has a more restricted data-sharing agreement than the USA).
Total users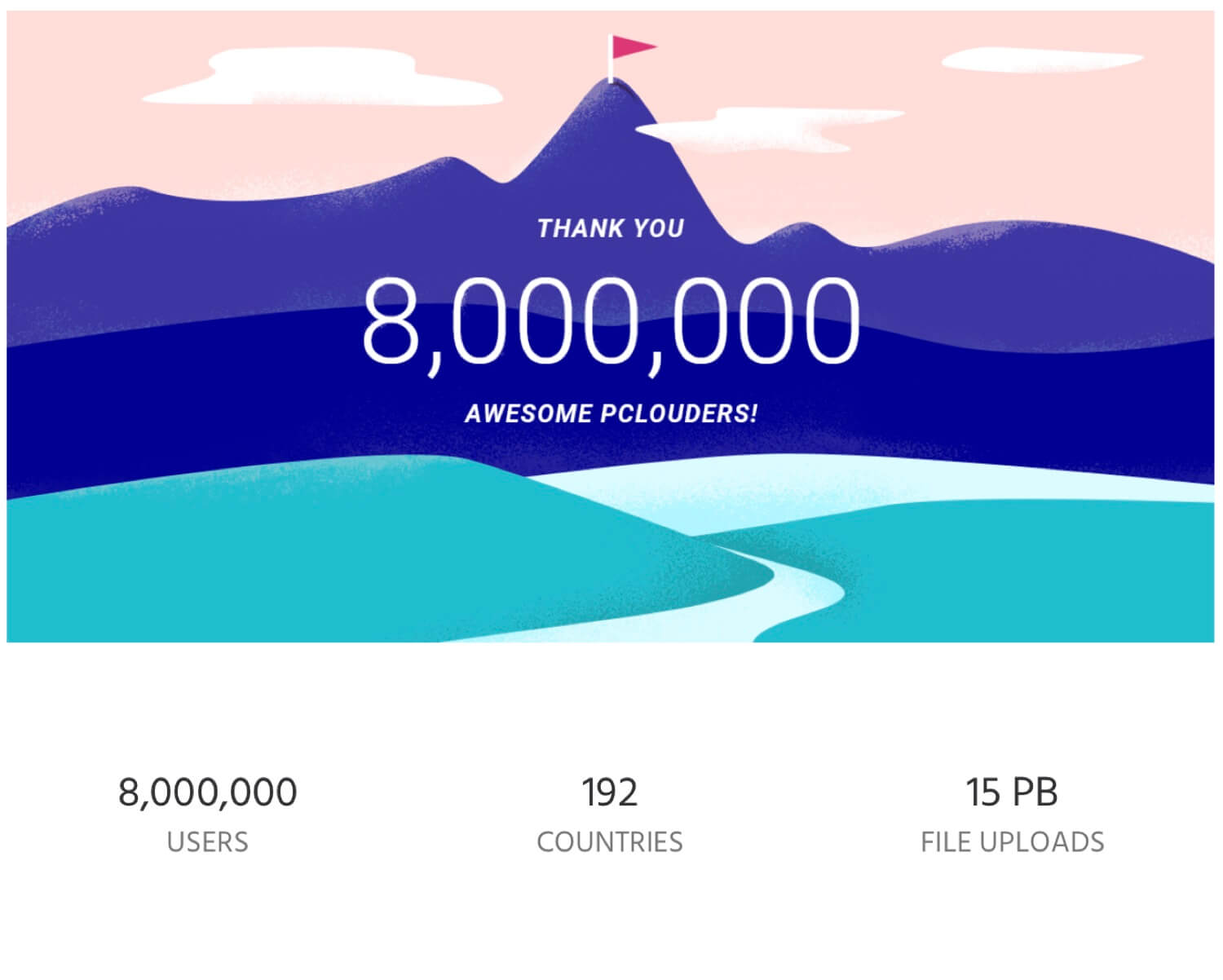 pCloud claims to have over 8 million users and has exhibited steady user growth since being founded. However, pCloud Crypto's user numbers haven't been disclosed.
While we can't read too much into these user numbers because they don't differentiate between free, paid, and Crypto users, they do provide some indication that the company has what it takes to grow in this competitive market.
Privacy policy and terms
pCloud's privacy policy and terms are fairly standard for a company that offers both server-side and client-side encryption on its cloud storage. However, this means there are some areas where pCloud's approach to data sharing isn't as privacy-focused as we'd like.
Here are the main privacy points you need to be aware of when signing up for pCloud Crypto:
1. pCloud data sharing
pCloud's privacy policy states that "with your consent…we share your Personal Data with advertising and analytical companies" but adds that this data is not shared with third parties for their marketing purposes.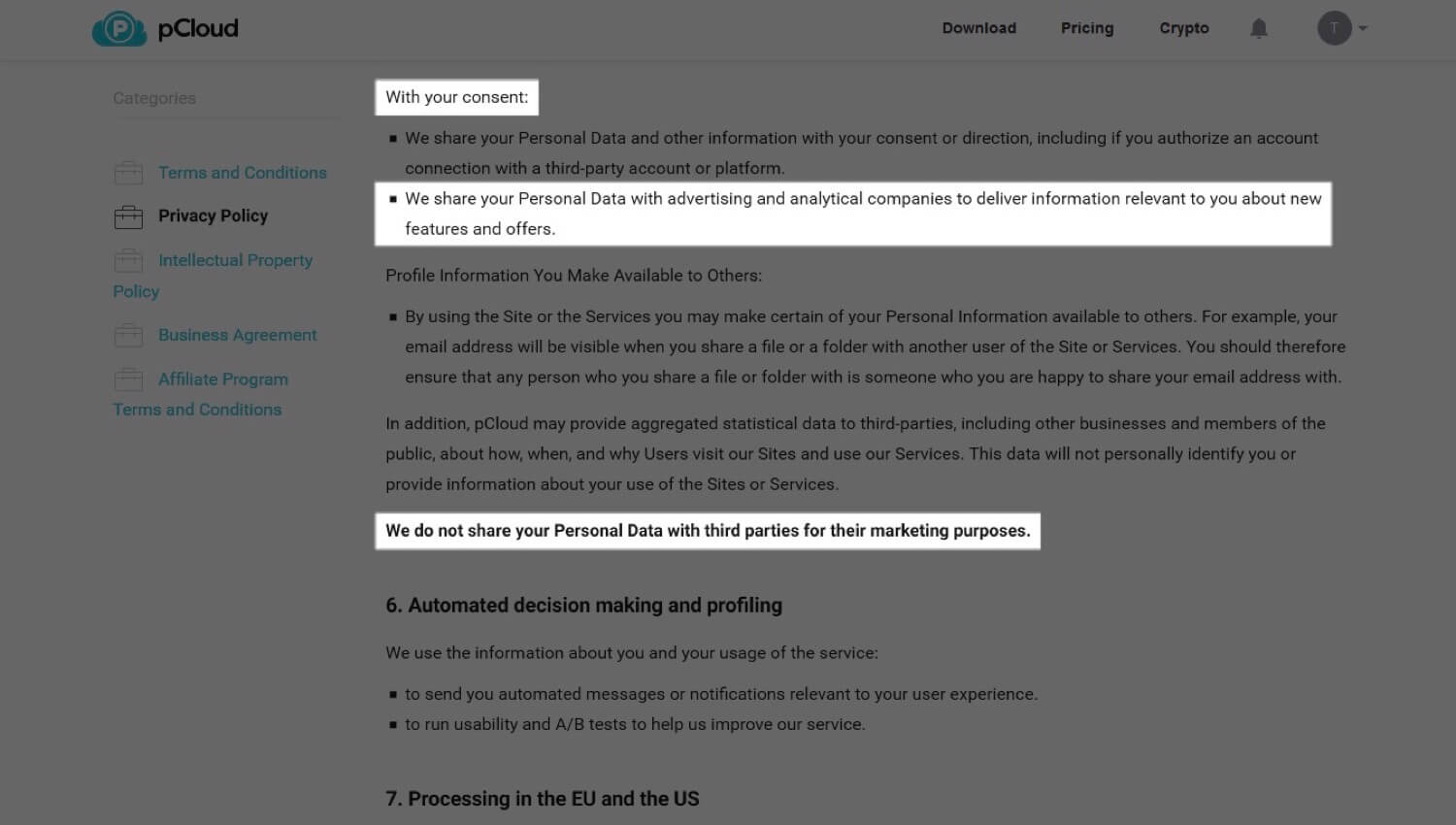 When we reviewed pCloud, the "user consent" to this data sharing was given by default and we had to opt-out to prevent our data being shared with advertising and analytical companies by changing the communication preferences in the "Notifications" section of account settings and then unsubscribing from all marketing and communications.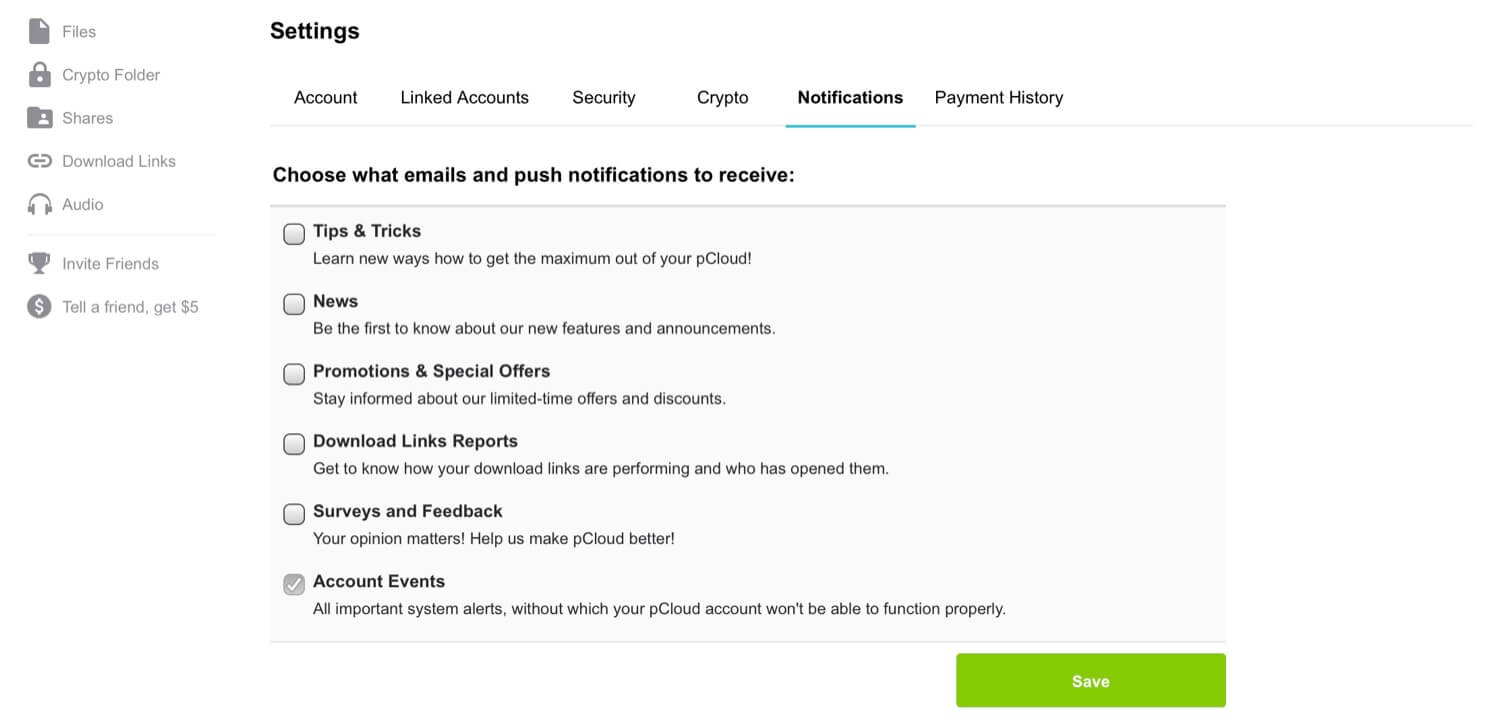 This data sharing by default approach is disappointing because privacy is one of the main selling points of pCloud Crypto. While you can opt-out of this data sharing, an opt-in approach would be preferable given the privacy-focused nature of this service.
2. Connecting third-party services to pCloud
pCloud lets you backup data from services such as Facebook, Instagram, Dropbox, Microsoft OneDrive, and Google Drive by connecting them to your pCloud account. You can also use your Facebook account to sign up for a pCloud account. However, pCloud isn't clear about the specific information that's collected when these connections are made and says that it depends on the "named service's privacy policy" and "the access permissions you allow."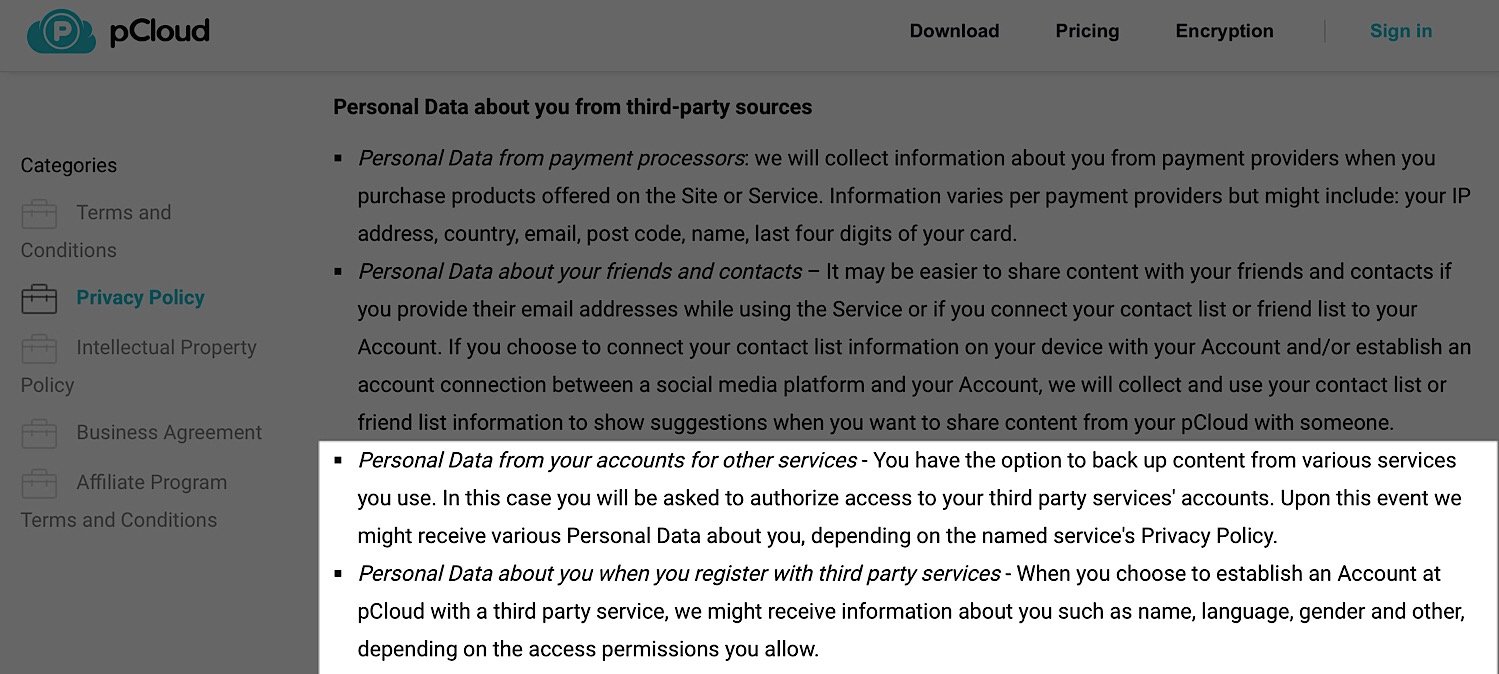 Since pCloud Crypto is a privacy-focused service, it would have been nice to get more clarity about the exact data that's shared when any third-party accounts or services are connected to pCloud.
3. Changing your privacy settings
pCloud makes it very easy to change your privacy settings. You can change your communication preferences, cookie preference, or other privacy settings at any time from this page.
4. Staying up to date with privacy changes
Like a lot of cloud storage providers, pCloud expects users to stay up to date with changes to its privacy policy and terms which means it won't always notify you when changes are made to these documents. If you sign up for a pCloud Crypto account, make sure you check the privacy policy, terms, business agreement, and intellectual property policy regularly.
pCloud Crypto supported operating systems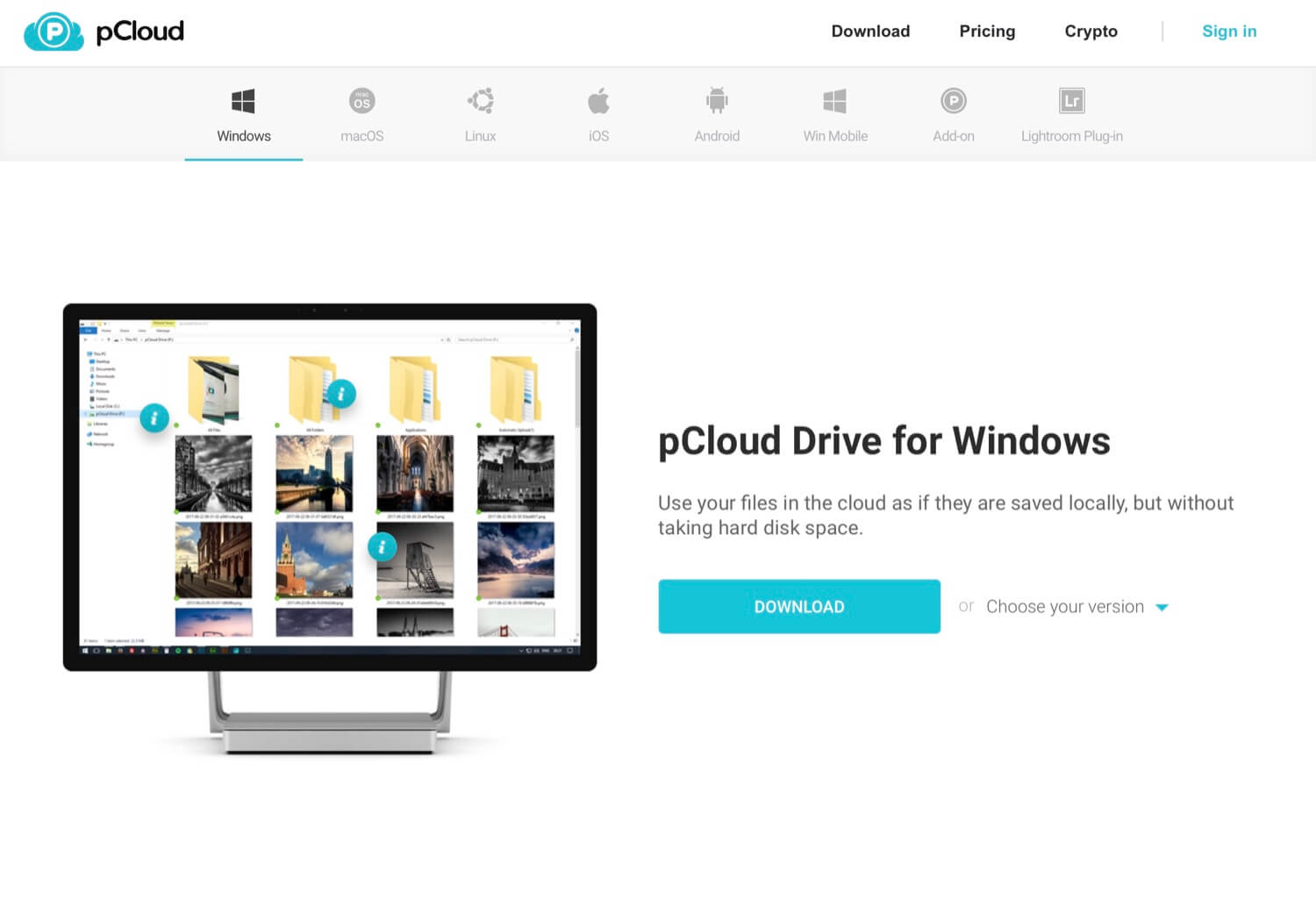 pCloud Crypto supports all the major operating systems and makes it easy to access your files on any device. It has desktop apps for Windows, Mac OS, and Linux. Mobile apps are available for iOS, Android, and Windows Mobile.
You can also access pCloud Crypto through a web interface which is great for those times when you need access to your files but don't have your devices with you. The web interface does lack some of the features that are available in the pCloud apps but it still provides a great experience overall.
pCloud Crypto price
pCloud Crypto is an add-on to the main pCloud service. If you're a new user, you can get a 14-day free trial. Then to continue using the service after your free trial, you can sign up for a recurring or lifetime subscription.
Here are the current prices for a pCloud Crypto subscription:
Monthly: $4.99
Annual: $47.88
Lifetime: $125
You can use pCloud Crypto with a free pCloud plan which gives you up to 20 GB of storage (you get 10 GB on sign up and can earn an additional 10 GB by referring friends). However, if you want more storage, you'll need to pay an additional subscription.
Here are the current prices for pCloud's single user storage:
Premium 500 GB Monthly: $4.99
Premium 2 TB Monthly: $9.99
Premium 500 GB Annual: $47.88
Premium Plus 2 TB Annual: $95.88
Premium 500 GB Lifetime: $175
Premium Plus 2 TB Lifetime: $350
pCloud also has a family plan which gives you 5 TB of lifetime storage for $500. This storage can be split between up to five users in your family.
In addition to this, pCloud is currently running a special $72 monster combo deal on annual 2 TB plans with Crypto. This is one of pCloud's best deals, so if you need 2 TB of storage, make sure you check it out.
You can combine any of the standard pCloud Crypto subscriptions and storage subscriptions from the list to best suit your needs. For example, if you want lifetime access to pCloud Crypto with 2 TB of storage, you can get them both for a one-time payment of $475. If you only need 500 GB of storage and prefer to pay monthly, you can subscribe to both for $9.98 per month.
This pricing is more flexible than most other cloud storage services and allows you to choose a plan and subscription level that's perfect for you. pCloud is also one of the only companies in the cloud storage space to offer lifetime and family subscriptions, so if you plan to use pCloud Crypto long-term, the lifetime plan is a great investment.
pCloud Crypto payment options
pCloud Crypto has a huge range of payment options which are listed below:
Credit/debit card
PayPal
Bitcoin (not subject to refunds)
Apple App Store in-app purchase
Google Play in-app purchase
The in-app payment options are particularly useful as they make managing your subscription much easier. If you ever want to change or cancel your subscription, you can do it directly from the Apple App Store or Google Play Store with just a few taps.
pCloud Crypto ease of use
Getting started with pCloud Crypto is very easy. Even if you're new to end-to-end encryption, the process is simple and intuitive. All your encrypted files are stored in a Crypto folder and you simply create a password for this folder and then start adding files. This folder behaves like a regular cloud storage folder and you can browse and manage all your encrypted files from within this Crypto folder.
While setup and basic file management is very smooth, pCloud Crypto's features are limited, so it's not as easy to work with when you're doing more advanced file operations on the web or through the mobile apps. For example, duplicating files inside the Crypto folder or moving files from unencrypted pCloud folders to the Crypto folder are both multi-step processes when using the web interface or mobile apps. If you're planning to use the apps and web interface to manage lots of files on a regular basis, you may find pCloud Crypto quite difficult to use.
pCloud Crypto features
pCloud Crypto has all the basic file management features you'd expect from a cloud storage service. It also has some useful security features that add extra protective layers to your account and some unique features that set it apart from competitors.
Here's a full breakdown of the core features pCloud Crypto has to offer:
File management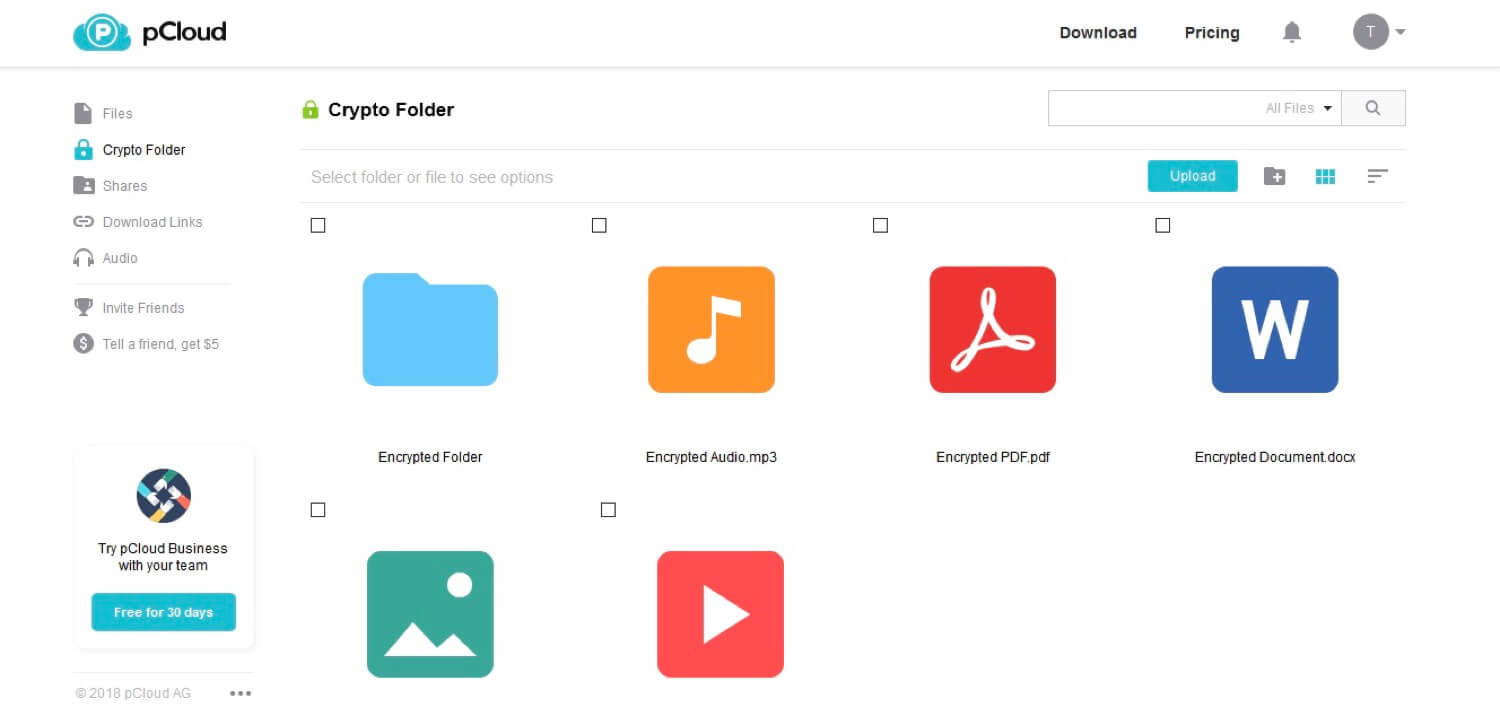 pCloud Crypto's file manager allows you to create unlimited folders and sub-folders to keep your files organized. You can upload files individually or in bulk. The bulk upload feature is great if you have lots of files that you want to transfer into pCloud Crypto.
When your files are inside pCloud Crypto, you can move individual or multiple files between the folders you have created. The same applies for folders and sub-folders. You can also rename your files and folders at any time, sort your files and folders by name or date, and delete any files or folders.
File previews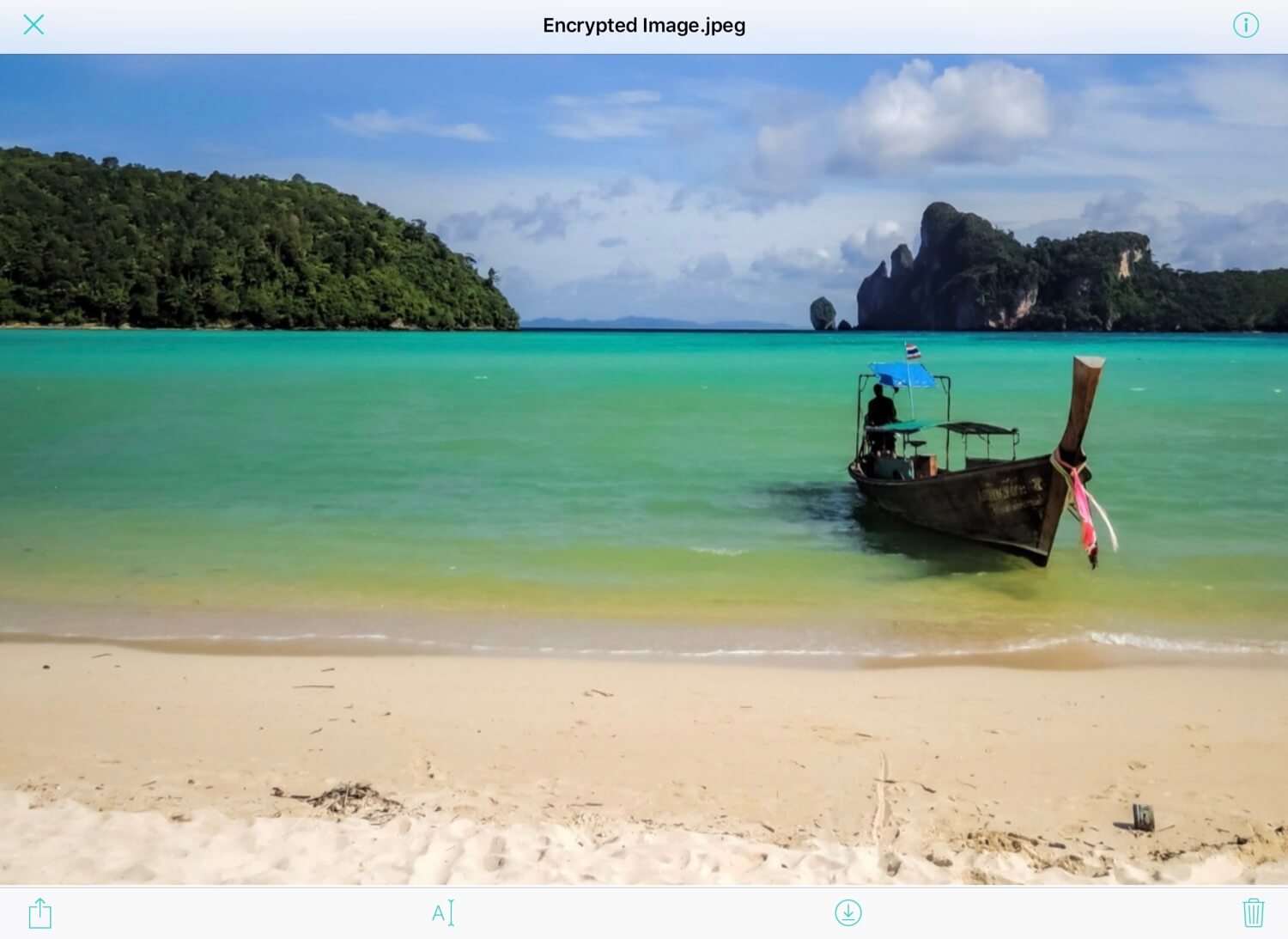 Document previews and media playback are built into the pCloud Crypto apps and web interface. If you want to read a PDF document, play an audio file, or watch a video, you can do it inside pCloud Crypto without opening another app.
File editing
pCloud Crypto allows you to edit your desktop files from the Crypto folder and automatically save these edits in an encrypted format. This makes working with files seamless and ensures that your files are always up to date.
Unfortunately, this feature is only available in the desktop version of pCloud Crypto. If you're using the mobile app or web interface, you have to download files in an unencrypted format before you can work on them and then re-upload them to pCloud Crypto when you're done.
Unlimited file size
A standout feature of pCloud Crypto is that it doesn't have any file size limits. This is in stark contrast to Dropbox, Microsoft OneDrive, and many other competing cloud storage services which put limits on the size of the files you can upload. If you're planning to encrypt a lot of HD videos or other large files, this is a very beneficial feature because you won't have to worry about monitoring the size of these files.
One thing to be aware of is that while pCloud Crypto has no file size limits, the web interface currently only allows you to download files that are 200 MB or less. Support for larger files is coming to the web interface soon but until that support is added, you'll need to use pCloud's desktop and mobile apps to access files that are larger than 200 MB.
Two-factor authentication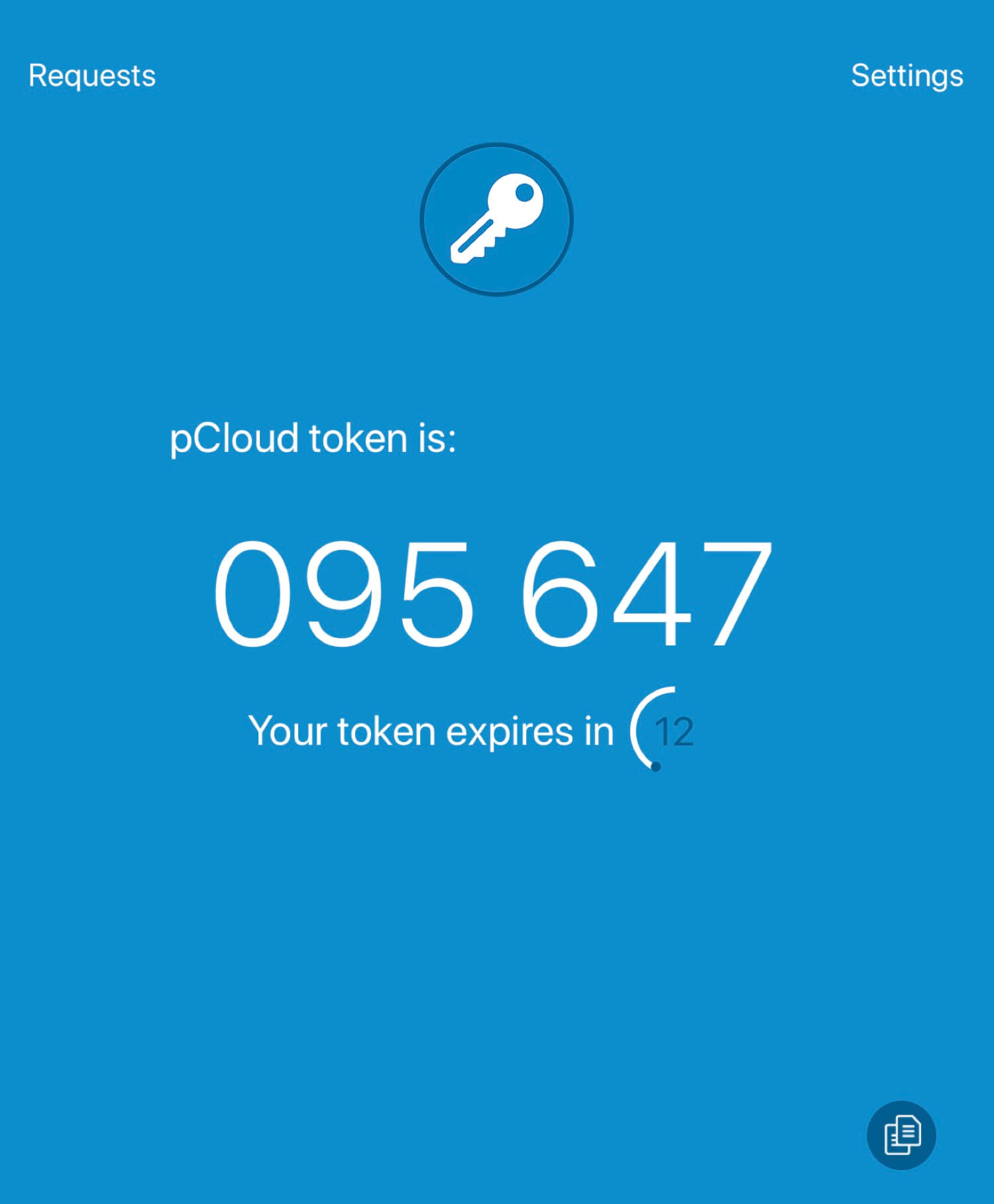 Two-factor authentication is a process where after entering your username and password, you're required to enter a second authentication code before you can log in. This second authentication code is only available to you and helps to protect your account against unauthorized access.
pCloud fully supports two-factor authentication and allows you to receive your authentication codes by SMS or through an authenticator app such as Google Authenticator or Authy.
Mobile app lock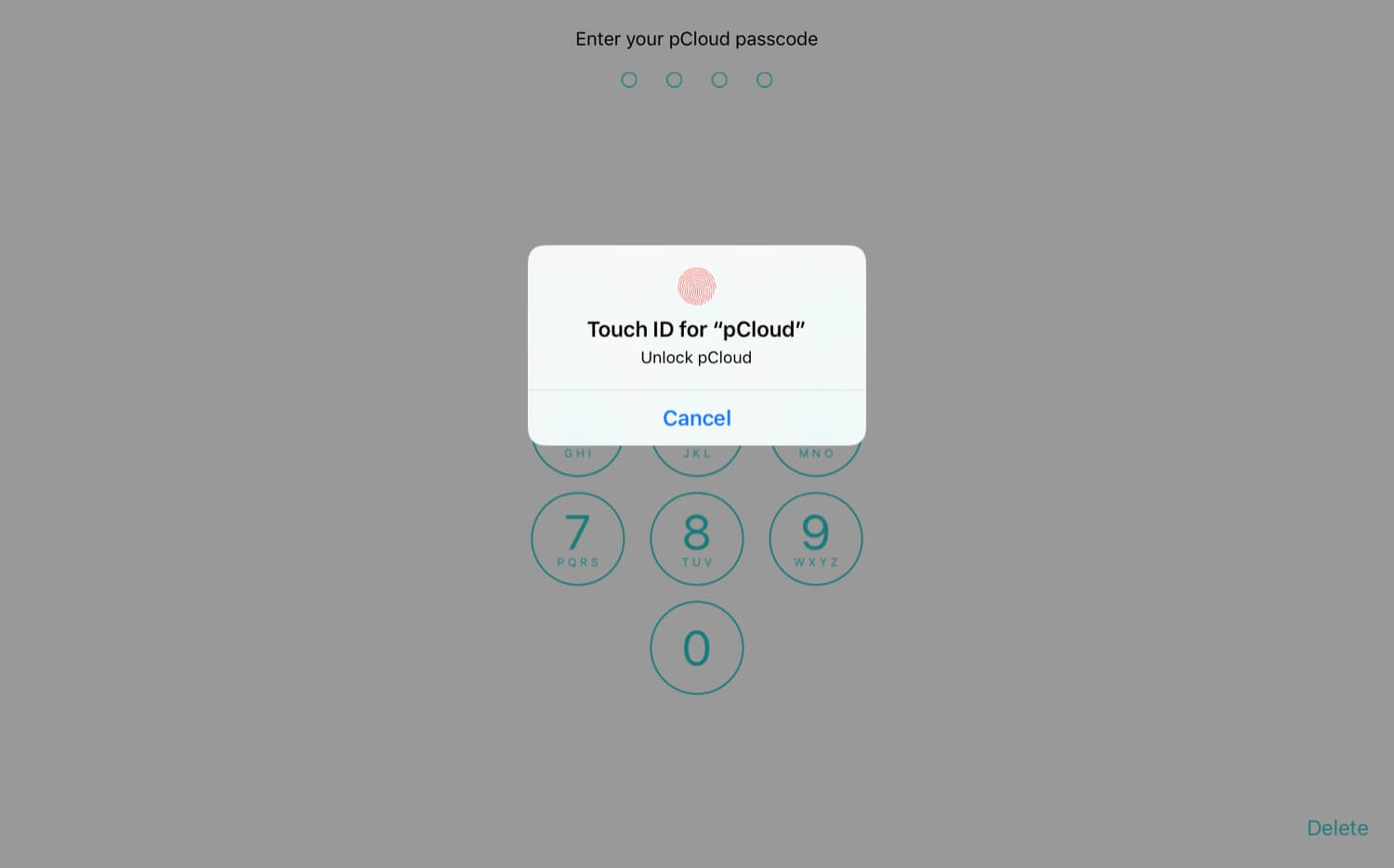 If you use pCloud Crypto on mobile, you can protect the entire app with a unique passcode. This unique passcode can also be linked with Touch ID or Face ID for easy access. This is great for those times when you let other people use your phone and protects your files from prying eyes.
Crypto folder auto-lock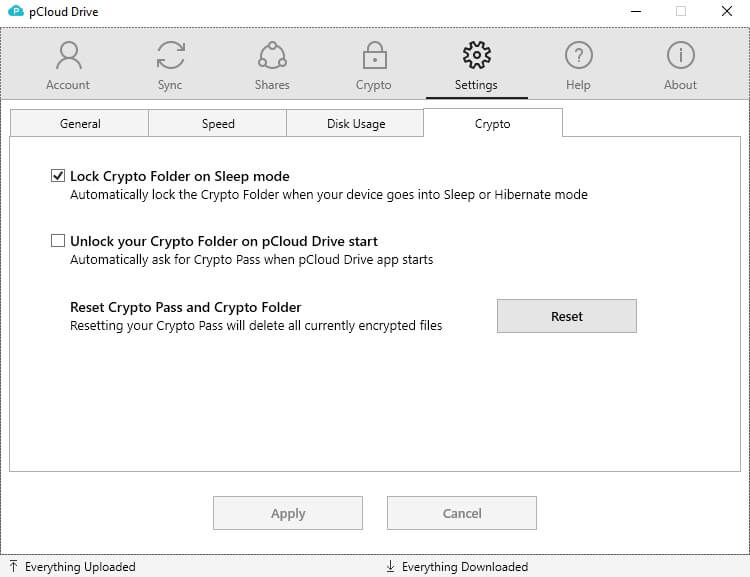 One of pCloud Crypto's most useful security features is that you can optionally lock your crypto folder whenever your computer goes to sleep or is shut down. If you use a shared computer or if an unauthorized party ever gains access to your computer, this feature provides a welcome layer of additional protection.
The Crypto folder auto-lock is currently only available on desktop. However, the mobile app lock does activate when your mobile device goes to sleep or when you leave the pCloud app, so it provides a similar level of protection.
pCloud Crypto new features
pCloud adds new features to its main service on a fairly regular basis. Unfortunately, less than half of these new features are integrated into pCloud Crypto on average and the features that are added don't usually enhance the encryption. As a result, features that make it easier to work with encrypted files are usually only added to pCloud Crypto once or twice per year.
This is an area where pCloud Crypto is really lacking compared with competitors. For example, Tresorit adds new features regularly throughout the year and these features consistently improve your experience when working with encrypted files.
pCloud Crypto missing features
While pCloud Crypto has basic file management features and some impressive security features, its lack of advanced features really become apparent when you compare it with the competition. File versioning, file sharing, and other features that you normally expect when using a cloud storage service are nowhere to be seen in pCloud Crypto.
To be fair, most encrypted cloud storage providers do have to sacrifice some features to ensure the privacy of your files. However, when you compare pCloud Crypto to Tresorit, it's still lacking a lot of features.
The most disappointing part is that most of these missing features are available in the standard pCloud service and create a very smooth user experience. When you switch over to pCloud Crypto, you can no longer use these features and it feels very limiting.
To properly illustrate the missing features, we've split them into two lists and then expanded on each of the missing features below these lists.
The first list is features that are missing when you compare pCloud Crypto to other cloud storage services that use end-to-end encryption. These features are:
File versioning
Shared files and folders
Selective sync
Automatic backups
Offline files and folders on mobile
Bulk copying of files on web and mobile
Full password management
Integration with the iOS files app
The second list is additional features that are missing when you compare pCloud Crypto to Dropbox, Google Drive, Microsoft OneDrive, and other cloud storage services that don't offer end-to-end encryption such as. These additional features are:
Search
Integration with a documents system
Advanced photo and video management
Filtering by file format
Advanced audio features
Archived file management
The missing features on this second list aren't necessarily reasons to avoid pCloud Crypto because they're not offered by any of the other encrypted cloud storage providers. However, they do give you a good understanding of the features you won't have access to when you make the switch from a service that doesn't have end-to-end encryption.
Now let's move on and do a deep dive on each of these missing features.
File versioning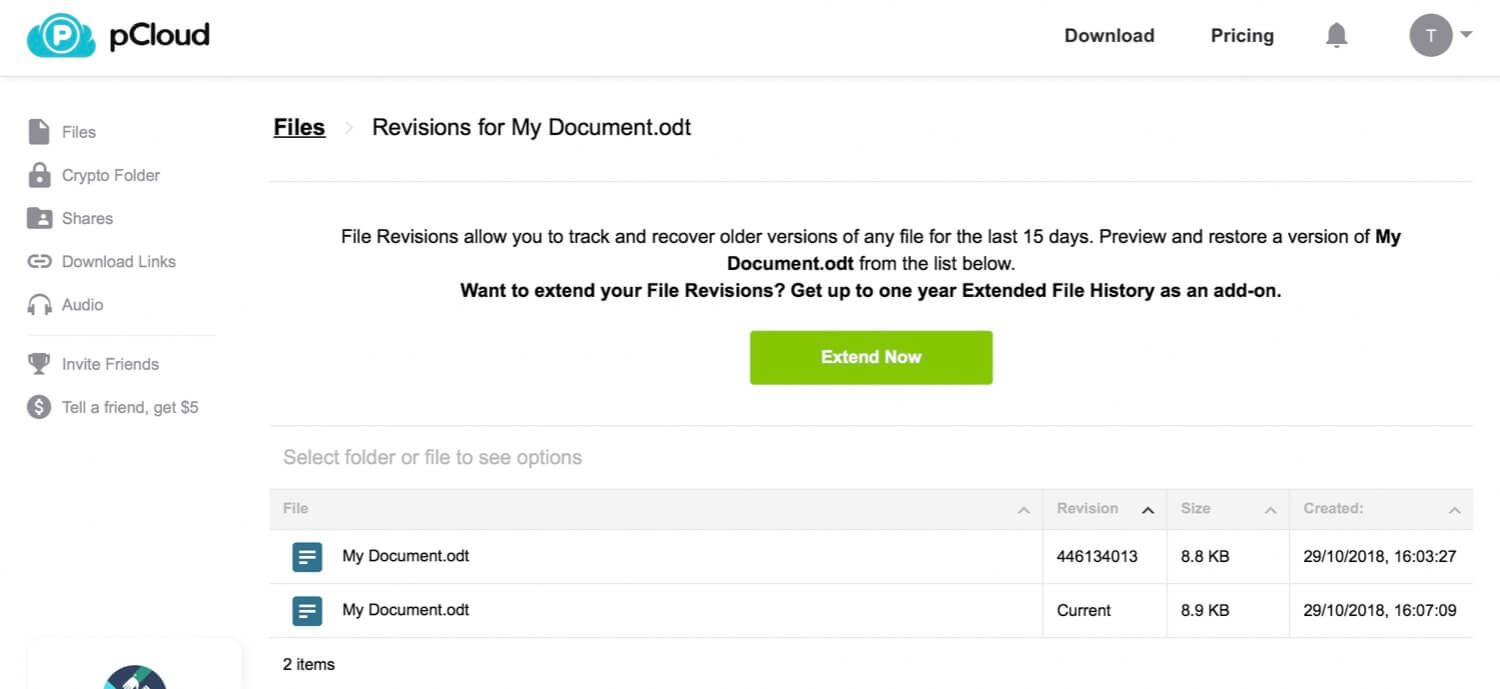 File versioning is a major feature that's missing from pCloud Crypto. If you're not familiar with file versioning, it creates new versions of files every time changes are made. You can then revert back to older versions of your files whenever you want. For example, if you accidentally delete a file or edit a document, you can use this feature to roll back the unwanted changes and recover your deleted file or restore an unedited version of your document.
pCloud's standard service supports file versioning but pCloud Crypto only keeps one version of your files, so if you make any mistakes, you're stuck with them. This can make it frustrating to use because if you're working with a lot of files, it's likely that some errors will be made.
Shared files and folders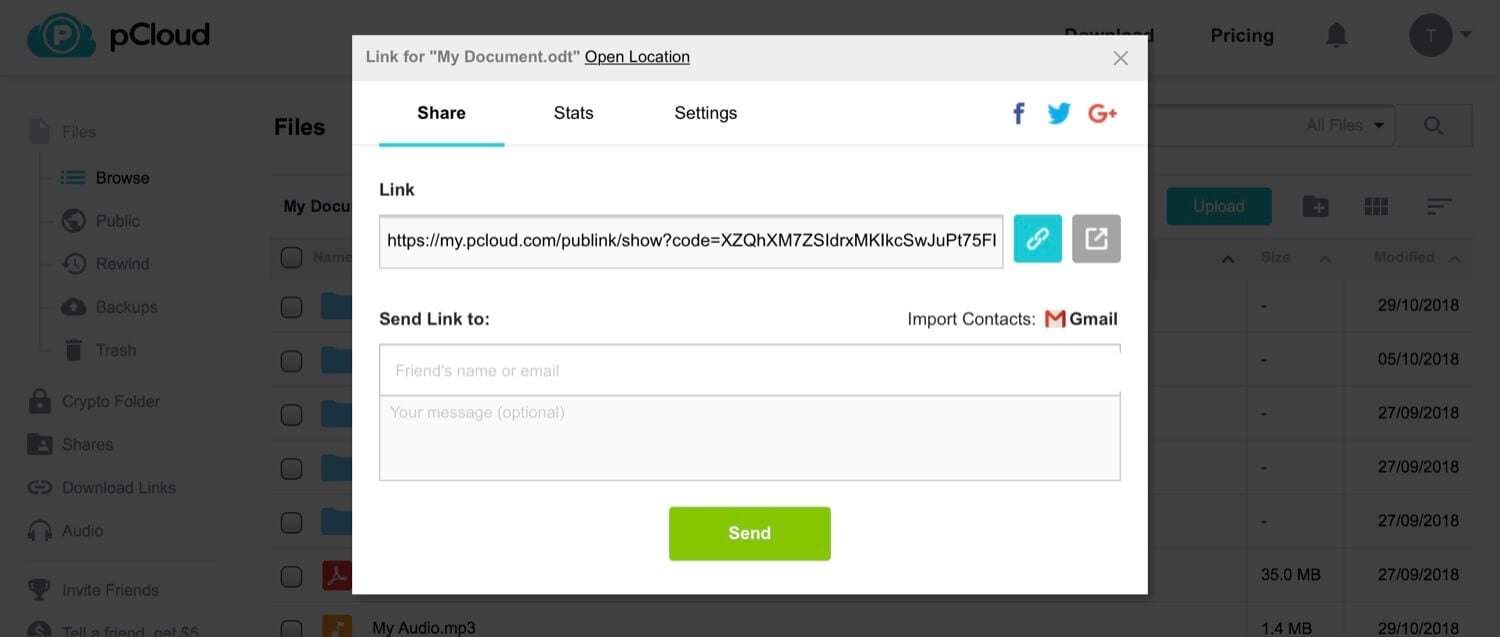 Shared files and folders are standard features in most cloud storage services including the regular version of pCloud but they're not available in pCloud Crypto. These sharing features make it easy to collaborate without creating duplicate files and often have advanced options that make sharing easier and more secure. These advanced options usually include setting and changing the permissions of shared links, password protecting shared links, and setting expiry dates on shared links.
With pCloud Crypto, you can share unencrypted copies of files from the app. However, this creates duplicate files and makes it easier for third parties to see your files when you share them because they have no encryption.
You can also share encrypted files with others using a separate web interface called pCloud File Transfer and then selecting the "Encrypt your Files" option. However, this requires you to leave the app and adds more steps to the sharing process. It also has a 5 GB file size limit and doesn't solve the problem of duplicate files. Plus, there's no interface for managing your shared files or applying advanced options to them in pCloud Encrypted File Transfer.
Overall, these sharing options are very limited and if you often collaborate with others, you're going to find them difficult to work with.
Automatic backups

Many cloud storage services allow you to automatically backup files from your computer and the camera roll on your mobile device. This is a great feature that ensures you never lose your important files, even if any of your devices are lost, damaged, or stolen. Since these backups happen automatically in the background, the feature also saves you a lot of time because you don't have to manage these regular backups.
The regular version of pCloud does support automatic backups but unfortunately, there are no automatic backup features in pCloud Crypto. If you want to back any files up, you have to manually save them to the Crypto folder and if you backup these files regularly, this can be a very time-consuming process.
Offline files and folders on mobile

Offline access is crucial if you want to access your files on the go. You're not always going to have access to Wi-Fi when you travel and using cellular data can get very costly if you're dealing with large files. Most cloud storage providers are aware of this and allow you to choose the files and folders that you want to be available offline. Once you've chosen your offline files and folders, they're saved to your device and you can access them anytime.
The standard version of pCloud does offer offline file support but pCloud Crypto doesn't give you offline access to files through its mobile app, so if you want to work from a mobile device when you're traveling, you need to make sure you always have a strong internet connection. While you can get around this by saving files to your device in an unencrypted format before you travel and then re-uploading them to pCloud Crypto when you've finished working with them, it's not ideal and adds more steps to the process.
Bulk copying of files on web and mobile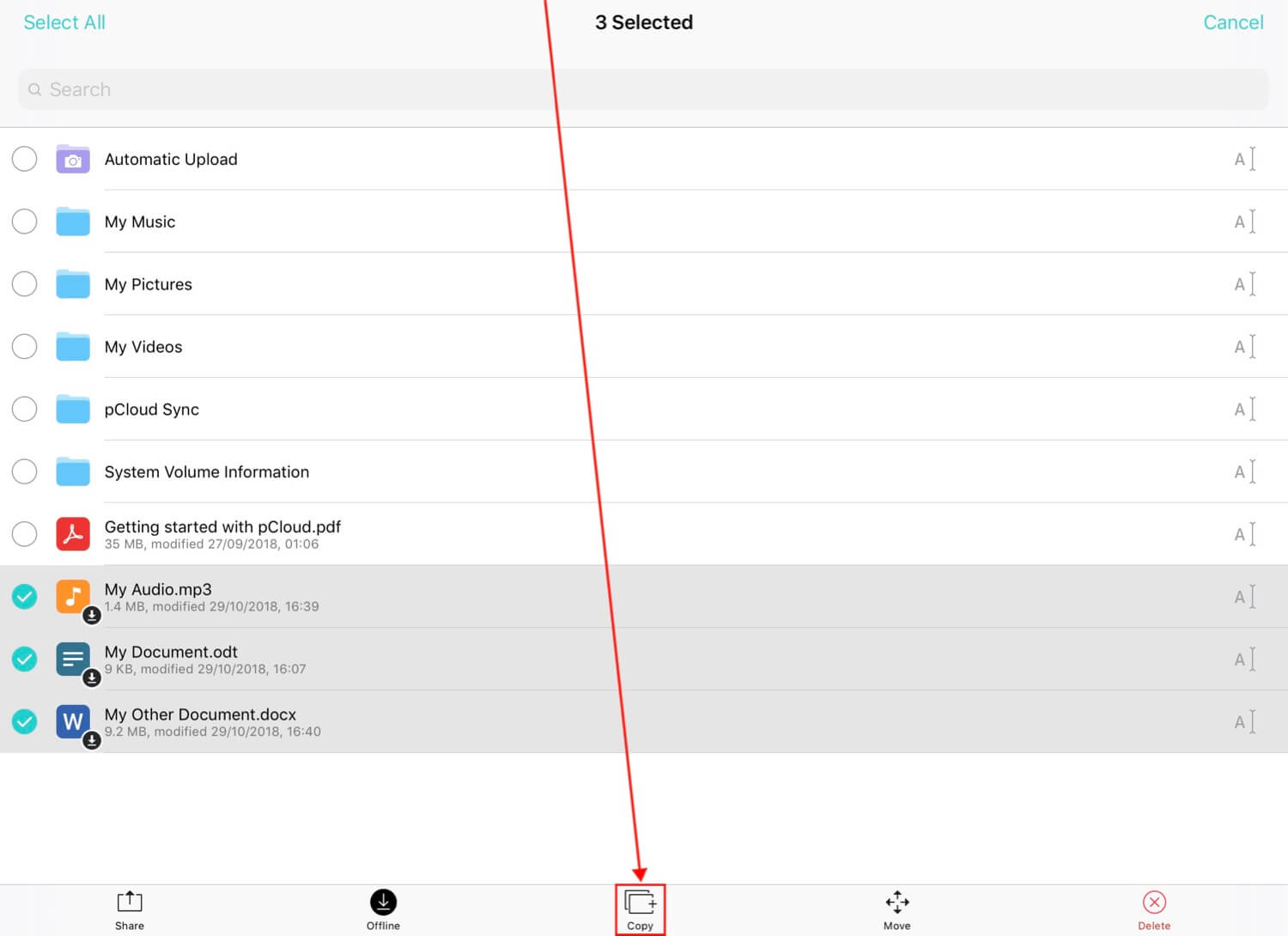 If you work on multiple projects or want to manually backup a specific group of files, being able to bulk copy is a real time saver. With this feature, you can select multiple files and create a copy with just a few clicks or taps.
The desktop version of pCloud Crypto does allow you to bulk copy files and the standard version of pCloud supports this feature in its mobile apps. However, the web and mobile versions of pCloud Crypto don't have a bulk copy feature. This means copying large numbers of files takes a lot of time because you have to copy each file individually instead of being able to perform the operation in one bulk action.
Full password management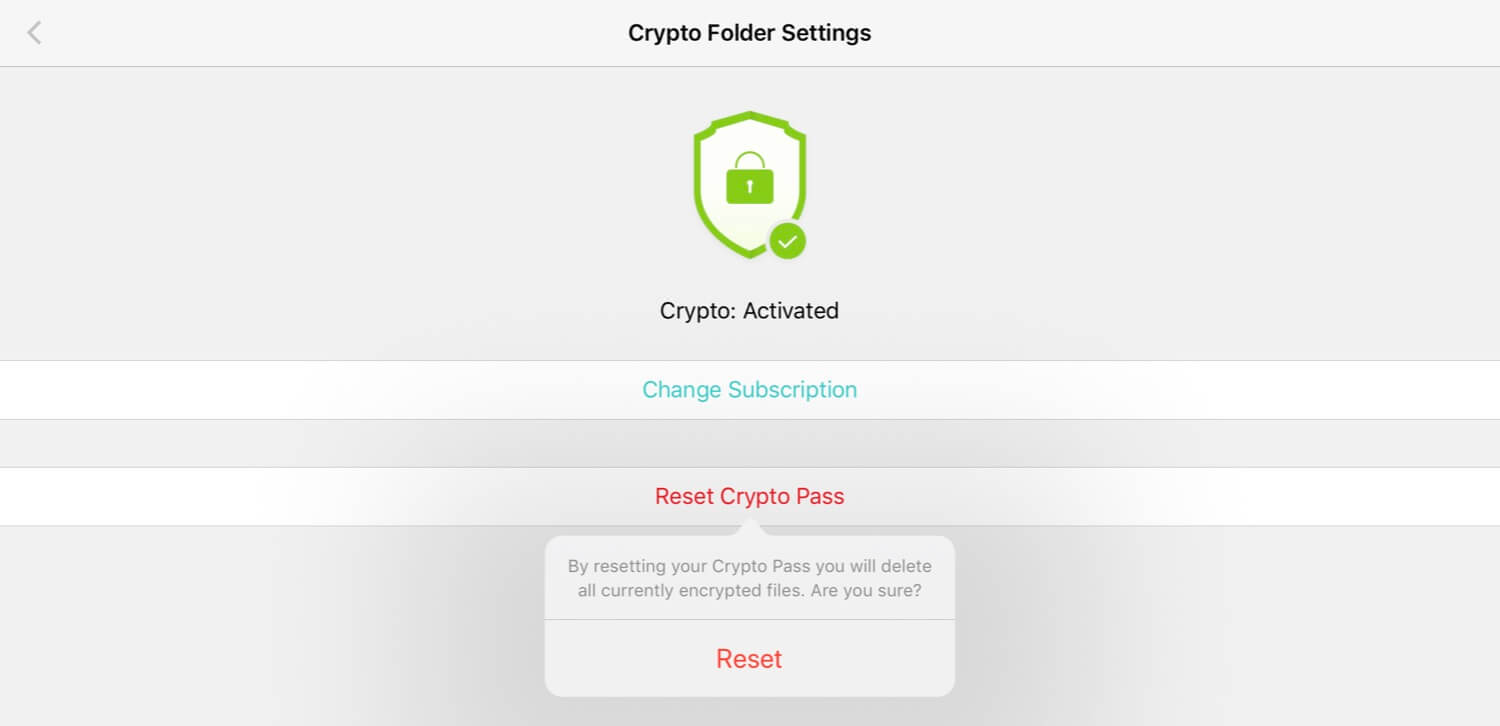 Most cloud storage providers allow you to change your password at any time when you're logged in. You simply enter your old password, choose a new password, confirm that new password, and then your new password is ready to use. This is a really useful feature as it gives you full control over your password and lets you change it quickly if it ever gets compromised.
pCloud Crypto does allow you to reset your Crypto Pass (the password that secures all your encrypted files) when you're logged into your pCloud account. However, resetting your Crypto Pass deletes all the files inside pCloud Crypto. There's no way to reset your Crypto Pass and keep your encrypted files. If your password is ever compromised, you have to choose between resetting your Crypto Pass and deleting all your files or keeping your compromised password and risking others gaining access to your files.
Integration with the iOS files app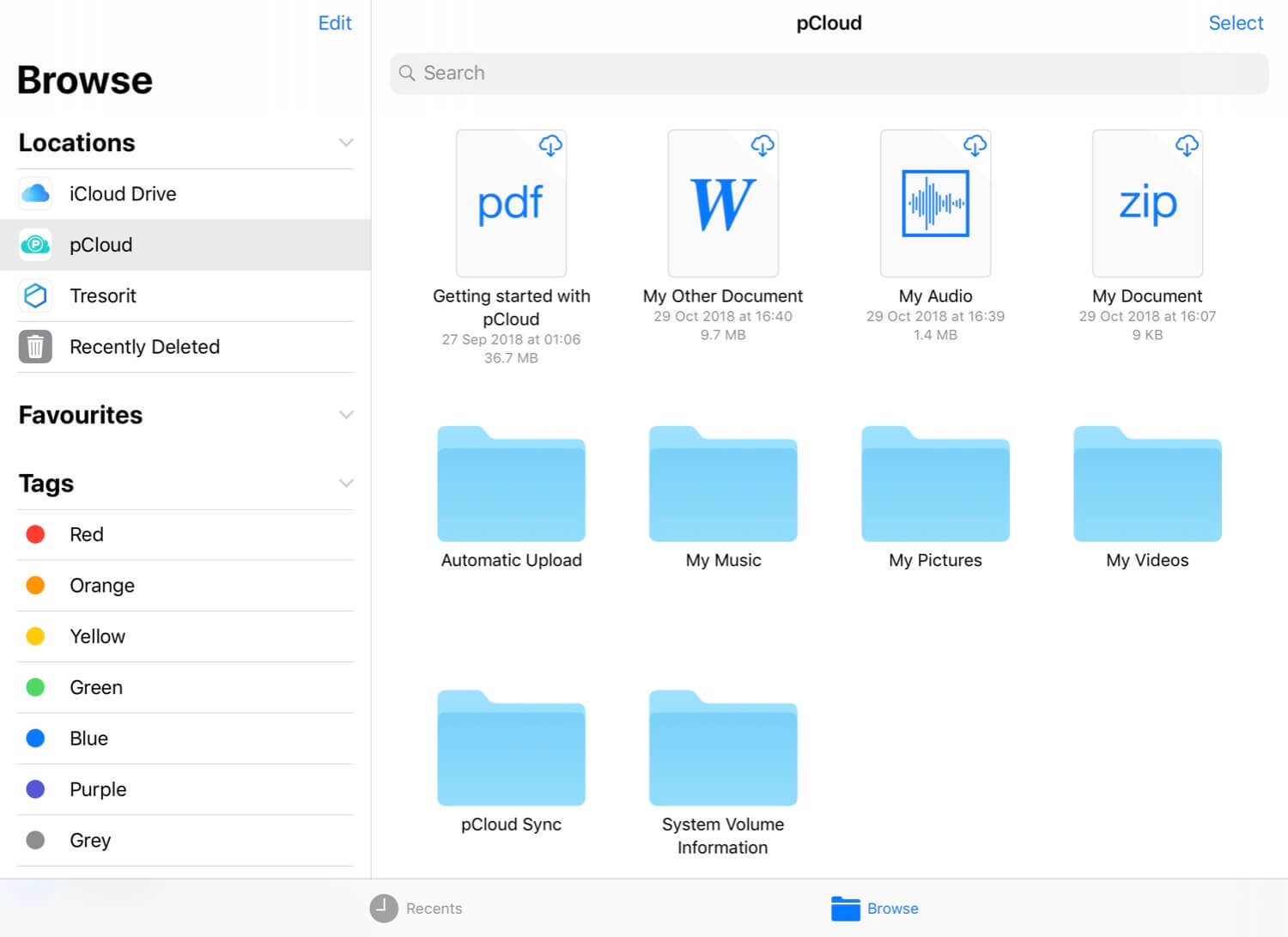 The iOS files app makes it much easier to work with files on your iPhone or iPad and gives you access to a range of advanced features which include:
Advanced file filtering options
Bulk file operations (such as bulk copying, bulk deleting, and bulk moving)
Dragging and dropping files between apps
File and folder tagging
Quick access to files in apps
The regular version of pCloud is fully integrated with the iOS files app but sadly, pCloud Crypto doesn't have this same level of integration. If you manage a lot of files on iOS, this is quite a big omission because many of the simple file operations that can be performed through the iOS files app become long, multi-step processes when using the Crypto folder in the pCloud app.
Search

Search is one of the best ways of quickly finding files you've saved to the cloud. If you have a large number of files or a complex folder structure, it's a really convenient feature and it's a feature that is included in the standard version of pCloud.
Unfortunately, the current search technology relies on cloud storage providers scanning your files to provide search results. Since pCloud Crypto and other encrypted cloud storage services can't scan your files, this technology can't be used to add search to their services.
As a result, there's no search feature in pCloud Crypto and the only way to find your files is to look for them manually. This isn't much of an issue if you have a small number of files but as you add more encrypted files and folders, it can become time-consuming to locate them.
Integration with a documents system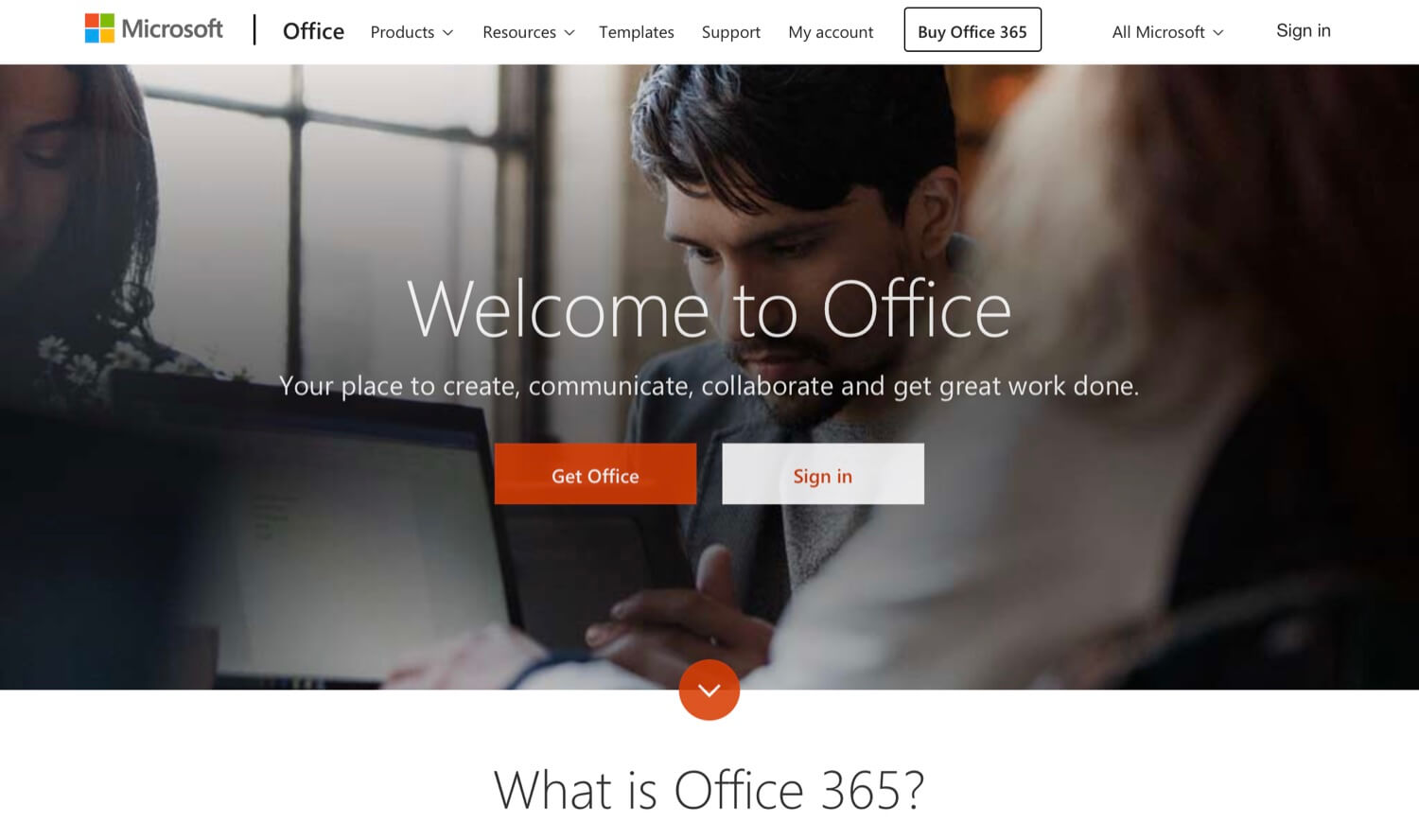 If you use Google Drive or Microsoft OneDrive, then you'll know that one of their best features is the seamless integration with their respective office suites. Google Docs and Office 365 allow you to share documents, collaborate in real-time, keep track of changes, and save everything to the cloud. This deep integration with a documents system makes working with others a breeze.
pCloud Crypto and the other encrypted cloud storage services don't currently offer deep integration with a documents system. This means if you switch to pCloud Crypto, you'll lose some of the features you're used to when working with others – most notably, real-time collaboration.
Advanced photo and video management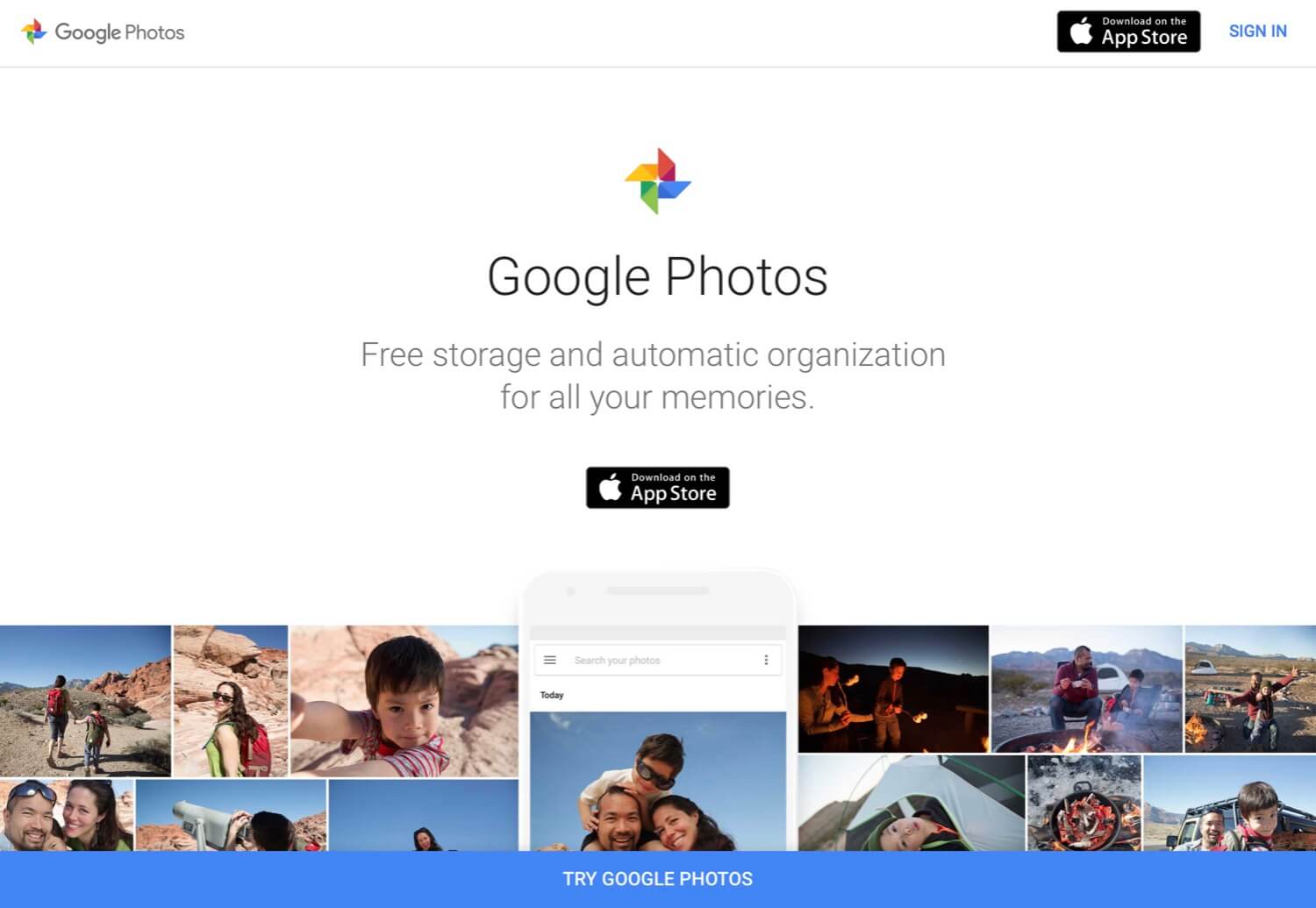 Most of the cloud storage providers that don't offer end-to-end encryption pride themselves on how they present and organize your visual media. Google Photos is the clear leader in this space and has many advanced photo and video management options. However, a lot of the other cloud storage services also have advanced features such as media galleries, automatic photo tagging, automatic photo album creation, and advanced photo search.
Encrypted cloud storage services such as pCloud Crypto are very basic in comparison. They allow you to upload and view your visual media but offer none of the more advanced features. This is because many of these advanced features rely on the cloud storage provider scanning your photos and videos and extracting data from them. Since your photos and videos are encrypted on device before being uploaded to pCloud Crypto, the data can't be scanned or extracted by pCloud. While this loss of functionality is noticeable, it's necessary for keeping your photos and videos truly private.
Advanced audio features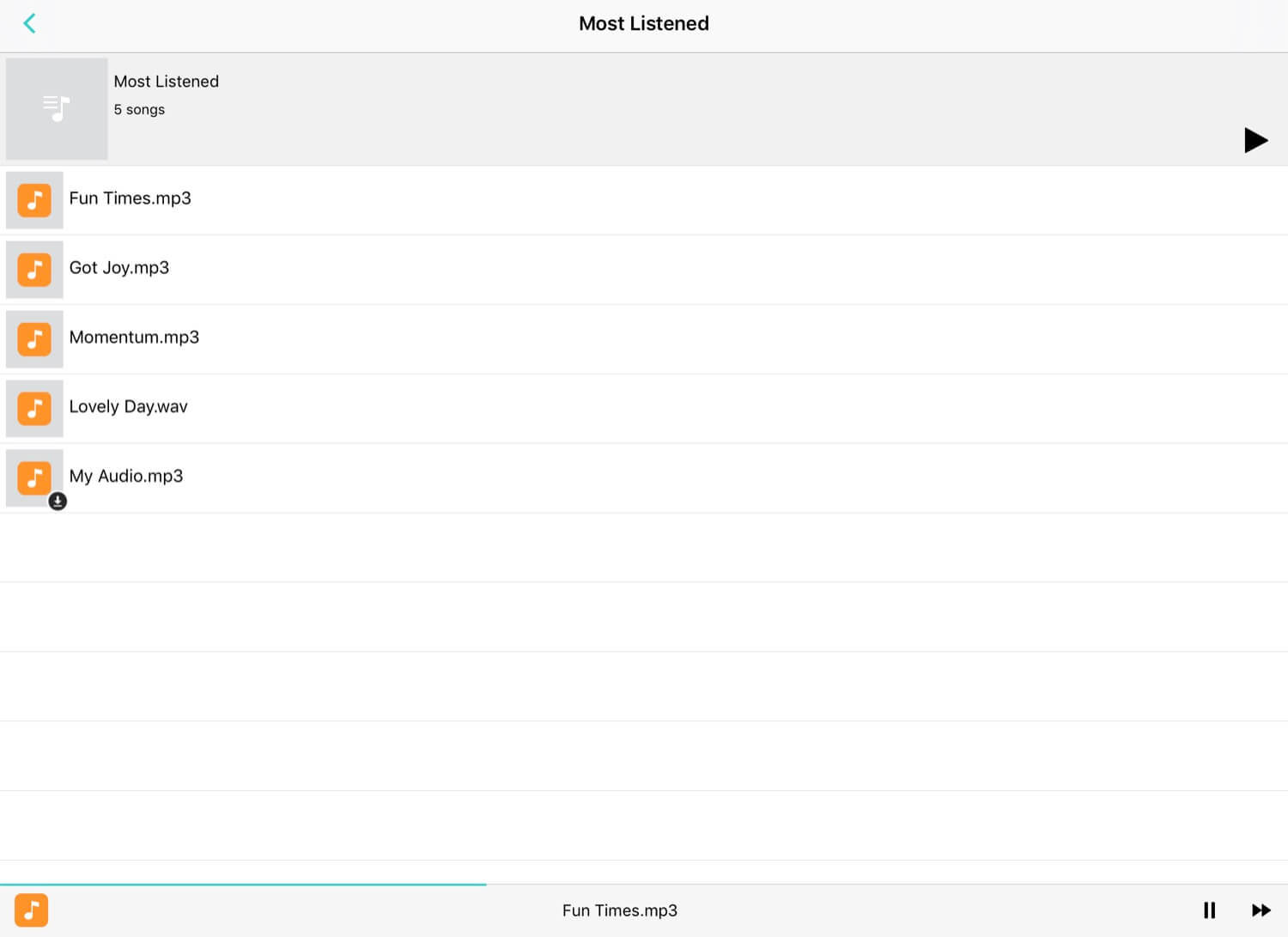 One of the standout features of pCloud is the advanced audio player. If you have lots of saved music or audiobooks, this audio player makes listening to and managing these files a dream. It allows you to:
Create custom playlists
Generate smart playlists based on recently added audio, recently played audio, or your most listened to audio
Sort your audio files by song, album, artist, and playlist
Repeat, loop, and shuffle your audio tracks
Display the audio player in compact view, so that you can play and control audio while browsing your pCloud files
Play and control audio in the background while pCloud is minimized
pCloud Crypto does have a basic audio player but it's very limited and doesn't give you the same smooth experience when listening to music or audiobooks. You can play and pause single tracks and listen to them in the background but none of the playlist options or multi-track features are available. If you listen to a lot of audio, these limits become very apparent as you have to manually play each audio track.
Filtering by file format

A lot of cloud storage services allow you to quickly filter your files by format. These filters make it easy to manage and organize your files because you can jump straight to the type of file you're looking for. If you want to browse your photos, you simply apply the photo filter. When you want to listen to some music, you can use the audio files filter to quickly access your entire collection.
This type of filtering is included in the regular pCloud service but isn't available in pCloud Crypto. While this isn't a huge omission, if you're not good at keeping your files organized, it's something to consider.
Archived file management
The regular pCloud service allows you to extract files from .zip and .rar archives and also create archives in this format. This is particularly useful if you're working on a mobile device because these devices often have very limited support for .zip and .rar archives.
This feature is missing from pCloud Crypto, so you have fewer options when working with archived files on mobile. You can still view the contents of archived files inside the Crypto folder but if you want to extract the contents, you have to save each of the files to your device individually and then re-upload them to the Crypto folder. You also can't create archived files in the Crypto folder, so if you want to compress a group of files, you have to use a separate app and then upload the compressed archive to your Crypto folder.
If you're only working with a small number of archived files, these additional steps aren't a big deal. However, if you work with archived files on a daily basis, the constant downloading and switching between apps can become very cumbersome.
pCloud Crypto speed test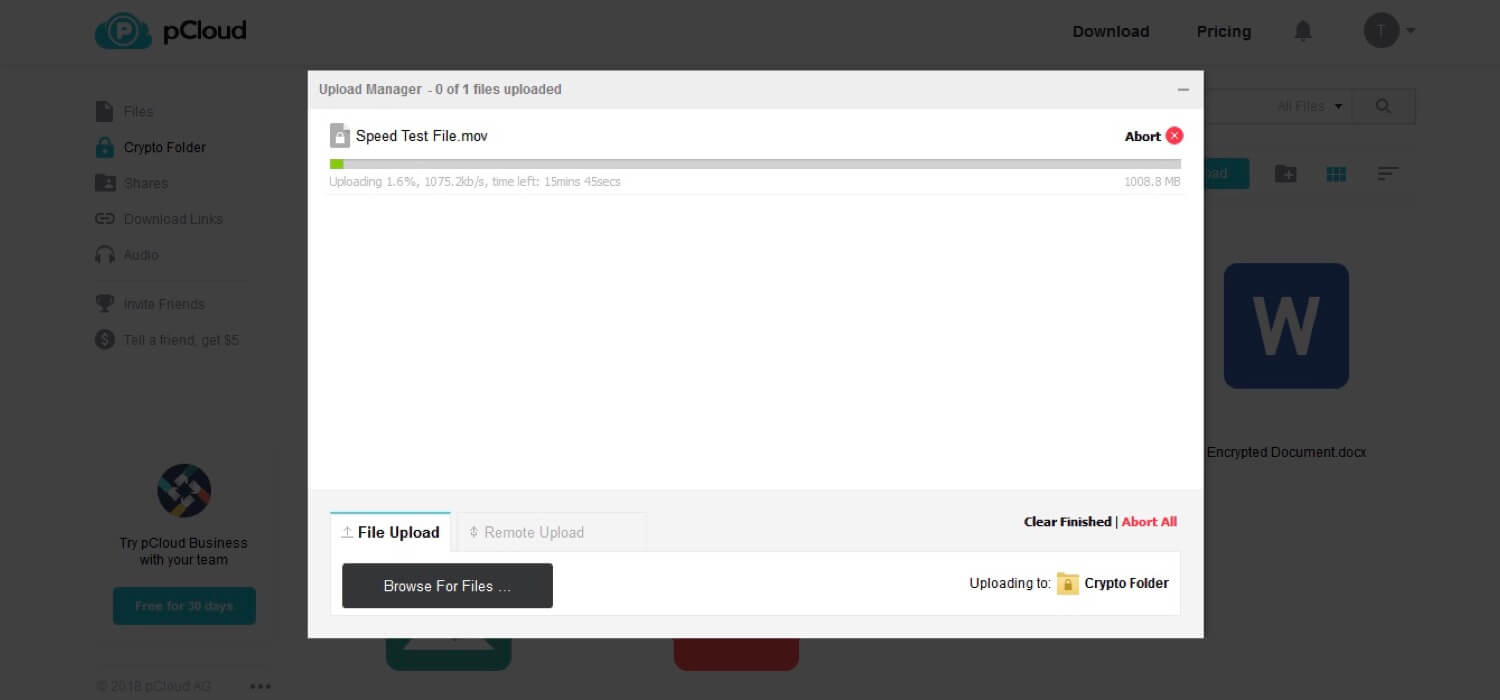 pCloud Crypto is very mixed when it comes to speed. In our tests, the mobile app was fantastic and had impressive upload and download speeds while the desktop app performed reasonably and the web app was quite slow.
For our tests, we wanted to see how pCloud Crypto handles large files, so we uploaded a 1 GB file through pCloud Crypto's desktop app, mobile app, and web interface. We then downloaded this same 1 GB file through pCloud Crypto's desktop and mobile apps. Since the web interface has a 200 MB download limit on files, we downloaded a 200 MB file and then extrapolated the results to estimate how the web interface would handle a larger 1 GB file.
These tests were performed over Wi-Fi with a download speed of 14.6 MB per second and an upload speed of 1.6 MB per second.
Here are our full speed test results:
Upload speed tests
| | | | | |
| --- | --- | --- | --- | --- |
| | Desktop | Mobile | Web | Average |
| Total upload time | 00:27:50 | 00:20:30 | 01:24:39 | 00:44:20 |
| KB uploaded per second | 599 KB | 813 KB | 197 KB | 376 KB |
Download speed tests
| | | | | |
| --- | --- | --- | --- | --- |
| | Desktop | Mobile | Web | Average |
| Total download time | 00:15:10 | 00:03:37 | 00:20:10 | 00:12:59 |
| KB downloaded per second | 1,099 KB | 4,608 KB | 826 KB | 1,284 KB |
pCloud Crypto customer support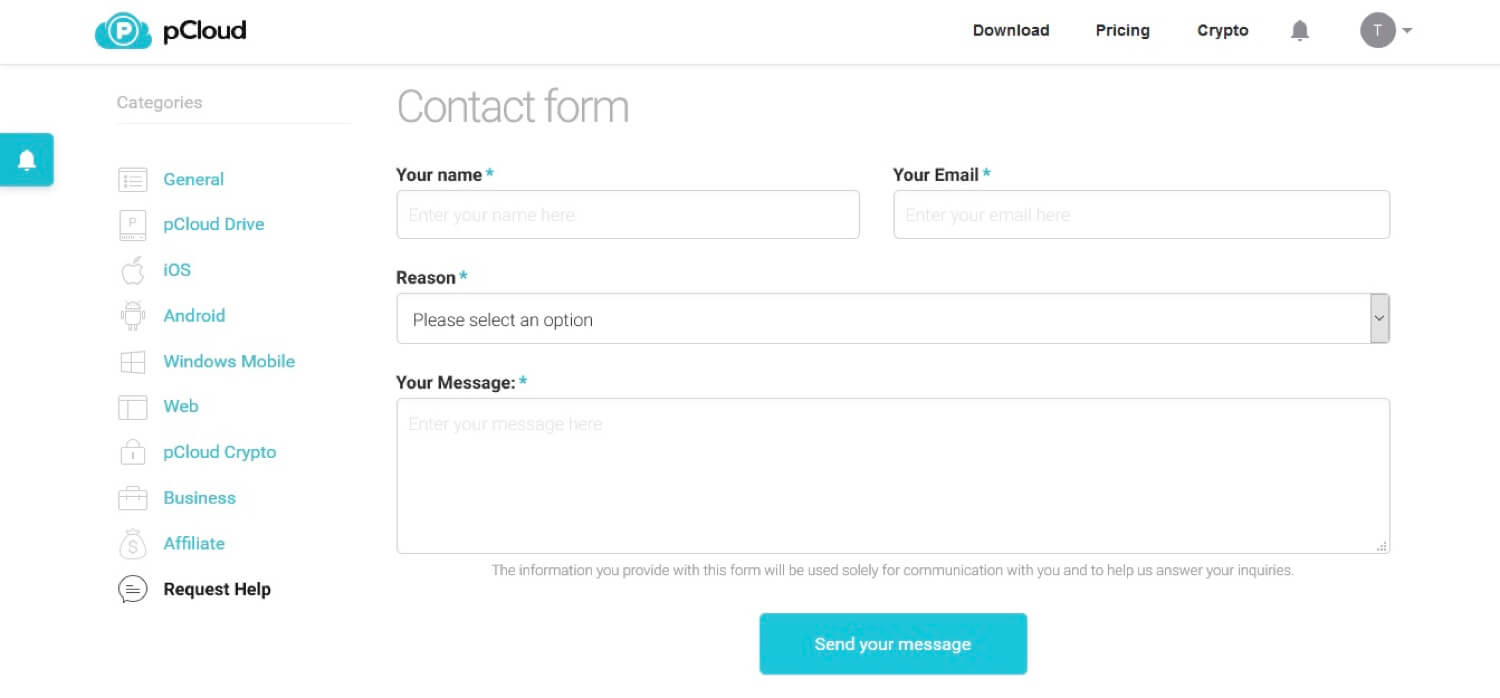 pCloud's customer support is fast and responsive. We reached out to the support team multiple times and received prompt, helpful replies within 24 hours every time we asked a question. pCloud's support team also followed up on these questions with more information at a later date when necessary.
Currently, email is the only way to contact pCloud's support team. It would be nice to see live chat and phone support added in the future but the high level of responsiveness means it's very easy to get your issues resolved via email.
In addition to the direct support, pCloud also has a huge help center which answers over 350 of the most common customer queries. This is a great resource and we were able to find answers to many of our questions by searching this help center documentation before reaching out to the support team.
Final verdict
Deciding whether pCloud Crypto is right for you mostly hinges on two key areas – the closed source code and the features.
On paper, pCloud Crypto offers very strong encryption and security for your files. Additionally, no third parties were able to crack the encryption during pCloud's Crypto Challenge. However, it's still a closed source service so you'll have to make your own decision on how important open source code is to you.
If open source code is essential for you, then Cryptomator is a great alternative. It does lack some advanced features but it uses well known open source libraries and the strength of its encryption been peer-reviewed by researchers at the penetration testing company Cure53.
If you're happy to use a closed source service, then you still need to consider whether pCloud Crypto has the features you need to get your work done without too much friction. It's very easy to use when performing basic tasks and the availability on all platforms is a nice touch. If you don't collaborate with others very often and you don't need the advanced features mentioned in this review, pCloud Crypto is a very capable solution.
However, if you're a more advanced user, pCloud Crypto may be lacking some of the features you need. For example, if you often collaborate with other people or access your files on multiple devices, you're probably going to find pCloud Crypto's sharing options and mobile app features difficult to work with.
If you need an encrypted cloud storage solution with more advanced features, Tresorit is a good option. It is a closed source service but it has apps for all the major operating systems and has more advanced file sharing and file management features than pCloud Crypto.
pCloud Crypto has a free trial, Tresorit has a free tier, and Cryptomator is free to use on desktop, so you can test all three out for yourself and decide which is the most suitable for your needs.
pCloud Crypto overview
Source code
Encryption
Zero-knowledge privacy
Client-side encryption
4096-bit RSA private key encryption
256-bit AES per-file and per-folder key encryption
Security
TLS protection when transferring data to servers
Data is stored in a data center with SSAE 16, SOC 1, Type II certification
pCloud is ISO 27001:2013 certified
Five copies of your files are stored in at least three different server locations
Third-party audits and tests
pCloud Crypto Challenge:

6-month challenge
$100,000 prize offered to anyone who could crack the encryption
2,860 people and 616 organizations participated
None of them were successful
Company history
Founded on September 13, 2013
Relocated to Switzerland on Feb 6, 2015
Launched pCloud Crypto on February 23, 2015
Company location
Company is located in Switzerland which is outside the scope of the 14 Eyes
Data center is located in Dallas, Texas, USA which is in the 14 Eyes
Total Users
Over 8 million total pCloud users
pCloud Crypto user numbers haven't been disclosed
Privacy policy and terms
You have to manually opt out to stop your personal data being shared with advertising and analytical companies
Terms around data collection when connecting third-party services are not clear
Very easy to change your privacy settings
Users are expected to stay up to date with changes to the privacy policy and terms
Supported operating systems
Windows
Mac OS
Linux
iOS
Android
Windows Mobile
Web
Price
Free 14-day trial for new users
pCloud Crypto price does not include pCloud storage which has to be purchased separately
Monthly price: $4.99
Annual price: $47.88
Lifetime price: $125
Payment options
Credit/debit card
Paypal
Bitcoin (not subject to refunds)
Apple in-app purchase
Google Play in-app purchase
Ease of use
Very easy to set up and perform basic file operations
Difficult to use when performing lots of advanced file operations
Features
File management
File previews
Instant file editing on desktop
Unlimited file size
Two-factor authentication
Mobile app lock
Crypto folder auto-lock on desktop
New features
New encryption focused features are added 1-2 times per year
Other new features are added 3-4 times per year
Missing features
Missing features compared with other cloud storage services that use end-to-end encryption:

File versioning
Shared files and folders
Automatic backups
Offline files and folders on mobile
Bulk copying of files on web and mobile
Full password management
Integration with the iOS files app
Additional missing features compared with cloud storage services that don't use end-to-end encryption:

Search
Integration with a documents system
Advanced photo and video management
Filtering by file format
Advanced audio features
Archived file management on web and mobile
Upload and download speed
Desktop: Reasonable (599 KB uploaded per second, 1,099 KB downloaded per second)
Mobile: Very fast (813 KB uploaded per second, 4,608 KB downloaded per second)
Web: Slow (197 KB uploaded per second, 826 KB downloaded per second)
Customer support
Fast and responsive (usually reply within 24 hours)
Extensive help center documentation which answers over 350 common customer questions
Email only