Hong Kong protestors have begun to use depictions of meme-famous "Pepe The Frog" as a symbol of freedom and liberty against the extradition bill that would allow Hong Kong to extradite citizens to mainland China.
The conflict has reached new heights over the last few days as riot police clashed with pro-democracy protesters at Hong Kong's airport late Tuesday night.
Riot police armed with pepper spray and batons confronted the protesters who used luggage wagons to barricade entrances to the Hong Kong airport terminal.
Legal experts say Chinese President Xi Jinping of the Communist Chinese government might be starting proceedings to use anti-terrorism laws to try to crush the demonstrations.
Amidst the violent and often-bloody arrests, banners and signs of Pepe The Frog could prominently be seen waving above the commotion.
Two days ago, a young woman became a major hero of the protests when her eye was gouged by a projectile thrown by police.
The incident spurred a new protest campaign called "An eye for an eye", and new images of Pepe The Frog have since surfaced showing Pepe with an injured eye.
https://twitter.com/OrwellNGoode/status/1161263041553534976
https://twitter.com/Birdyword/status/1160859966275612672
Flyers that had a depiction of Pepe were handed out to fellow protestors.
In this example, an image of Pepe crying appears with text asking the police to stop beating protesters.
https://twitter.com/PandasAndGaming/status/1153641553426096128
Pepe the Frog is popular in online meme culture and is based on a Pepe The Frog that was created by artist Matt Furie for the comic series Boy's Club in 2005.
The character is featured in many different online reaction memes, and eventually becoming popular and associated with Pro-Trump and anti-establishment communities online – particularly on 4Chan and The Donald subreddit.
In 2015, Maldraw, a Malaysian artist, posted an image of Pepe as Donald Trump at the US-Mexican border as sad-depicted Mexicans were on the other side of the fence.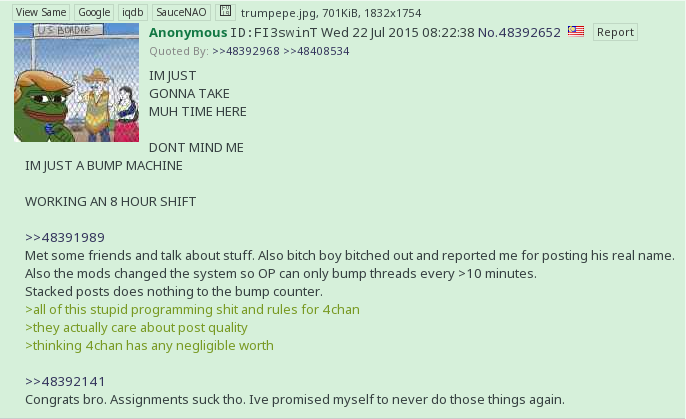 This spurred a flurry of Pro-Trump Pepe memes.
The association between Trump and Pepe was cemented further when then-candidate Donald Trump tweeted an illustration depicting a Trump Pepe in October of the same year.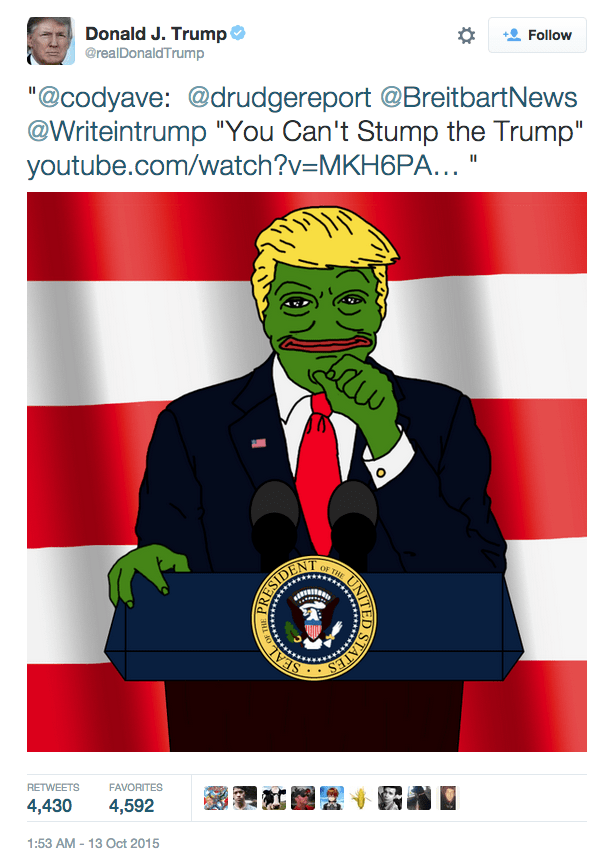 Less than a year later, left-leaning organizations such as the SPLC began to suggest that Pepe The Frog was racist and hateful – with the Anti Defamation League adding Pepe to their list of "Hate symbols" in September of 2016 – much to the amusement of internet users who branded the organization as being out of touch with internet and meme culture.
The adoption of Pepe by Hong Kong pro-democracy and resistance protestors creates a further precedent that Pepe The Frog is mostly perhaps, at its heart, a symbol used to represent liberty, freedom, and anti-establishment movements. And less of the racist symbol that some organizations have tried to paint it as.