Twitter and Reddit users have slammed Japanese video game developer Atlus for censoring the Western version of Persona 5 after ResetEra members complained that the game's portrayal of two gay characters was "problematic."
Fans of the game say that these complaints aren't genuine and are the result of pressure campaigns orchestrated by some users on the video game discussion forum ResetEra.
Atlus Communications Manager Ari Advincula told IGN that several scenes involving two gay characters who harass the character Ryuji at certain points in the game would be changed for the Western version so that the gay characters are no longer shown in a "negative light."
Advincula added that the first scene where Ryuji meets these characters and a beach scene involving these characters have both been changed.
The original dialogue for the first scene shows the characters acting in a predatory manner towards Ryuji and Ryuji responding by calling them "monsters."
Additionally, Advincula said that pushing for these changes was one of the first things she did after joining the team: "That's really important to me, and I think it's really important to the community as well."
However, she didn't specify exactly how the scenes would be changed.
Since 2018, many ResetEra members have pressured developers Atlus to make changes to the game.
One April 2018 campaign involved the ResetEra community providing "feedback" on "improving the Persona series" with this feedback including:
"Better treatment of LGBTQ characters.

Don't make offensive jokes about LGBTQ community."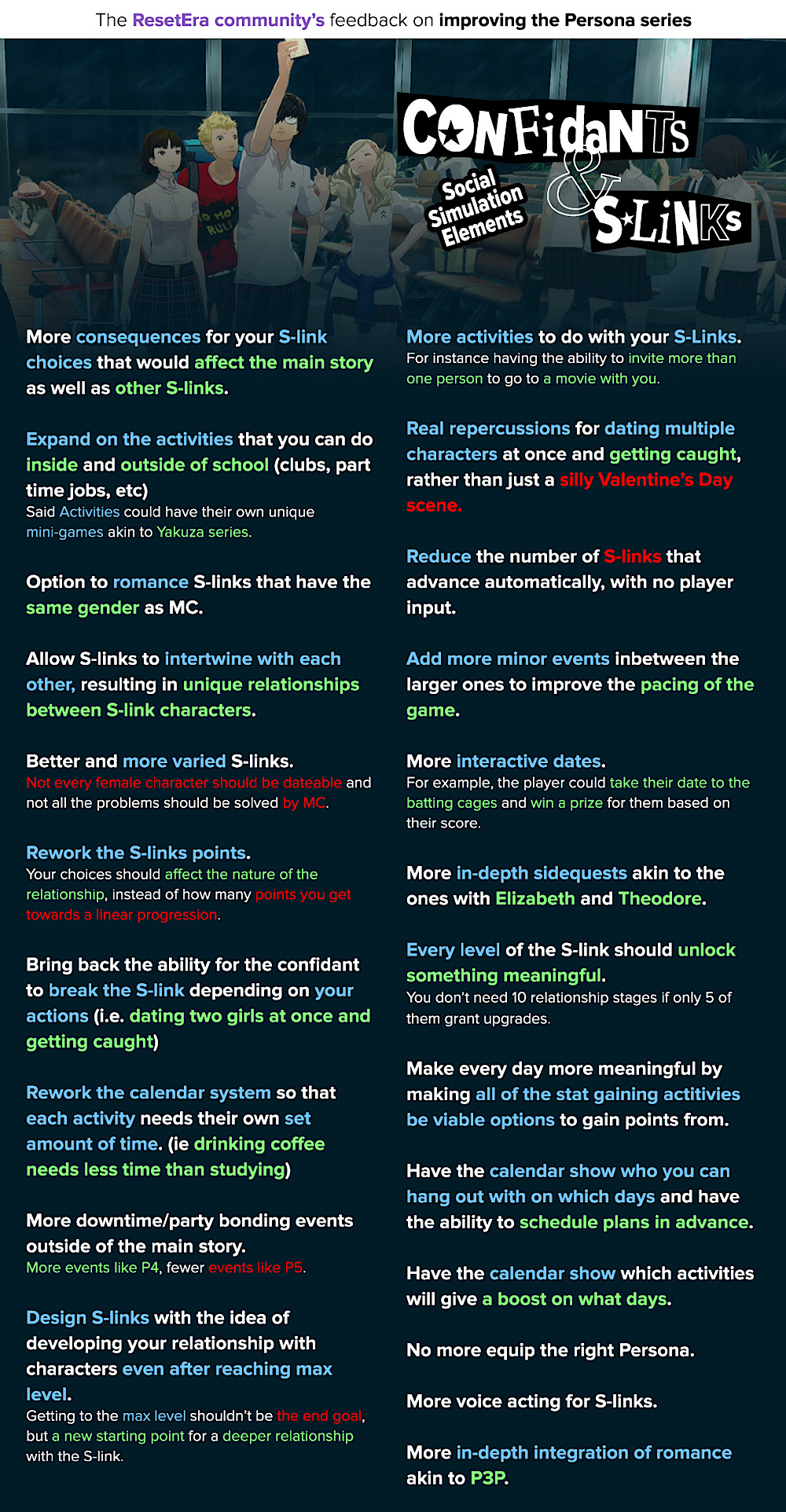 Many ResetEra members also accused Katsura Hashino, the director and producer on the Persona series, of being "phobic" in a February 2019 thread titled "Phobic Crimes of Katsura Hashino (Director/Producer, ATLUS)."
In April 2019, ResetEra members described Persona 5 Royal as "problematic" and discussed whether "problematic stuff" should be removed from the game.
And in December 2019, some ResetEra members accused Atlus of "failings in topics relating to the LGBTQ+ community."
https://twitter.com/reeratakes/status/1210616337199972356
Fans have responded to the censorship by saying they're done with the Persona series and won't be buying Persona 5 Royal.
The game releases on March 31, 2020 so we'll soon see whether this is another example of a company getting woke and going broke.