A short post made jokingly on Facebook has cost a Florida woman the stress of having the police show up at her door late at night.
Prior to this incident, mother of three Angelique Contreras was discussing Palm Beach County's decision to separate people who don't wear masks during public gatherings.
Screenshots Contreras shared show that in one Facebook post, she referred to the County as "tyrants," asking at the same time if this means that people medically or religiously exempt from wearing masks are now segregated and relegated to gathering in the basement of another building.
But the comment that sprang County Sheriff's Office to action was the one Contreras made in reply to a man who jokingly commented on the news by saying he would leave hundreds of bags of garbage on the county commissioner's lawn. Contreras then posted, in the same tone, Thousands of masks.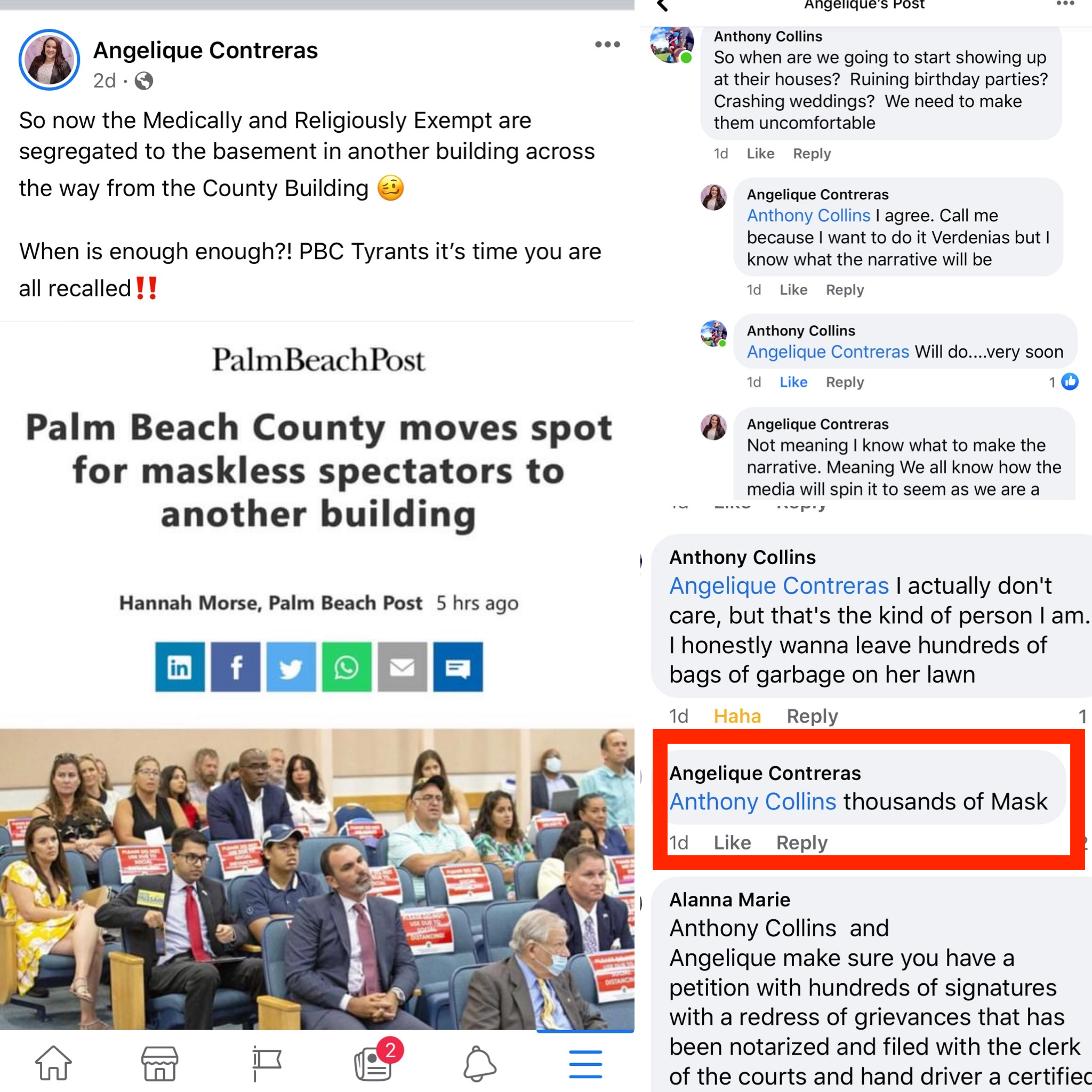 An officer later showed up at her door, which is documented in a video that has since surfaced online.
https://www.youtube.com/watch?v=grDvImwvuhg&t=0s
The officer is heard saying he was there because Contreras "and some guy Anthony" were posting on social networks about their supposed intent to trespass on the commissioner's property and leave garbage there.
But Contreras denied that she at any point discussed trespassing, even though the officer insisted that the Facebook discussion was about that, and warned her that trespassing, as well as dumping garbage, is a crime.
During the to-and-fro between them, it emerged that the police were being dispatched "preemptively" to warn her against "committing a crime" – but she maintained she had no intention of doing that, and that none of her words posted on Facebook meant she actually had the intent to trespass.
"This is just fear-mongering. You know that, right?," she asked the officer at one point, adding that he was wasting tax dollars by coming to her home.
The police also refused to allow her to file a trespassing report of her own against a woman unknown to her.
In a Facebook post, she wrote: "Still looking for answers: Who was the protected and unnamed woman on my property?! Who sent the officers to do their gestapo bidding? Who is watching and reporting my social media post? Why was I targeted?"