One way of avoiding the almost inevitable controversies that come with allowing political advertising on a social media platform is to…ban it altogether. This is what appears to have motivated Twitter's decision to do just that. But, as expected, there have been different reactions and interpretations of what the move means, and the effect it might have.
Some aren't sure that the decision, announced by Twitter CEO Jack Dorsey, will, in reality, result in a removal of all forms of political ads from the platform.
The decision is welcomed by US Democrats, but not the likely presidential contender Joe Biden, and disliked by the likes of Brad Parscale, who headed President Trump's 2016 digital advertising campaign.
The presidential campaign for Biden said it was "unfortunate" that companies would think the only option was to completely ban political ads. "When faced with a choice between ad dollars and the integrity of our democracy, it is encouraging that, for once, revenue did not win out," said Bill Russo, the deputy communications director for Biden's campaign, in a statement.
Others, like Alexandria Ocasio Cortez appear to agree with the decision. It's unclear why Democrats would be happy with Twitter taking away their ability to market themselves to their voters – other than perhaps that they feel the other side is savvier at using online platforms for advertising.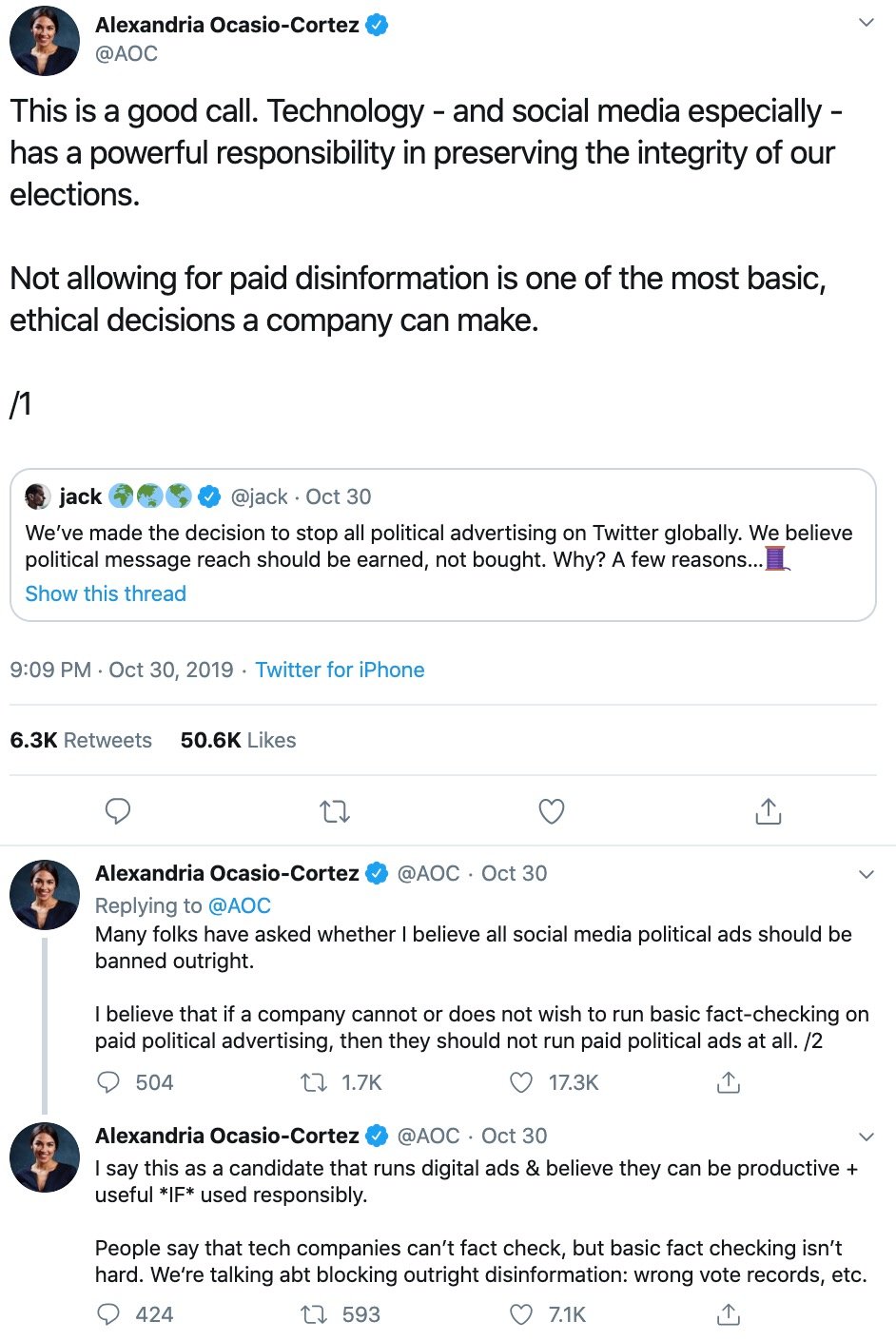 In his comments, Trump's digital campaign manager Parscale seems to agree: "This is yet another attempt to silence conservatives since Twitter knows President Trump has the most sophisticated online program ever known."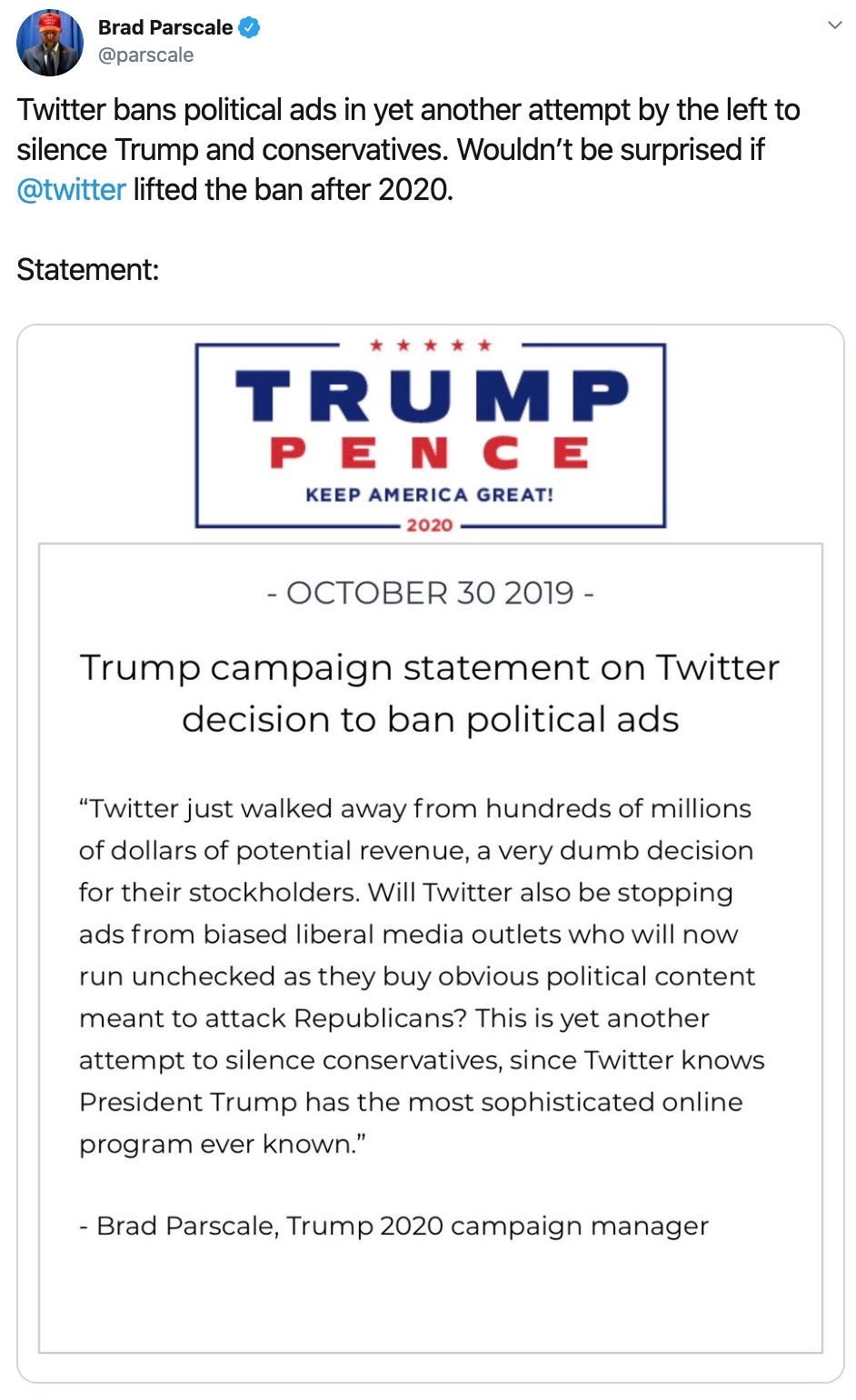 And he makes another point: what about those messages that are not overtly political, but amount to them – such as media outlets promoting politically biased content. Parscale wonders if Twitter will allow liberal media to now "run unchecked as they buy obvious political content meant to attack Republicans."
There's criticism from the other corner, too. Jessica Alter, who is described as running a community for progressive and centrist campaigns, said that Twitter's ban might result in pushing into further obscurity those "nontraditional and lesser known" candidates.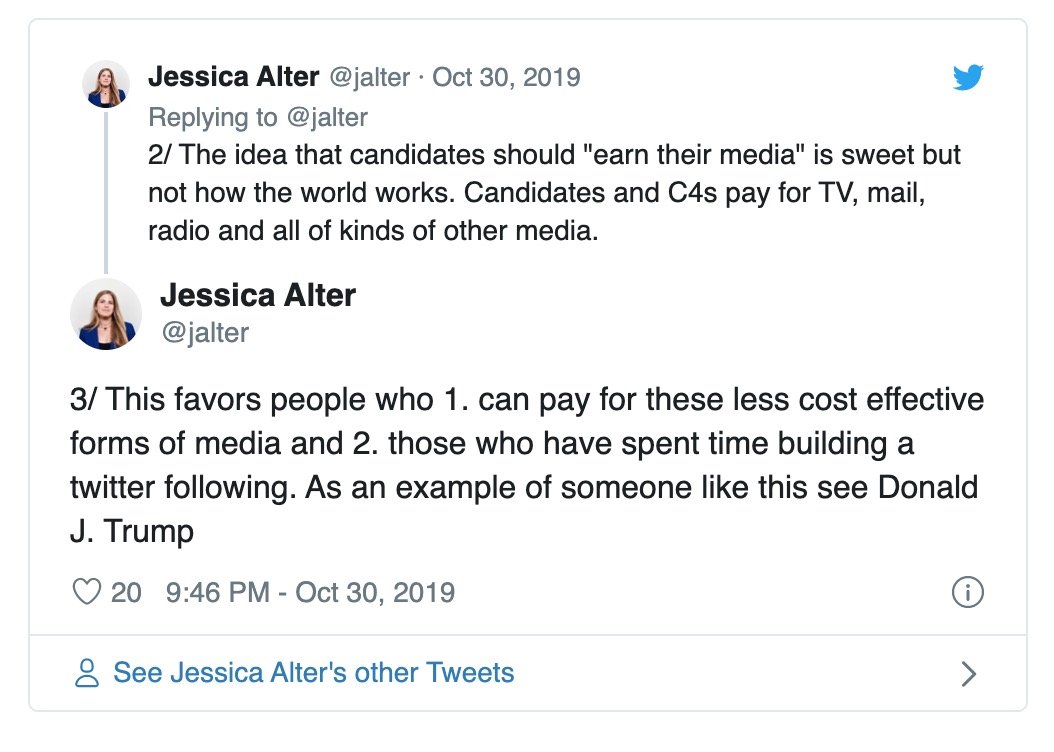 Twitter's explanation of what they are banning isn't uncontroversial, either. Dorsey said in his announcement that the platform would become off-limits both to candidate and "issue" ads. Twitter users then wanted to know how the company defines "issue" ads, and Legal, Policy and Trust & Safety Lead Vijaya Gadde replied in a tweet, detailing the "current definition."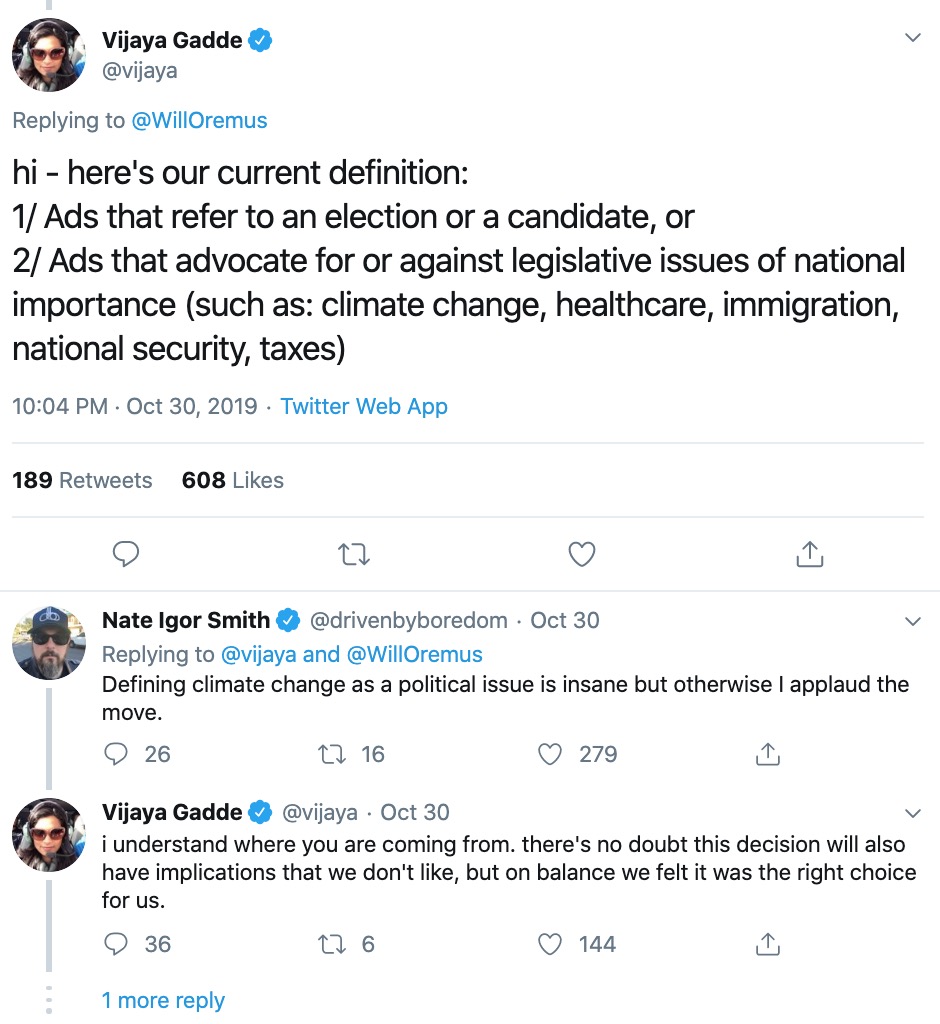 She said Twitter is banning ads about elections or candidates, and also those against climate change, healthcare, immigration, national security, and taxes.
Some commenters were quick to point out that filing "climate change" under political issues could be wrong – while others wondered whether media companies like The Guardian who push climate change doctrine to advertise themselves will also see their content banned.