Video sharing platform Rumble has established itself as a solid competitor to YouTube by consistently rolling out new features and bringing popular creators to the platform. This has helped it attract more than 100 million monthly visits.
YouTube, on the other hand, has bragged about censoring millions of videos and regularly commits to boosting mainstream media outlets instead of the independent creators that helped build the platform.
If you're tired of YouTube's censorship and rejection of small creators, keep reading to discover the reasons you should ditch it and start using Rumble instead.
1. Less censorship
While YouTube expressly prohibits going against the World Health Organization (WHO), alleging that "widespread fraud or errors" changed the 2020 US presidential election outcome, and more, Rumble has promised to foster "dialog, debate and opinions" and vowed not to act as an "arbiter of truth." It has no rules against "misinformation" or election-related discussions which means creators can post more freely without having to worry about being censored.
2. Free background play on mobile
Background play on mobile is a premium feature on YouTube but with Rumble, you can play and listen to videos in the background at no additional cost. Simply start playing any video in the Rumble app and then minimize the app or lock your phone screen to enable background play. Rumble also has background play controls that let you skip forward or back with a single tap.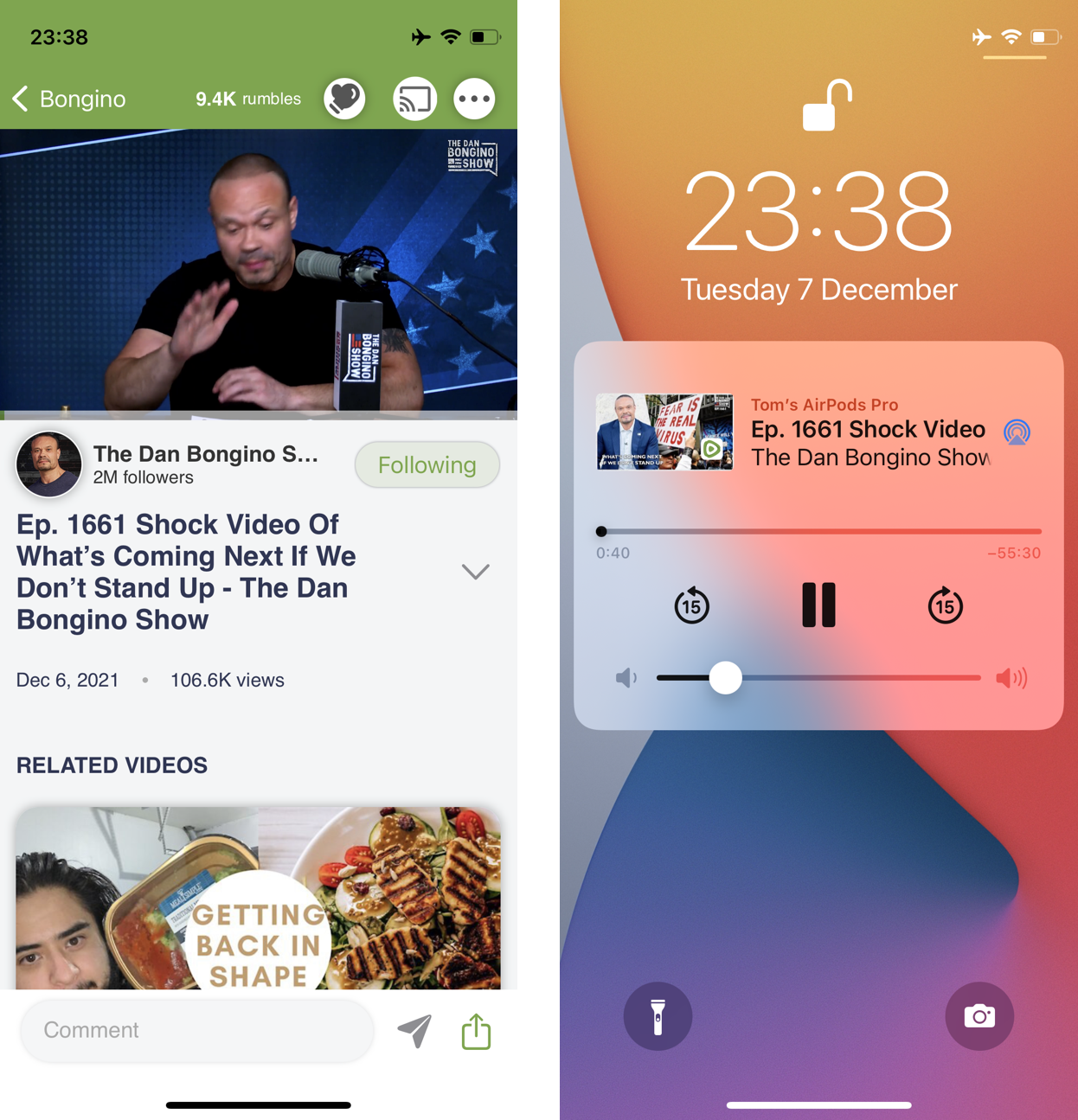 3. Dislike counts
Unlike YouTube, which recently removed public dislike counts, Rumble plans to double down on dislikes. It will be adding a dislike count and like/dislike measuring bar below each video so that viewers will be able to easily see the quality of or public response to every video on the platform.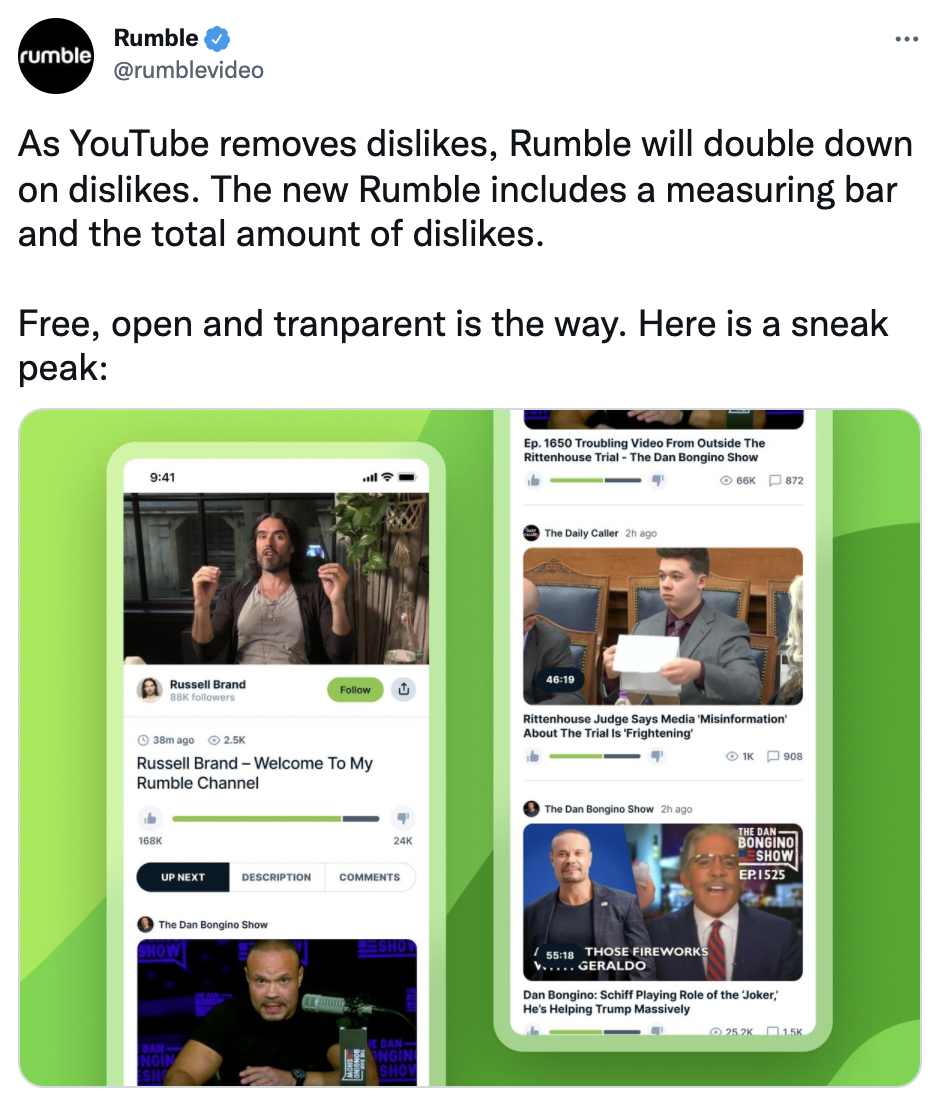 4. Better monetization terms for creators
YouTube only allows creators to monetize their videos when they have at least 4,000 watch hours in the last 12 months and at least 1,000 subscribers. Rumble has no minimum watch hour or subscriber requirements for monetization which means all creators, regardless of their audience size and viewership, have the opportunity to start monetizing their videos.
Rumble also has multiple licensing options which give creators the option to earn additional revenue from their videos by distributing and monetizing them across Rumble's network which includes Rumble.com and other third-party partners.
In addition to this, Rumble gives creators 60% of the ad revenue their videos earn while YouTube only gives an estimated 55% of ad revenue to creators.
Outside of ad revenue, Rumble takes just 20% of the donations that are made through its live tipping feature, Rumble Rants, and just a 10% cut on paid memberships through its community generation platform Locals. By contrast, YouTube takes a 30% cut on Channel memberships, Super Chats, Super Stickers, and Super Thanks which means Rumble creators keep 10% more of the live tips that they receive and 20% more of their paid membership revenues.
5. All users can earn
Rumble creators can monetize their channel with ads, Rumble Rants, and paid Locals memberships. However, all Rumble users also have an opportunity to earn through a random daily cash prize draw which can be accessed via the "Discover" tab in the mobile app.
This prize draw is based around a daily "battle" where eligible brand-safe videos compete for Rumbles and are promoted in the Discover tab. Any Rumble user can earn "tickets" by watching videos in this tab for at least nine seconds and then swiping left to "Rumble" (like) or swiping right to "Nope" (dislike) the video. They can also earn tickets by referring other users to Rumble. These tickets serve as entries into the daily cash prize draw and the more tickets a user has, the greater their chance of winning.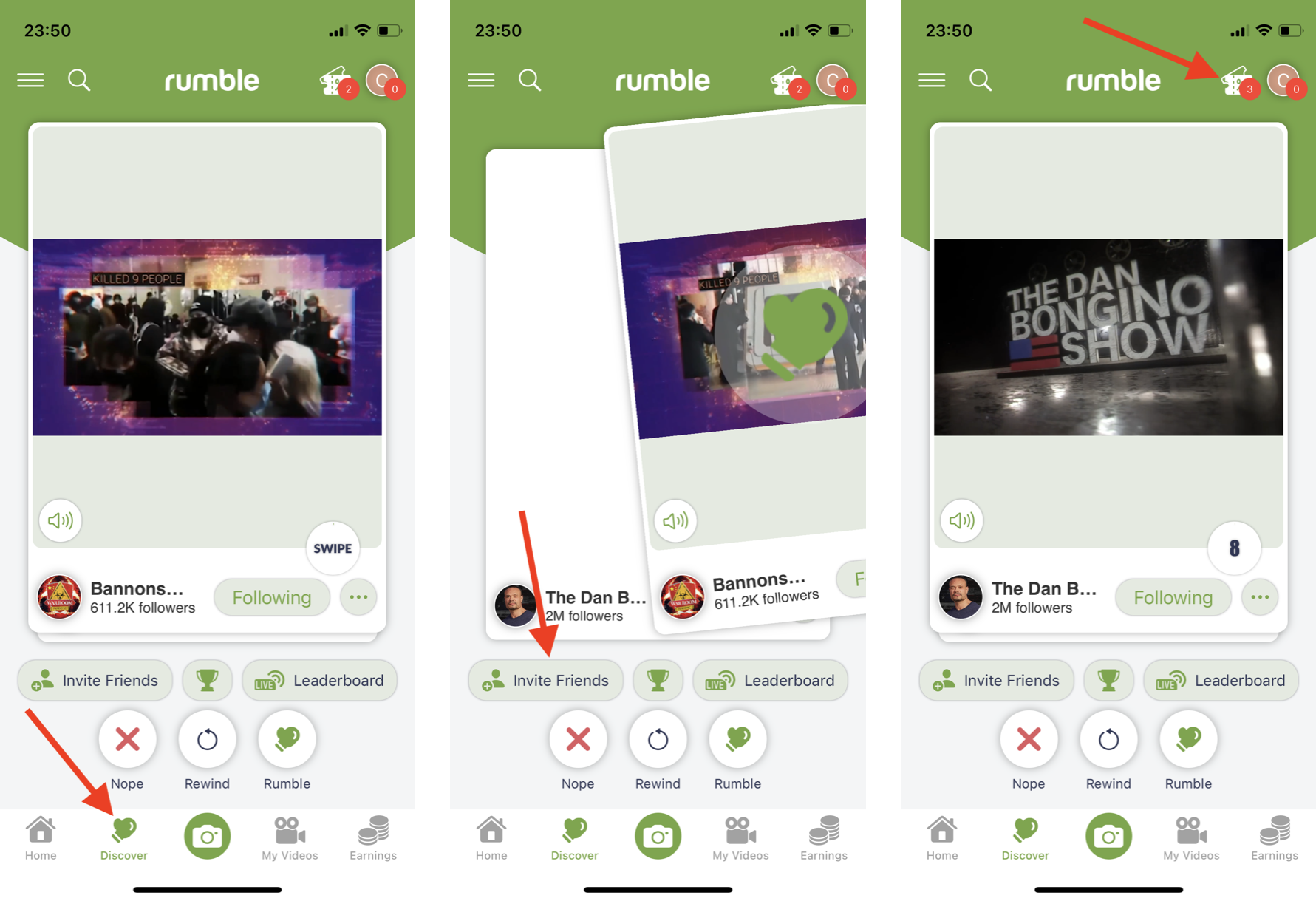 Creators that enter this daily battle can also win daily cash prizes by getting a high number of Rumbles on eligible videos. The status of these daily battles is highlighted in the live "Leaderboard" section of the Discover tab in the mobile app which ranks all of the eligible videos by their total Rumbles and displays a live countdown of when the current daily battle will end.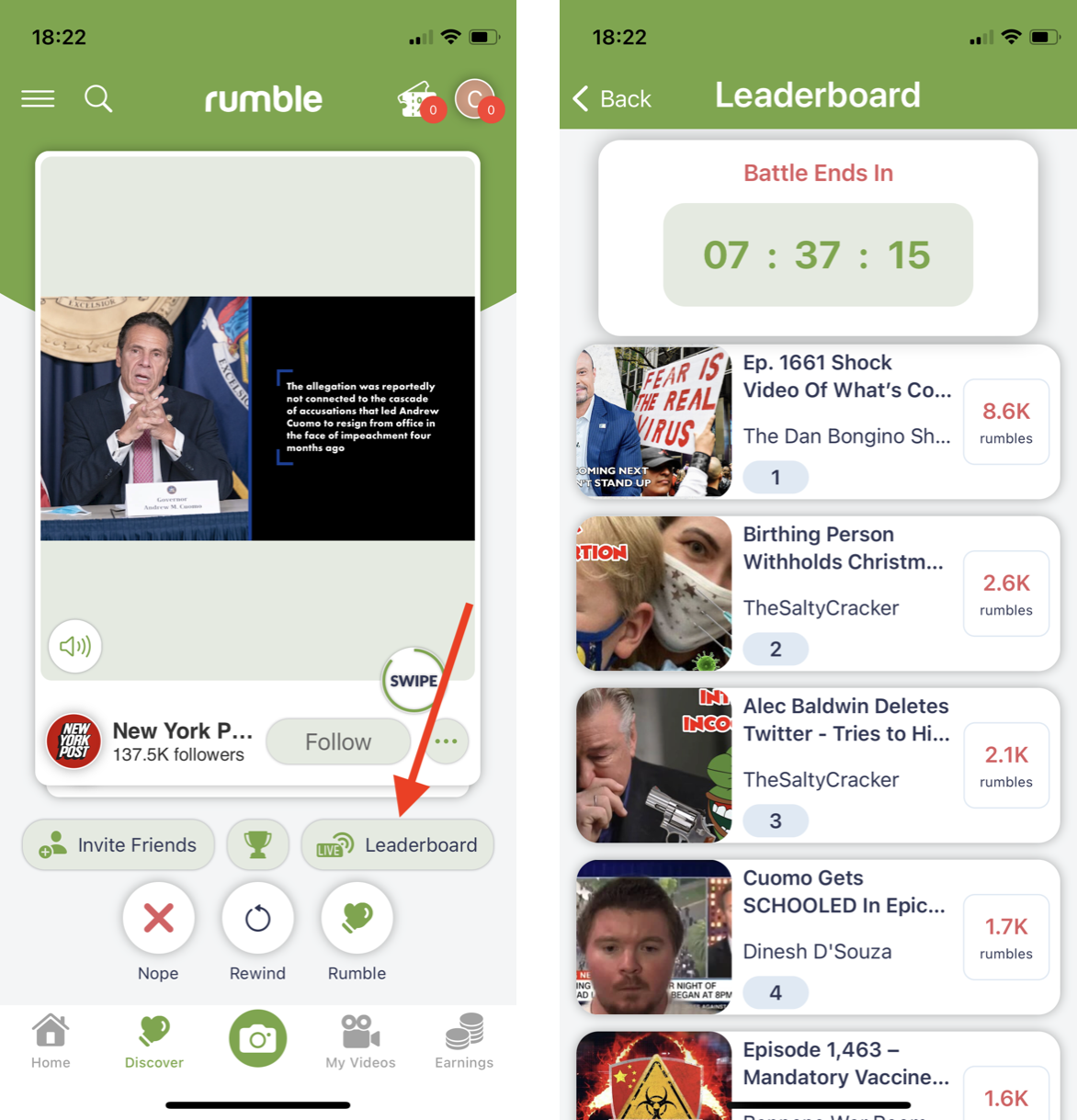 The "Battle Leaderboard" category on Rumble's website also ranks all of the eligible videos by their total Rumbles but doesn't display the live countdown timer.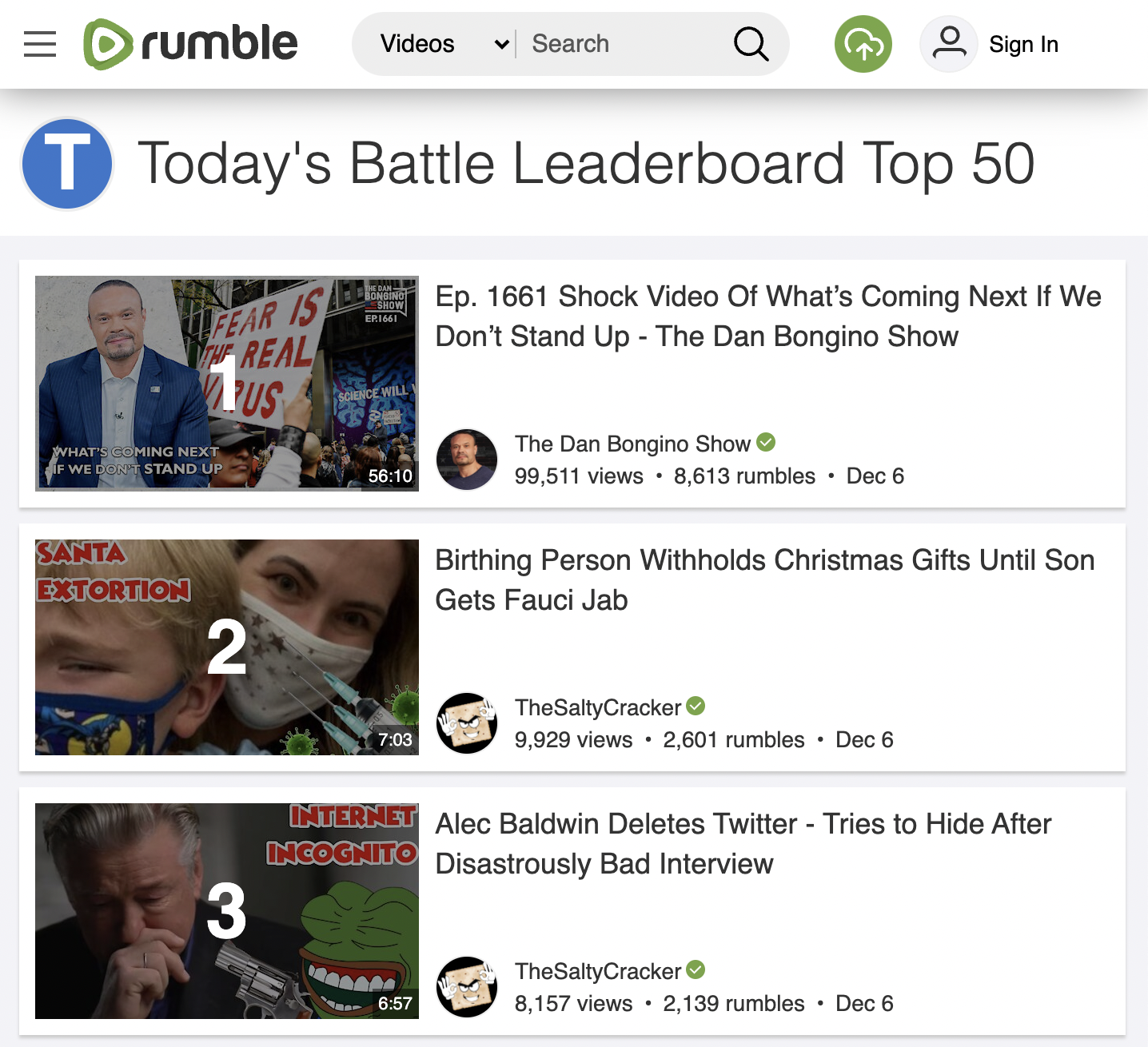 Rumble displays the daily winners of its cash prizes in the "Winners" section of the Discover tab on mobile.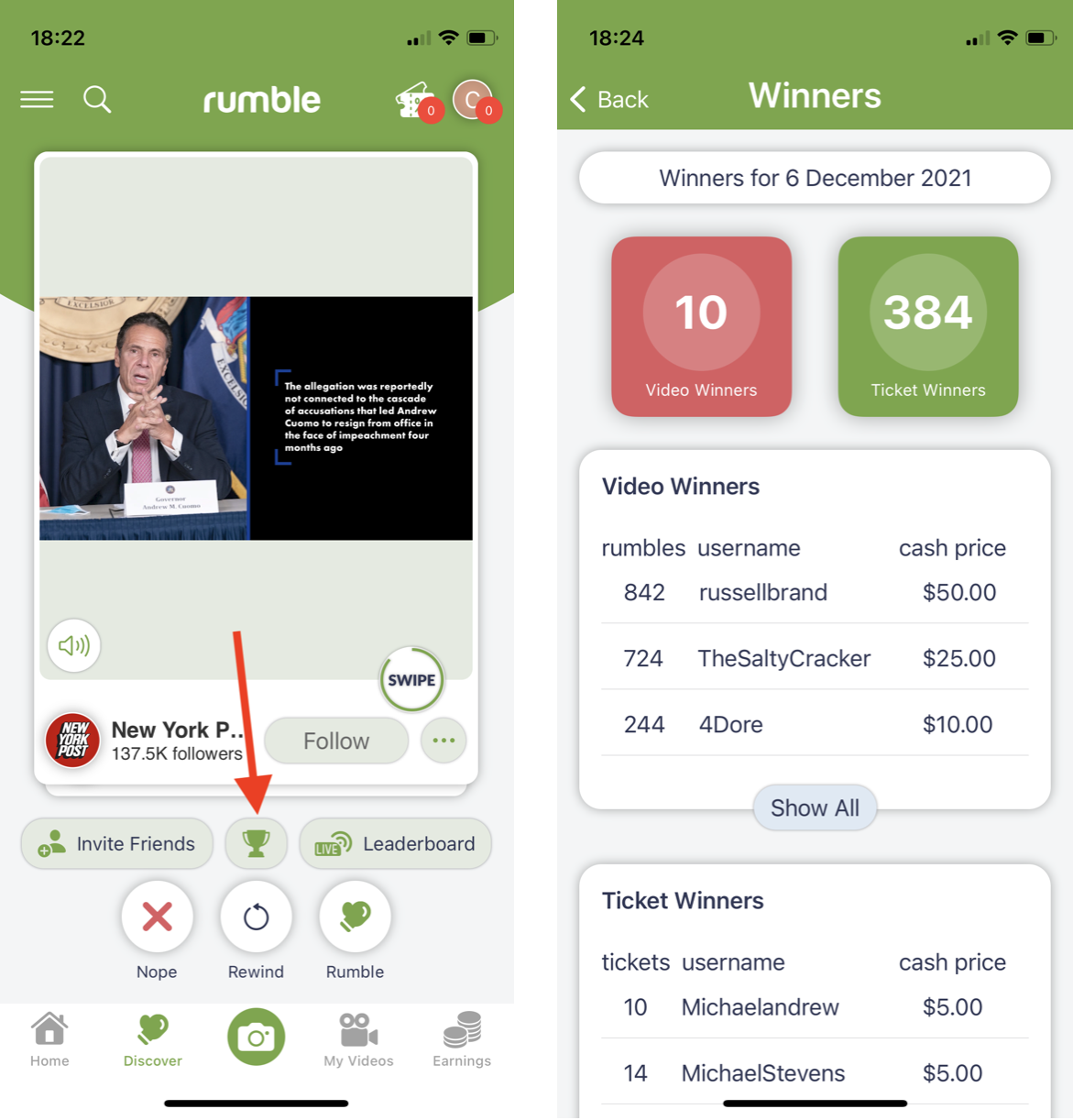 6. Fewer ads
YouTube has steadily increased the number of ads it presents and some videos now have multiple pre-roll ads and at least one mid-stream ad. By contrast, Rumble shows just one short, skippable ad before monetized videos.
7. No "authoritative sources"
On YouTube, mainstream media outlets are arbitrarily deemed to be "authoritative sources" and boosted by up to 20x in search and up to 14x in recommendations. Not only does this make it harder for independent creators that are covering newsworthy topics but it also makes it harder for viewers to find videos that offer alternative perspectives to the mainstream media.
While Rumble does promote specific videos in the "Editor Picks" and "Top Videos" categories via the homepage, the videos that appear in these categories aren't given preferential treatment in search, recommendations, or topic-based categories. Instead, these videos are promoted based on a combination of relevance, recency, and total Rumbles (likes).
As a result, all creators are treated equally in search and recommendations and viewers don't have to contend with a wave of artificially boosted mainstream media content when they're looking for videos to watch.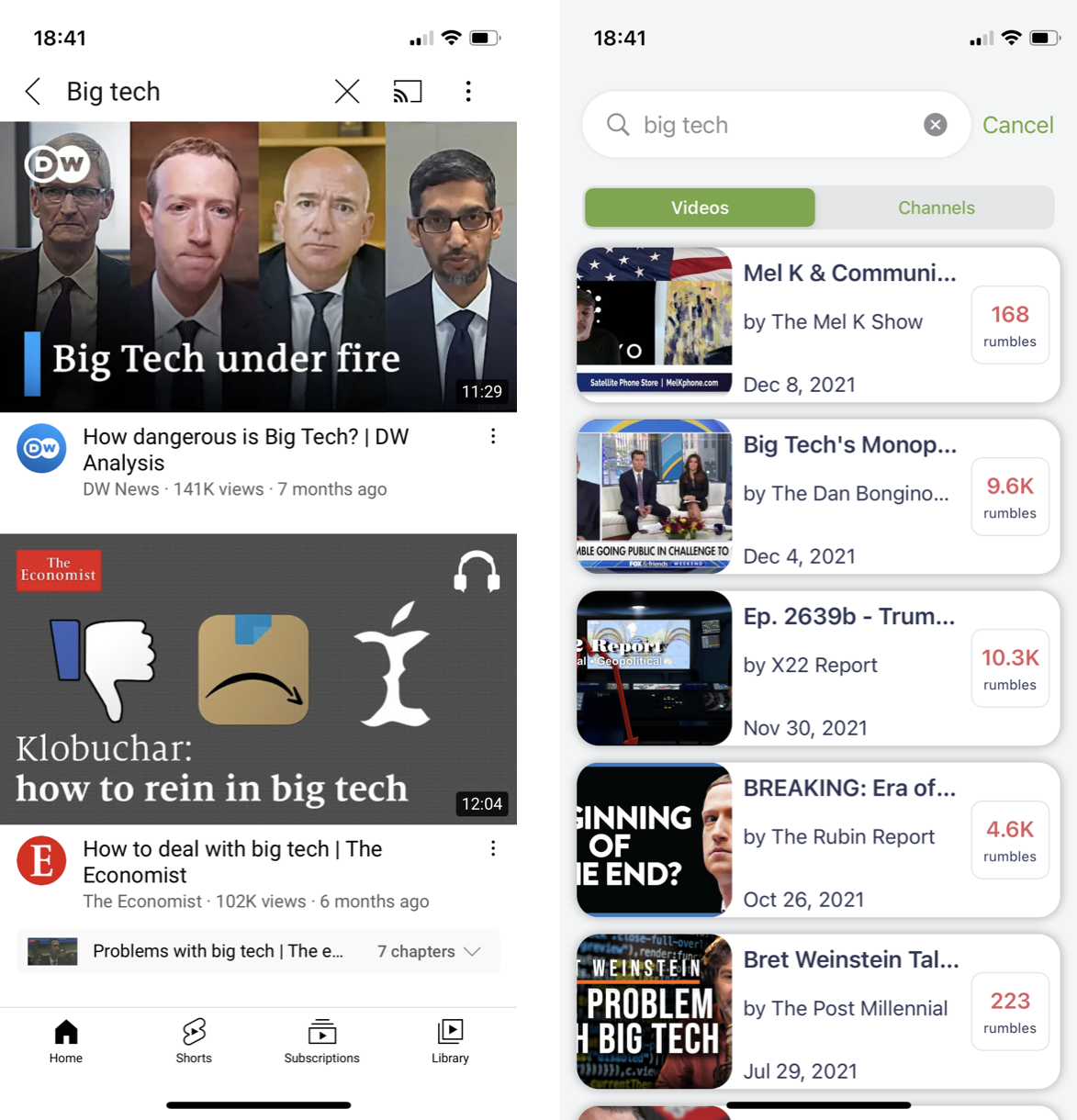 8. Exclusive content
Since Rumble places fewer limits than YouTube on the content creators can upload, many popular creators have embraced Rumble and some now post exclusive content to the platform. Some of the creators that are now posting content exclusively to Rumble before it's available on any other platform include 2020 presidential candidate and former Congresswoman Tulsi Gabbard, investigative journalist Glenn Greenwald, and comedian Bridget Phetasy.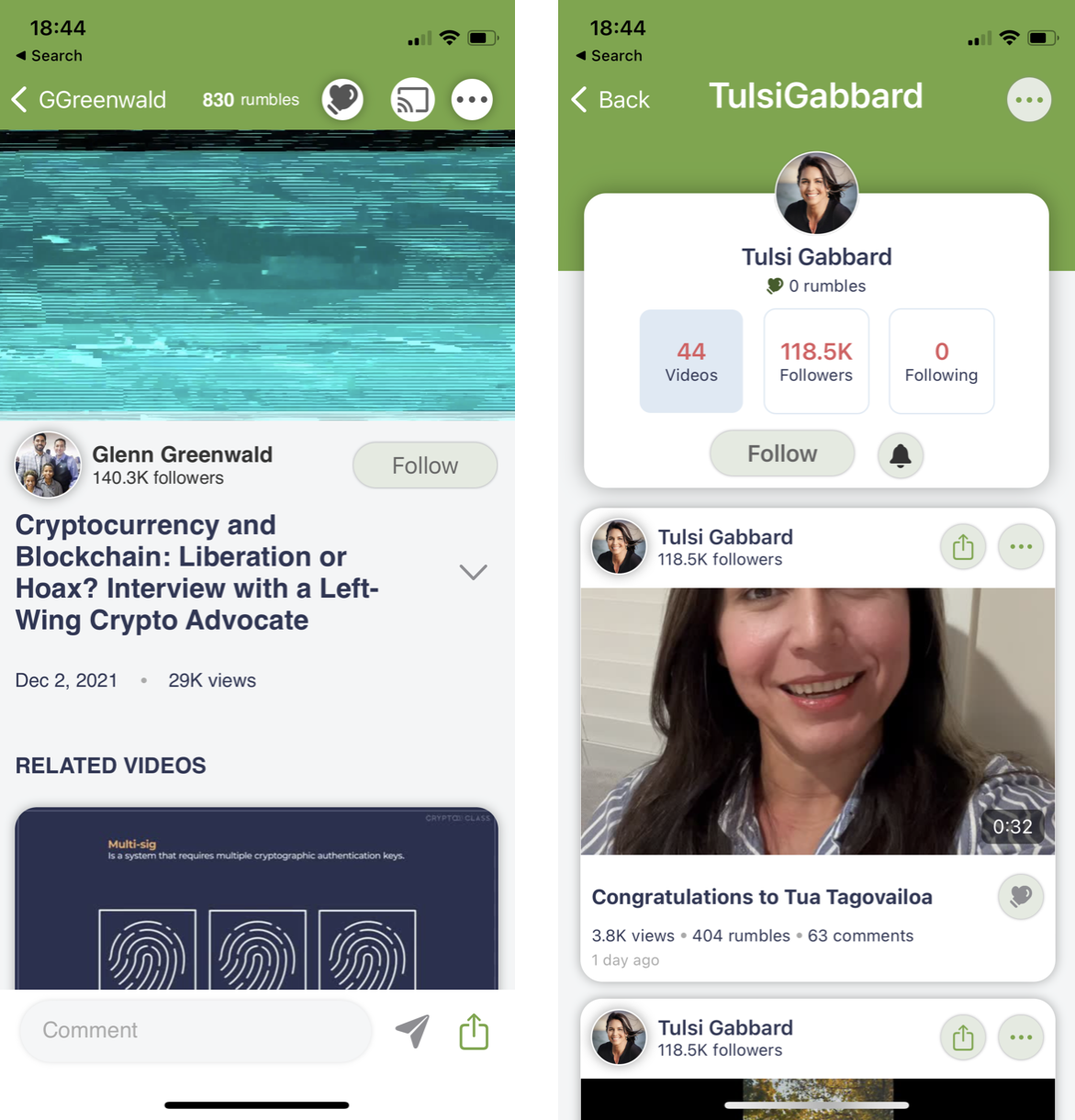 9. Additional services
While anyone can use the ad-supported version of Rumble for free, it also has additional services for users that want to remove ads, monetize Rumble video embeds on their own site, license videos, or host their videos outside of Rumble.
The "Rumble Ads + Video Player" service is free to use and lets users earn 50% revenue share with every click. This makes it a great alternative to embedding YouTube videos which don't offer revenue sharing.
The paid "Rumble Player" service provides storage, bandwidth, an ad-free experience, a library of over one million licensed videos, and a customizable player (which provides playlist functionality and can organize an unlimited number of channels) to users that want to host videos outside of Rumble. The basic Rumble Player package starts at $10 per month and offers 100GB of storage and 250GB of bandwidth. Large businesses can get up to 1PB of bandwidth and 50TB of storage.
Getting started with Rumble
You can check out Rumble and sign up for an account here.
You can get more details on the Rumble Player here.
If you want to quickly find censored YouTube videos on Rumble, use the TubeShift browser extension which we cover here.