The recent severe sentence of an underage Saudi Arabian schoolgirl by the kingdom's legal system has drawn global attention and raised significant concerns among human rights advocacy groups. The Saudi Specialised Criminal Court sentenced 18-year-old Manal al-Gafiri to 18 years imprisonment for her social media posts advocating for political prisoners. Al-Gafiri, a secondary school student, was 17 when authorities arrested her. ALQST, a human rights organization that monitors and documents abuses in Saudi Arabia, exposed her situation to the public.
This startling case epitomizes the continuing suppression of free speech in Saudi Arabia, especially digital activism on platforms like Twitter. Under Crown Prince Mohammed bin Salman's quasi-rule, rigid cyber activism sentences have been amplified. The government's efforts to staunch criticism through strict punishments have created a chilling effect, hindering the society from expressing their views and curtailing human rights.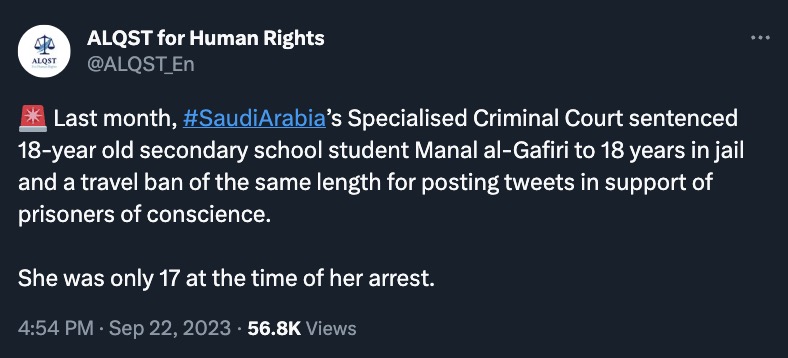 Applying convoluted legislation with impunity, the Saudi authorities continue to clamp on the vibrant expanse of social media, creating an atmosphere of fearsome impunity. Two prime examples were highlighted recently: a death sentence against Mohammed al-Ghamdi, a retired teacher because of his comments on Twitter and YouTube, and a 34-year sentence for Leeds University doctoral candidate Salma al-Shehab for her tweets.
Saudi Arabia researcher at Human Rights Watch, Joey Shea, noted that Ghamdi's sentence goes back to an obscure Saudi counterterrorism law enacted in 2017, shortly after Mohammed bin Salman assumed his position as Crown Prince.
The law has faced backlash for its extraordinarily wide interpretation of what constitutes terrorism. This misuse of counter-terrorism measures as a means of quashing dissent chokes the lifeblood of free speech and debilitates the spirit of Saudi Arabian society.
These disturbing stories out of the Saudi Arabian justice system are potent reminders that the fight for freedom of expression and human rights, even in the face of "bad laws," should never cease. The international community's role becomes crucial, amplifying the voices of the silenced and exerting unremitting pressure for transformative change.