Singapore's new law designed to counter "fake news" – that has drawn criticism both from digital rights activists and social media networks – is now fully in effect.
It allows the city-state's authorities to issue corrections of information that it deems to be false, and fine those publishing it up to an equivalent of $730,000 and send them to prison for up to ten years.
Singapore is now attempting to apply the new legislation globally, by ordering Facebook to "correct" a post made by a user in Australia. This is one of the points the critics of the legislation have been making ever since it was passed in May – that it will likely be used to stifle freedom of expression not only in Singapore but also beyond its borders.
The law, officially the Protection from Online Falsehoods and Manipulation Act, is described as "one of the toughest in the world" – while the order dispatched to Facebook marks the first time Singapore has attempted to directly influence a social media platform and content hosted on it.
The fake news that Singapore looks to suppress here refers to opposition sentiments and criticism of the government. The direct target is a Facebook page called States Times Review, that often calls for the People's Action (PAP) party to be removed from power after 60 years.
The post that triggered the order issued to Facebook is dated November 23 and deals with Singapore's interior minister ordering the arrest of a person who said a prospective PAP election candidate had not declared her Christian affiliations". The government claims that no arrest took place.
Unless Facebook complies and adds a fake news "correction" to the post published by the page, the company will be ordered to pay up to $365,000. This is a new approach to censoring content online as it requires a correction to be published by a social media platform rather than just a user who posted it.
Meanwhile, Alex Tan, the editor of States Times Review, is facing an investigation in Singapore, which he rejected as baseless, considering that although born in Singapore, he is an Australian citizen living in Australia.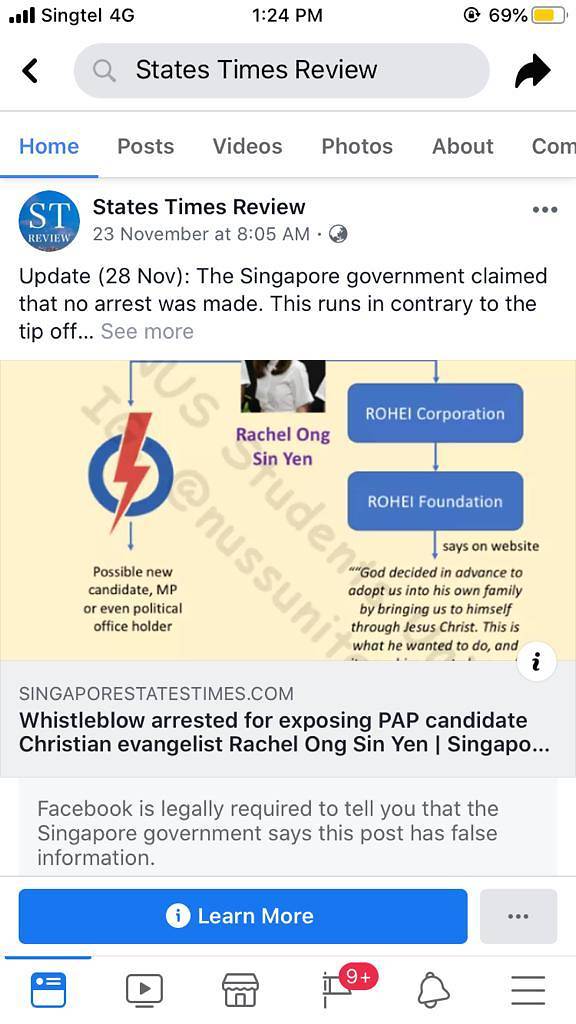 In this case, Facebook has instead added a "correction notice" to a post that Singapore authorities alleged contains false information. Facebook is now the first tech giant to attempt to comply with the new law but hasn't gone as far as "correcting" the post.
Appearing near the bottom of a post from earlier this month, the notice—which Facebook called a "label"—says, "Facebook is legally required to tell you that the Singapore government says this post has false information."
In an emailed statement Facebook said that it had applied a label to a post "determined by the Singapore government to contain false information", as is required under the "fake news" law.