It seems Twitter's algorithms are still several years away from being able to detect parody. The social platform today suspended everyone's favorite intersectional social justice activist, Titania McGrath, for seven days, for a post that "violates Twitter's terms of service". 
Here is the tweet that caused the account's suspension: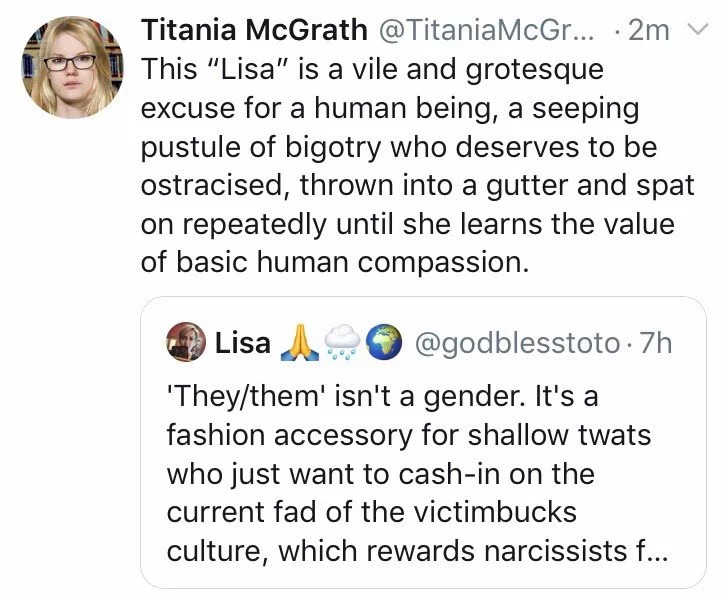 McGrath was responding to a user that was commenting on gender pronouns and, to mock the way several far-left activists think they're compassionate when they're being intolerant and violent, McGrath's tweet was a clear attempt to drive home the point.
However, while fans of the parody account would be able to see the irony, it seems to have completely gone over the heads of the Twitter gods who flagged the tweet – putting McGrath in Twitter jail for seven days.
McGrath released a statement through fellow parody account, Jarvis Dupont, saying:
"The fascists at Twitter have suspended my account for the crime of resisting hate and fighting for social justice. Like Nelson Mandela, I have been silenced for speaking truth to power. I think he was banned from Twitter as well.

They are right to fear me. I am dismantling the patriarchy one tweet at a time. I am obliterating Nazis with my devastating hashtags. I am standing up for minorities who haven't had the necessary education to know what their opinions should be."
Titania has locked herself in her room. After several hours of screaming and throwing things, she eventually pushed this statement under the door and asked me to post it: pic.twitter.com/Y2aDAEWnUo

— Jarvis Dupont (@JarvisDupont) September 15, 2019
Titania McGrath, who describes herself/himself/itself as a"radical intersectionalist poet committed to feminism, social justice and armed peaceful protest" was created by British comedian and satirist, Andrew Doyle, and has been met with much praise as people learn to make sense of the crazy times we're currently living in. 
Social media giants such as Twitter and Facebook have criticized in recent months as they repeatedly fail to account for parody and comedy when using their ban hammer.
The satirical news site, The Babylon Bee, has found itself being censored by Facebook and it's also been subject to "fact-checking" by Snopes. The women-centric satire site Reductress has also been suppressed by Facebook for being "clickbait" – for a post that was meant to be lampooning clickbait.
Further, comedian Terrence K Williams' jokes have faced "fact-checking" by Facebook, leaving creatives to feel stifled by social giants' lack of ability to understand context and there's increasing overall concern that creativity is being stifled in public discourse.