Twitch's extreme banning practices have garnered quite a lot of attention in the recent past. The hyperactive and borderline unreasonable bans have sparked controversies and dissatisfactions from several creators and viewers as well.
Many streamers have expressed that their suspensions were unfair and a recent suspension of a partnered streamer Alfie because of a viewer's racist text-to-speech message adds up to the list of overzealous suspensions enforced by Twitch.
Alfie is a partnered streamer on Twitch with approximately 150,000 followers. On Monday, when Alfie left the room, an individual donated to broadcast the 'N-word.' As a result of this, the word was broadcasted for about fifteen to twenty seconds after which Alfie took over and apologized to his subscribers for over five minutes. He admitted that he should have turned the donations off while he was away from the keyboard and not doing so was his fault.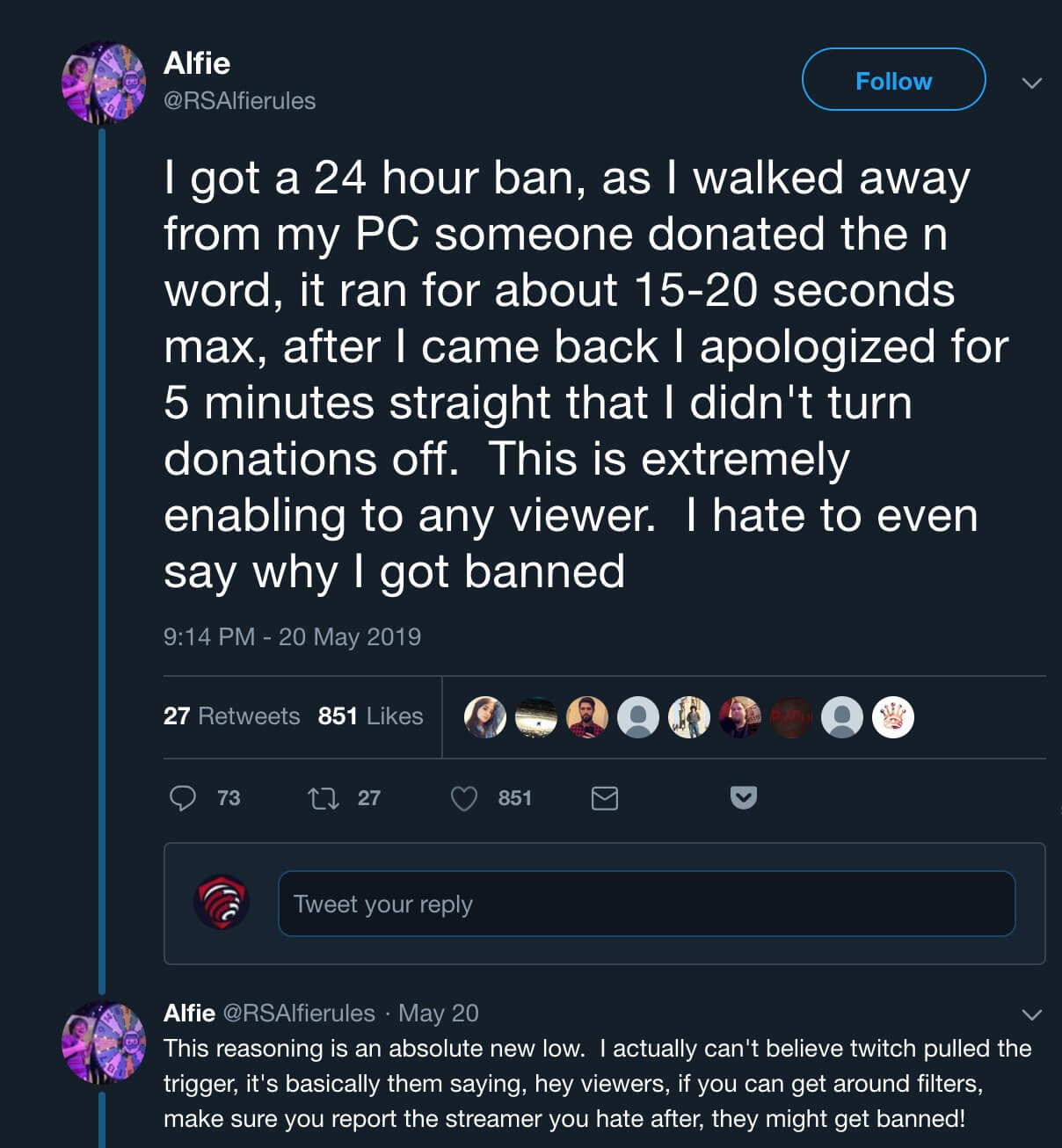 "I got a 24-hour ban, as I walked away from my PC someone donated the n-word, it ran for about 15-20 seconds max after I came back I apologized for 5 minutes straight that I didn't turn donations off. This is extremely enabling to any viewer. I hate to even say why I got banned," tweeted Alfie.
Twitch has a feature where a TTS (Text to Speech) software reads the messages from users if they donate to the subscriber's channel. While donating to read aloud messages is a goofy feature on Twitch, things can often get nasty when trolls tend to pay subscriber channels for reading out offensive content.
As Alfie couldn't effectively prevent the troll from publishing a harmful message, he met with a 24-hour ban. Though he got his channel back to normal on Tuesday, an incident like this could indicate that future violations might attract harsher outcomes for Alfie.
Twitch's decision to suspend his channel for the incident was deemed unreasonable by Alfie. He expressed that his channel seems to effectively be in the whims of his subscribers as any troll or a hater could attempt to post hateful content and in turn get the streamer banned.
"This reasoning is an absolute new low. I actually can't believe twitch pulled the trigger, it's basically them saying, hey viewers, if you can get around filters, make sure you report the streamer you hate after, they might get banned!" tweeted Alfie.
Earlier this year, we reported on a technique that trolls were using to get content creators banned from social platforms.