One of the most direct sources of information from the Ukraine-Russia border, such as Russian tank divisions and helicopters heading to Ukraine, has been social media accounts sharing photos and videos from the Luhansk and Donbas regions in Ukraine.
But Twitter has been suspending the accounts of researchers and open-source intelligence (OSINT) researchers, sharing such content.
OSINT researchers Kyle Glen and Oliver Alexander had their accounts temporarily suspended for violating an unspecified Twitter policy.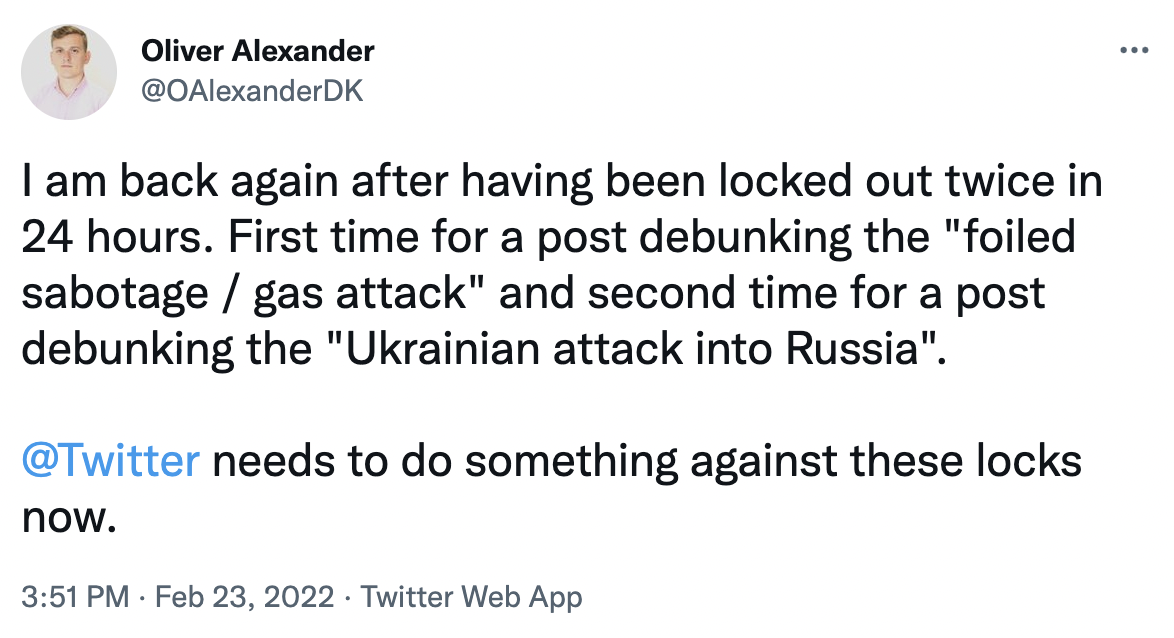 "I am back again after having been locked out twice in 24 hours," Alexander tweeted. "First time for a post debunking the 'foiled sabotage/gas attack' and second time for a post debunking the 'Ukrainian attack into Russia.'"
There were similar suspensions even outside the English-speaking world. The Spanish-language Mendo en Conflicto account was suspended, as well as the French-language OSINT account Neurone Intelligence and Brazilian's Noticias e Guerras.
"It is an attack on journalism and people who rely on these accounts to post the facts over other news outlets," said Kyle Glen, co-founder of @Conflicts. "Twitter has…a responsibility to ensure its own reporting systems aren't being misused by individuals or nations."
Twitter admitted that there was no evidence of a coordinated campaign and that they had censored "in error."
"We've been proactively monitoring for emerging narratives that are violative of our policies, and, in this instance, we took enforcement action on a number of accounts in error," a Twitter spokesperson said.
Some researchers noted that the suspensions affected English-language accounts with large followings, The Verge reported.
Normally, erroneous suspensions affect non-English language accounts with relatively smaller followings, suggesting that the suspensions were the result of human moderation, not automated algorithms.