On Wednesday, Twitter removed a post by Nigeria's President Muhammadu Buhari that threatened punishment on a separatist group blamed for recent attacks on police stations and electoral offices in the Biafra region. Twitter claimed the tweet violated its policy on "abusive behavior."
It's worth noting that Buhari's government has in the past also been accused of censorship.
In the tweet, Buhari referenced the 1967-1970 civil war in the nation's southeastern Biafra region, which killed about one million people. He served in the army at the time, claiming that those now misbehaving in Biafra are too young to recall the death and destruction the previous civil war caused.
"Those of us in the fields for 30 months, who went through the war, will treat them in the language they understand," he warned in the tweet.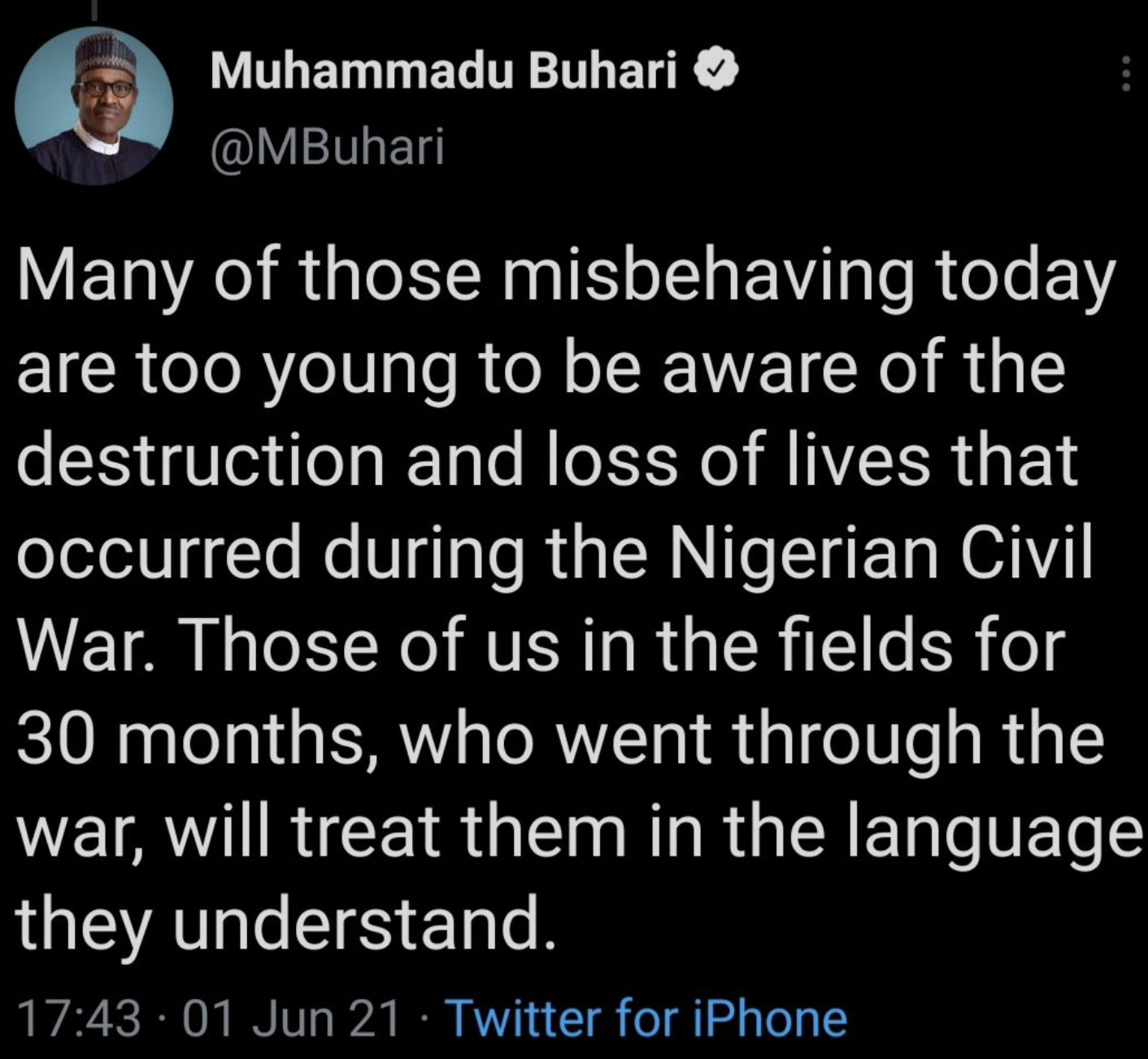 Twitter took issue with his reference of the 1967-70 civil war, claiming it amounted to "abusive behavior." The tweet was deleted and the president's account suspended for 12 hours.
In recent weeks there has been a spike in arson attacks on government buildings, especially police stations and electoral offices in the southeastern region.
According to law enforcement agencies, the banned separatist group Indigenous People of Biafra (IPOB), and its armed wing, the Eastern Security Network, are responsible for the attacks. IPOB has denied the allegations.
Buhari's tweet came a day after IPOB allegedly demanded people to close businesses in order to commemorate those who died during the war.
According to a report on Reuters, IPOB is influential in the Biafra region, and has been attempting to revive sentiments over the civil war, efforts that have resulted in a crackdown from law enforcement and security agencies.
His remarks were criticized by some social media users, who accused him of targeting the Igbo, the largest ethnic group in the southeast.
Information Minister Lai Mohammed criticized Twitter's censorship, arguing that Buhari has a right to express his discontent with a banned group.
"Twitter may have its own rules, it's not the universal rule," he told reporters. "If Mr. President anywhere in the world feels very bad and concerned about a situation, he is free to express such views."